Pantani's bike the star attraction at Barrow's Topmark
Topmark, in Barrow, hosted a bike ridden by Grand Tour winner Marco Pantani over the weekend, bringing crowds to the Cumbria shop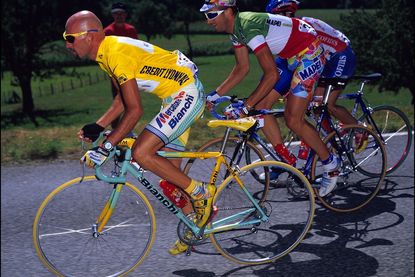 (Image credit: Watson)
Cycling aficionados in Barrow, Cumbria, were surprised to see a bike ridden by Marco Pantani pop up at their local bike shop over the weekend, thanks to the shop's links to Bianchi.
The distinctive blue and yellow Bianchi machine, like the one that carried Il Pirata to Giro d'Italia and Tour de France glory in 1998, appeared at Topmark, in Greengate Street, with people flocking to to the shop to see it.
Bill Nickson of Topmark, which was loaned the bike for the weekend, told the North West Evening Mail: "People flocked to see it on Saturday.
"We put it out on Facebook and couldn't believe the response. There were dozens of people coming to see it. Pantani is a massive legend. He was the top Italian rider for years, bigger than Bradley Wiggins. He was an Italian legend."
Pantani remains the last cyclist to win the Giro-Tour double – a feat that Alberto Contador hopes to match this season – but his fall from grace after being accused of taking EPO ultimately led to his death in 2004 from a cocaine overdose.
Thank you for reading 20 articles this month* Join now for unlimited access
Enjoy your first month for just £1 / $1 / €1
*Read 5 free articles per month without a subscription
Join now for unlimited access
Try first month for just £1 / $1 / €1