PAOLO BETTINI ANSWERS YOUR QUESTIONS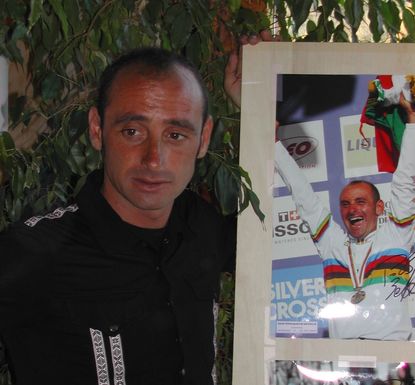 Get The Leadout Newsletter
The latest race content, interviews, features, reviews and expert buying guides, direct to your inbox!
Thank you for signing up to The Pick. You will receive a verification email shortly.
There was a problem. Please refresh the page and try again.
Paolo Bettini was declared the winner of the prestigious Oscar Gazzetta on December 31 and ended an emotional and highly successful 2006 by answering questions from members of the Cycling Weekly forum.
As ever the Quick Step rider did not hold back, speaking his mind about the tragic death of his brother Sauro, finally winning the world title, his team mate Tom Boonen, his training, the problems of doping and even the controversial topic of DNA tests.
Forum members from around the world asked questions, with their usernames. There will be more forum inspired interviews during 2007. Tell us who you want to question.
Ranger asked:
Do you agree with the decision of the IPCT to exclude Discovery Channel from their group, and what are your feelings on Gerolsteiner DS Michael Holczer's calls for race organisers to exclude the team from their events?
Bettini replied:
I don?t agree with the teams that want to isolate the Discovery Channel team or agree with Holczer. I?ve criticised Basso in the past but he?s been cleared by the Italian Federation and isn?t under investigation in Spain and so it?s right that he?s allowed to race like the rest of us.
Singlespeddave asked:
For sure you want to get rid of drug cheats from cycling. Why you not want to make them give DNA at beginning of there career? Any needle with drug in it found in train camp or race dustbin can be easy traced to who is using it. What is so bad about having saliva taken from you mouth to facilise this?
Bettini replied:
Perhaps because I wasn?t very clear or because people didn?t understand what I was saying there has been a lot of confusion about my position on DNA testing. I?m not against using DNA test as part of criminal investigations and to clear riders if bags of blood are found in a hotel but I am against DNA being used for normal anti-doping tests. I just can?t see what it can do and think it?s just an excuse for the team to keep their sponsors happy by saying they?re going to introduce DNA tests. Cyclists are already the most tested athletes in the world and the teams suggested DNA tests without consulting the riders first. That isn?t right and that is why I?m so against them. The riders are the one who risk their necks out on the road for everybody else and its only right we have a say in how the sport in run.
gonzo_bongo asked:
Thanks for agreeing to answer our questions - that's really cool! I'd like to ask you about your training. How many miles (I guess that's kilometres to you!:-) do you ride in a BIG training week? Also, did you have a good night out in Manchester when you came to the UK for the Dave Rayner dinner a year or so ago.
Bettini replied:
I train pretty hard but I?m not a big mile eater like Erik Zabel or Mario Cipollini because I get fit pretty quick. Of course with the big ProTour races over 250km I have to train so that I can go the distance but I also work hard on my jump and speed by doing intervals. I don?t keep a detailed record of my training but a big week would be about 800km, with 250km of those mid-week on a long Wednesday ride.
I?ve got good memories of the dinner in England. It was good to see so many people who really love cycling and really care about future of British cycling.
dporbea asked:
Is there a lot of competition between you and tom boonen in the camp, also did he congratulate you after your win in the worlds?
Bettini replied:
There is competition between us but it?s a healthy kind of competition. We?re both successful professionals in our own right and so we know there is no point in damages the chances of the other. We?re intelligent enough to sit down before races and decide the tactics that satisfy both of us and then we stick to them in the race. Thanks for the congratulations for the world title. I?m still getting used to wearing the rainbow jersey but it feels great.
PaulJames asked:
If you could pick out just one of your many wins as the one that stands out from the others, which one would it be and why? Thanks for taking time to answer our questions!
Bettini replied:
I?ve loved winning all the big classics and my gold medal at the Athens Olympics was very special but now my win at the Tour of Lombardy is the one that stands out. It was a really emotional day and the feeling that my brother Sauro was riding with me is something I?ll never forget.
thatwomanagain asked:
Will you be aiming to defend your Olympic Gold in Beijing, what's the name of your dog, and did Basso really offer Simoni a bribe on the Motirolo? Well the editor said we could ask anything...
Bettini replied:
Yes, I?ll be defending my Olympic title in Beijing because it will almost certainly be one of my last big objectives before I retire. I don?t have a dog, so you can? catch me out with that one?while I don?t know if Basso offered Simoni money on the Mortirolo because I?d already been dropped?..
gdodds asked:
What/Who inspired you to get into Cycling?
Bettini replied:
It was definitely a family thing and that is why the death of my brother was so hard for me. When I was little the whole family used to take Sauro to races and I really wanted to emulate my brother and my parents were happy I did.
campagchris asked:
Ciao congratulazioni di Paolo su essere campione del mondo.If you had to buy one of the bikes you have ridden in your career what one would you choose grazie il vostro fratello sarebbe dio fiero benedice.
Bettini replied:
That?s a difficult question because I?ve had ridden Colnago and Time carbon bikes in recent years and liked them both. In 2007 we?ve got Specialized bikes and they seem pretty good as well and now I wouldn?t ride anything except carbon fibre. Thanks for the kind words about my brother. I have to thank everyone for the messages of support I?ve received in the last few months.
Dunky30 asked:
I was just wondering if you could tell us what is your favourite race to compete in over the year, do you actually enjoy longer races like the tour?
Bettini replied:
I don?t really have a favourite race of the season but I do like all the classics with a different reason for each one. I?m not a stage race rider and so they?re more of a way of getting fit for the classics or winning a stage for me. The Tour is special because its so important but for a rider like me it means a lot of suffering without immediately seeing the benefits.
campagchris asked:
Paolo, do you think Basso,Ulrich and Landis were clean,also what do you think of Vinokourov not being allowed to ride in the tour. I?m not trying to get you into trouble just want an opinion. Thanks.
Bettini replied:
I don?t know if Basso, Ullrich and Landis were clean, that?s up to the UCI to decide with all their tests and screening. It was wrong that Vino wasn?t allowed to ride the Tour. He wasn?t involved in anything but paid a really high price because some people didn?t want to see his team in the Tour.
Major_Lee_Difficult asked:
Do you use Powercranks in your training (the crank arms that have a clutch that forces you to lift the crank, not SRM)? If so, how often?
Bettini replied:
I don?t use SRM cranks because I?m a little bit old fashioned about how I train. I follow my instinct rather than detailed training programmes and prefer to find my form by racing. I know that SRM give lots of information but I?d rather listen to my body that a computer.
Brainache asked:
What type of finish is your favourite, flat and straight, uphill, twisting or a from a long way out?

Bettini replied:
I love them all when I win but I think I?m best on twisting uphill finishes. I can use my resistance to stay near the front and then still have the acceleration to jump into the decisive corner at the right moment. The only person who I think is better than me in that kind of finish is Oscar Freire.

kizzy asked:
Congratulations on your achievements of last season-and then some! Are you looking forward to riding in London next year at tdf?
And finally, what tunes have you got on your ipod? Many thanks for doing this and Regards to you

ettini replied:
Unfortunately I don?t think I?ll be riding the Tour de France in 2007 and so I won?t be in London for the start. My goals are the early classics, the Giro d?Italia and then the ends of season and that will only change if Tom Boonen doesn?t ride the Tour. I don?t use an iPod much and haven?t got great taste in music. Perhaps someone could make a playlist for me?.

DougMorley asked:
I remember another professional rider saying that, as cycling is so riddled with illegal performance enhancers and that it is almost impossible to do well in most multi-stage races if one didn't take drugs, that he would rather do another job if he could find one. Do you think that professional cycling will ever rid itself of "drugs"?

Bettini replied:
I?m almost always optimistic about life and I?m pretty convinced that the doping problem in cycling isn?t as bad as a lot of people think and has improved a lot in recent years. I don?t know if cycling will ever be clean because even in every-day life there is always someone who cheats, it seems to be part of human nature. We do a lot of tests in cycling and riders are aware that any more scandals will seriously hurt everyone in cycling.
Thank you for reading 20 articles this month* Join now for unlimited access
Enjoy your first month for just £1 / $1 / €1
*Read 5 free articles per month without a subscription
Join now for unlimited access
Try first month for just £1 / $1 / €1
Get The Leadout Newsletter
The latest race content, interviews, features, reviews and expert buying guides, direct to your inbox!
Founded in 1891, Cycling Weekly and its team of expert journalists brings cyclists in-depth reviews, extensive coverage of both professional and domestic racing, as well as fitness advice and 'brew a cuppa and put your feet up' features. Cycling Weekly serves its audience across a range of platforms, from good old-fashioned print to online journalism, and video.