People distrust cyclists who wear yellow more than others, claims study
The research claims that people associate the yellow with unsporting behaviour like doping and thus trust riders less who wear it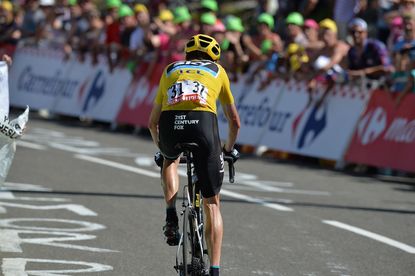 (Image credit: Yuzuru SUNADA)
People trust cyclists less when they wear yellow, according to experiments by psychologists.
They probably associate the colour with unsporting behaviour because of the history of doping in the Tour de France, say the researchers.
The colour didn't trigger such harsh judgements for the two other sports in the study, motocross and sprint running, even though there have been infamous doping cases among sprint runners.
>>> Could this be the bike that stops cars speeding?
"Our findings suggest that, through repeated associations with doping, yellow has acquired a meaning of opportunism that can lead observers to attribute a lack of sportspersonship to the racing cyclists who display this colour," say French psychologists Dr Yves Chantal and Iouri Bernache-Assollant.
In the experiment, they showed silhouettes of a racing cyclist, motocross rider and sprint runner to hundreds of people. Sometimes a silhouette had a grey background, sometimes white and others yellow. Sometimes the cyclist and sprint runner were shown wearing yellow jerseys.
"The lowest perceptions of sportspersonship were for the racing cyclist in yellow while much higher scores were observed for grey or for the sprinter, regardless of the colour," the psychologists say.
>>> Bike thief reveals tricks of the trade in this shockingly candid interview
The shade of yellow in the experiment was exactly the same as that used for the maillot jaune. Even though doping scandals have rocked other major cycling events where the leader's jersey isn't yellow, the Tour gets the most publicity by far.
While the barrage of news reports has apparently linked the yellow jersey to doping in people's minds, the researchers say there may be another reason the colour prompts unfavourable feelings about cyclists.
"Anecdotal evidence of such a linkage can also be found in the use of yellow signs for indicating drug-testing spots to stage winners of the Tour de France," they say.
The psychologists ask if yellow still creates a positive reaction for cycling. They even think that yellow may be on the way out for the sport.
"Evidently, experiments like ours cannot put into question deeply rooted traditions such as those of the Tour de France. But the present results may help substantiate a need for the reappraisal of the presumed association between yellow and values of courage and personal achievement with regard to competitive cycling," say Chantal and Bernache-Assollant.
When the yellow jersey was introduced in 1919 the first wearer, Eugene Christophe, didn't like it because spectators mimicked the call of a canary when he passed.
Yellow and social perceptions of racing cyclists' sportspersonship: Proposing an inter-contextual analysis by Yves Chantal and Iouri Bernache-Assollant in Journal of Sports Sciences, published online 18 April 2016.
Max Glaskin is an award-winning freelance journalist who tweets about cycling and science as @CyclingScience1 and is the author of Cycling Science (published by Frances Lincoln UK, Chicago University Press USA, and seven other languages).
Thank you for reading 20 articles this month* Join now for unlimited access
Enjoy your first month for just £1 / $1 / €1
*Read 5 free articles per month without a subscription
Join now for unlimited access
Try first month for just £1 / $1 / €1