Pereiro faces retirement after Astana contract row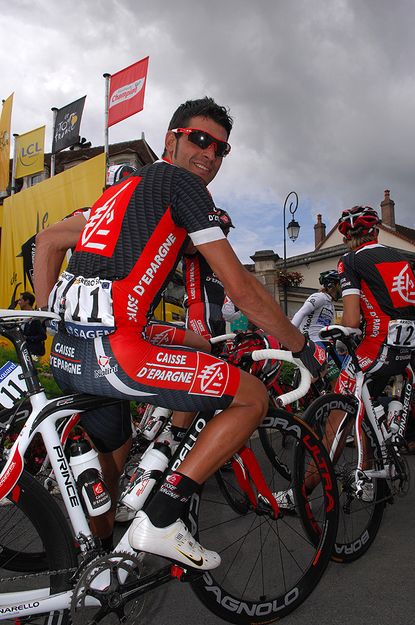 Spaniard Oscar Pereiro, the 2006 Tour de France winner, has recognised he may soon retire if a deal he allegedly reached with Astana has fallen through.
"This could be the end [of my career]," Pereiro told the Spanish sports daily MARCA, "and if so it's not the end I wanted."
Pereiro's pessimism over his future follows his claims that he had inked a deal with Kazakh squad Astana for 2010, an agreement which the team have failed to confirm or deny.
"I signed it on November 12th," Pereiro told MARCA, "and I was delighted with it."
"It meant I would riding my last year as a pro helping Alberto Contador win the Tour in 2010." Quick Step had been interested in signing Pereiro, the 32-year-old claimed, but he told them that he was no longer available.
However, Pereiro said that once Astana received their ProTour licence, they told him they were dropping his wages He later discovered Astana would be having a training camp in Italy next week, to which he has not been invited.
Pereiro said to MARCA that there was no problem with his biological passport, although the paper reports that it was only after signing the contract that he allowed the team to see it.
Pereiro has now put the whole question in the hands of his lawyers, but he admitted that "at this point in the year, it could well be the end."
After riding for Caisse D'Epargne since 2006, Pereiro's last victory was the overall of the Tour de France that year, a title he inherited after Floyd Landis tested positive for testosterone.
Pereiro finished tenth in the same race in 2007. But following a bad crash in the 2008 Tour which saw him pull out injured, the Spaniard quit the race again last July suffering from poor morale. His best result in 2009 was eighth overall in the Circuite de la Sarthe.
Related links
Oscar Pereiro: Rider Profile
Thank you for reading 20 articles this month* Join now for unlimited access
Enjoy your first month for just £1 / $1 / €1
*Read 5 free articles per month without a subscription
Join now for unlimited access
Try first month for just £1 / $1 / €1