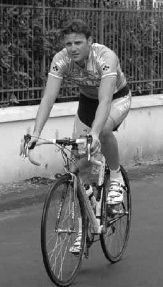 He only managed 60km with some friends along the Tuscan coast but Alessandro Petacchi was as happy if he had won a sprint in the Tour de France on Thursday.
The Team Milram sprinter has been on crutches since May 8 but can now begin rebuilding the muscles in his left leg in the hope of being ready for the Vuelta Espana that starts in Malaga on August 28.
?It?s going to be a slow process but I?m determined to start the Vuelta,? Petacchi told Cycling Weekly.
?The problem is that I?ve lost a lot of muscle in my left leg. I can?t rush things and try and start serious training without first working on building up my muscles.?
Petacchi is mixing physiotherapy work with weights and is also using a Tecar machine that uses ions to massage the muscles. His aim is to begin full training in 20 days so that he can be at the start of the Vuelta.
?I?ve used the machine every other day and it has helped me with some muscles problems,? he said.
?I know I haven?t got a lot of time to train for the Vuelta and I?m not hoping to be fit enough to start dominating the sprints. My aim is to start the Vuelta and then find some form during the race. It won?t be easy but I?m determined to do it, otherwise my season will be virtually over.?
Petacchi admitted he has seen some of the sprints at the Tour de France and praised Robbie McEwen for his impressive sprinting.
?People say I?m the fastest sprinter in the world but McEwen is the technically the best sprinter,? Petacchi said.
?My strength is my speed over 250 metres, McEwen?s is his ability to jump around and read the sprints. The Tour sprints suit him perfectly because no one team seems able to do a lead out train. That?s good for him but bad for his rivals like Boonen and Hushovd.?
Thank you for reading 20 articles this month* Join now for unlimited access
Enjoy your first month for just £1 / $1 / €1
*Read 5 free articles per month without a subscription
Join now for unlimited access
Try first month for just £1 / $1 / €1