'I'll drop you at your own bike ride': Phil Gaimon takes up Fabian Cancellara's race challenge in wake of motor allegations
Gaimon bullish about his chances of beating the seven-time Monument winner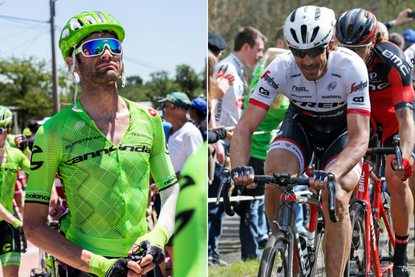 (Image credit: Watson/Sunada)
The dispute between Phil Gaimon and Fabian Cancellara looks set be settled on two wheels after Gaimon took up Cancellara's challenge of a race.
Animosity between the two retired riders developed after Gaimon wrote that Cancellara may have used a motor in his bike during the 2010 Classics campaign in his book Draft Animals. Cancellara's lawyers demanded an apology from Gaimon and that the book be removed from sale, prompting the American to issue a statement saying that he had "repeated a rumor that's well-documented and many years old".
In November Cancellara invited Gaimon to race at one of his "Chasing Cancellara" events, before laying down the challenge once more in an interview with Gazzetta dello Sport last week, which Gaimon decided to accept.
"Let's see how many watts Gaimon has I've still got some good numbers, even if not for very long because I'm not on form," Cancellara told the Italian sports newspaper. "He should come to my races, there are nine to choose from, so we can see how good he is."
In response Gaimon, who is still in good shape publishing a series of videos on YouTube of him chasing prestigious Strava KOMs in the United States, said that the race was on.
The Chasing Cancellara events are a series of events taking place in Europe and Middle East between March and September which will see amateur riders given a chance to try and out-ride the Classics legend.
Under the terms of Cancellara's challenge it seems that Gaimon has the choice of which event to choose, with the USA National Hill Climb champion likely to plump for one of the two mountainous events between Disentis and Andermatt, or Aigle and Villars-sur-Ollon.
Thank you for reading 20 articles this month* Join now for unlimited access
Enjoy your first month for just £1 / $1 / €1
*Read 5 free articles per month without a subscription
Join now for unlimited access
Try first month for just £1 / $1 / €1