Police chase ends in barrier crash at Worlds TTT
Spectator footage shows the driver smash through a barrier before being arrested by police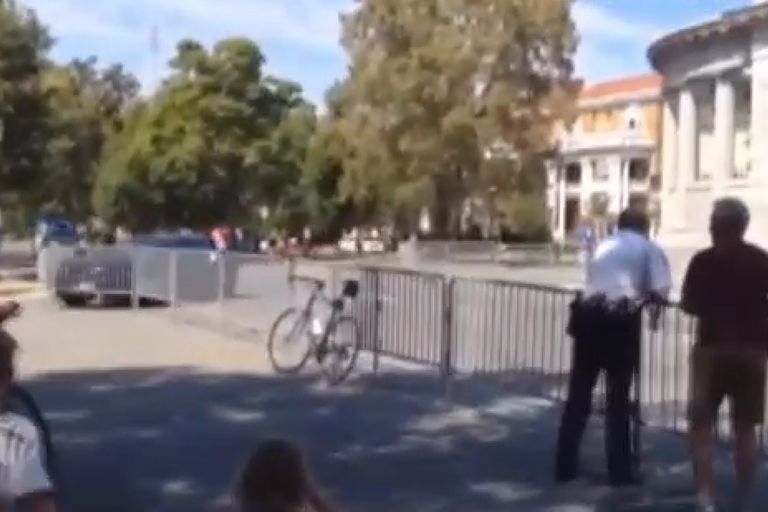 As the World Championships Team Time Trial races were getting underway in Richmond, Virginia on Sunday September 20, a high speed police chase was unfolding on the course and could have jeopardised the entire event.
Spectator footage was shared with local news channel NBC 12 which shows a car speeding down the course before turning into the barriers. The vehicle then pushes the barriers for several metres before coming to a halt, which is when the driver is pulled from the car and arrested.
Local resident and eye witness Chrisy Lantz told NBC 12:
"We were very concerned. It zoomed past our house and made a very aggressive U-turn and went the other way.
"We said, 'That's the end of that. They'll take care of that.' But then we saw him coming back down again.
"He just made a 45 degree turn right into the barricades and drove right through them."
The suspect faces several charges but thankfully no one was seriously injured in the incident.
This barrier crash is similar to an incident on stage 21 of the Tour de France back in July when a car attempted to crash through a crowd barrier and the police opened fire on its fleeing occupants.
Despite this more recent incident in Richmond, the racing went ahead as planned. Lizzie Armitstead's Boel-Dolmans team narrowly missed out on the win to Velocio-SRAM in the women's race whilst BMC successfully defended their title in the men's.