Police harness new technology to catch drivers who pass too close to cyclists
Police in Tennessee are using a range-finding ultrasound unit to measure the distance between their bicycle and passing cars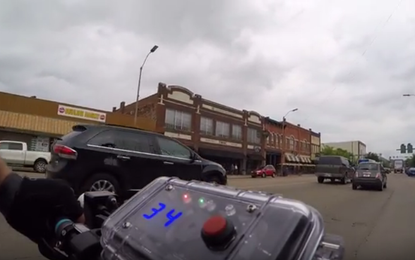 Police on bikes are using sophisticated technology to gather evidence of drivers who pass too close.
A range-finding ultrasound unit measures the space between the bicycle and overtaking vehicle.
If it detects that the gap is too small, a computer on the handlebar sounds a buzzer and displays the measurement in inches.
>>> Cyclists make better drivers, says insurance firm offering bike riders better rates
At the same time a Go-Pro video camera on the handlebar automatically records the near-miss.
Drivers are then pulled over, shown the video and told to mend their ways. They are warned that if they don't, they'll face a day in court and a fine.
It's an initiative of officers in Chattanooga, Tennessee, where the law states cars must not get closer than 36 inches (91cm).
Trucks must be even more considerate – if they pass within 72 inches they could be up before the judge.
The state law was passed in 2007 and similar regulations are in place in 23 other US states.
Yet it is only this year that equipment suitable for a bike, and which is able to gather evidence acceptable by the courts, has been available.
Watch: Five commuting tips for cyclists
When a small electronics company, Codaxus, came up with the system, a local community group raised $1,400 to buy it for Chattanooga Police Officer Rob Simmons.
Now, as he makes his usual patrols by bike, woe betide any driver who cuts him up. He used to have to make judgement calls himself about how near they came to him but the new equipment means drivers can no longer argue the toss.
The Bicyclist and Safe Monitoring Applied Radar Technology (BSMART) unit gets their measure to within one inch, even if they are passing at speed.
>>> Will this anti-dooring system help to keep cyclists safer on the roads?
"The mission is to improve the safety of the most vulnerable road users by improving relationships between motorists and cyclists, to help motorists understand the risks for bicycles," says Simmons' boss, Police Chief Fred Fletcher.
The police are keen to stress they don't want to penalise drivers – they want to educate them.
"Most of the things motorists are doing is from lack of understanding, rather than malicious effort. Most people will act more safely if they understand the issues and risks," says Fletcher.
The Tennessee law that must be the envy of road safety campaigners in the UK where there is no distance specified.
The Highway Code Rule 163 says only that drivers must give cyclists "at least as much room as you would when overtaking a car".
Max Glaskin is an award-winning freelance journalist who tweets about cycling and science as @CyclingScience1 (opens in new tab) and is the author of Cycling Science (published by Frances Lincoln UK, Chicago University Press USA, and seven other languages).
Thank you for reading 10 articles this month* Join now for unlimited access
Enjoy your first month for just £1 / $1 / €1
*Read 5 free articles per month without a subscription
Join now for unlimited access
Try first month for just £1 / $1 / €1