PREBBLE SET FOR TIME TRIAL SERIES WIN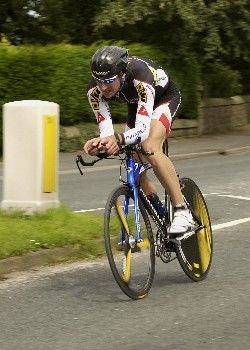 RICHARD Prebble took over at the top of the RTTC-Rudy Project Series leaderboard after a near two-minute victory in round seven of the series at Naseby, Northants, on Saturday.
Prebble overtook long-time leader Paul O?Mahoney (Pro Bike Kit) when he won the event, while O?Mahoney had to settle for sixth on the day. Prebble now only needs to finish the eighth and final round to make sure of victory.
The Hampshire man, who is the 2007 National 100-Mile Champion, has got stronger as the season has progressed and after losing out to O?Mahoney in round one, he has gone on to dominate the competition.
Prebble clocked 1-05-37 for the 28-mile three-lap course, while second spot went to Team KFS espoir Dafydd Dylan with 1-06-30. Part of a three-man Sportscover-Planet X team to take part, Mark Lovatt was the only one of the trio to finish and took third with 1-06-59.
Caroline Kloiber (Chirio Forno D?Asolo) won the 20-mile women?s race comfortably, despite falling from her bike on a corner and losing an estimated one minute, while series leader Julia Shaw (GS Strada) was pushed into third on the day by rival Pippa Handley (Edinburgh RC).
Kloiber clocked 48-22, while Handley?s 50-05 was 34 seconds better than Shaw?s 50-39. With Handley and Shaw just three points apart, the fate of the women?s title will go down to the final round on October 13.
In the espoirs competition Simon Baxter (Adept Precision RT) overtook Nathan Simmons (Kings Lynn CC), although that category will also be decided on the final day, while Tom Yeatman (Agiskoviner.com) again won the juniors event to maintain his 100 per cent record.
RTTC-Rudy Project Series, round seven (Naseby, Northants).-

Seniors.-
1 Richard Prebble (Pinarello RT) 1-04-37
2 Dafydd Dylan (Team KFS) 1-06-30
3 Mark Lovatt (Sportscover-Planet X) 1-06-59
4 James Millard (Plowman Craven-Evans Cycles) 1-07-06
5 Dominic Sweeney (Team Lutterworth Cycle Centre) 1-07-08
6 Paul O?Mahoney (Pro Bike Kit) 1-07-23