Rapha rally with evergreen Newton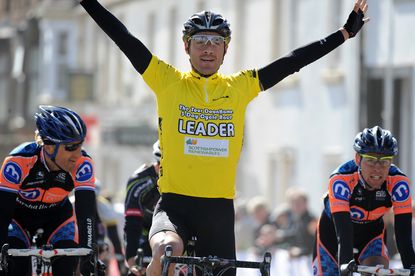 He's won world track championships, Olympic medals, the Premier Calendar and the Ras. However, fourteen years after his first stage win in the Girvan, Chris Newton finally added Scotland's Premier Calendar stage race to his jam-packed palmares over the Easter weekend.
It was a deserving win too, combining opportunism, speed and control. The victory was forged on the opening stage, when Newton attacked on the day's narrow finishing circuit before outsprinting his two companions.
"The first day people could say that I was fortunate - although you make your own luck in cycling," Newton said.
However, after powering up Castle Douglas's draggy main street for bunch sprint victory the next day, there could be no doubting his form. "To win that one wasn't luck," he smiled.
Far from fatigued after the World Track Championships, he found his road legs quickly in Dumfriesshire. "I already had the speed, power and sprint from the points race, as that's all I've worked on over the last couple of weeks. It's just coming through now," he explained.
Newton: focused in pursuit of race victory
Once in yellow, Newton was also aided by the support of a well-oiled Rapha team over the closing two days. It took all their manpower to prevent Jack Bauer from nabbing the overall win, especially with Endura riders doing their best to disrupt the chase.
The overall victory was the perfect riposte for John Herety's men, a week after they bombed at the Tour of the Reservoir.
The Tour DoonHame, replacing the Girvan, had fine organisation and arresting scenery in the Dumfriesshire countryside. However, while attacking forays promised much, the end result was ultimately rather negative. On a less testing course than the Girvan, the bonus seconds at intermediate sprints and the finish ultimately decided the race.
"There's four good teams now and a number of other strong individuals on smaller squads - everyone's counting everyone out. The only time that'll change is when there's really adverse weather conditions or tougher terrain to make a selection," commented Rapha-Condor-Sharp boss Herety.
The absence of race radio has also played its part. "It's very difficult to know who's up the road. Without race radio, you need to close the gap quickly or you're playing lady luck a little bit," winner Newton added.
Jonny McEvoy claimed second on day two on the way to sixth overall. A handy complement to Motorpoint's strength in depth, watch out for the talented Academy graduate this season.
WINNERS

Rapha-Condor-Sharp
What a difference a week makes. Boosted by a full-strength line up in Scotland, the men in black rode strongly and cohesively to ensure Newton's win.
Motorpoint-Marshalls Pasta
Young (McEvoy, aged 20) and old (Elliott, 48), they were up there every day in the breaks and bunch sprints.
Endura
The plan was to take yellow, but a stage win and dominating the overall on home soil is still good going. A rivalry with Rapha is in the making too.
LOSERS

Team Raleigh

No riders in the top twenty. The Raleigh boys need to rally, pronto.


Wilier-Bigmaggys.com-Prendas Ciclismo

Barely featured; defending champion Marcin Bialoblocki never had a sniff.
RESULTS
Tour DoonHame 2010
1. Chris Newton (Rapha-Condor-Sharp) 9-53-25
2. Jack Bauer (Endura Racing) at 10secs
3. Peter Williams (Motorpoint-Marshalls Pasta) at 18secs
4. Evan Oliphant (Endura Racing) at 20secs
5. Ian Wilkinson (Endura Racing)
6. Jonny McEvoy (Motorpoint-Marshalls Pasta) at 24secs
7. Malcolm Elliott (Motorpoint-Marshalls Pasta) at 26secs
8. Steve Lampier (Pendragon-Le Col-Colnago)
9. Kit Gilham (Sigma Sport-Specialized) at 29secs
10. Wouter Sybrandy (Sigma Sport-Specialized) at 30secs


SUPER TEAM CHALLENGE

Endura roar into the lead after placing three in the top five. They're boosted by Bauer's Man of the Race five-pointer too.
After failing to score at the Tour of the Reservoir, Rapha have also charged up the leaderboard following their success.
Endura 40pts
Rapha-Condor-Sharp 24pts
Sigma Sport-Specialized 19pts
Team Sprocket 12pts
Motorpoint-Marshalls Pasta 8pts
Wilier-Bigmaggys.com-Prendas Ciclismo 6pts


BRUCIE BONUS
The Bruces are in agreement: it's got to be Jack Bauer.
What a ride. Against the odds, the tall Kiwi almost single-handedly detonated the race, going solo for thirty miles. For most of it, his lead was barely dented by Rapha-Condor-Sharp's fierce pursuit.
The effort may have ultimately left him just short of overall victory, but it did earn him second place - and a hell of a lot of respect. Several top riders remarked on the impressiveness of his lone break afterwards.


An exhausted Bauer crosses the line to win stage three.
It was only the 24-year-old's second race in the UK too. "I'm struggling to get used to the weather and the number of bad roads. It's a different kind of racing scene in the UK. It's hard, way harder than I expected, but it's all good learning", Bauer asserted post-stage.
Just think what'll happen when the New Zealand champion does get into the swing of things.
NEXT PREMIER CALENDAR
Sunday May 9
Lincoln GP
RELATED LINKS
Newton wins Tour DoonHame
Two in a row for Newton in Scotland
Newton takes DoonHame opener
Thank you for reading 20 articles this month* Join now for unlimited access
Enjoy your first month for just £1 / $1 / €1
*Read 5 free articles per month without a subscription
Join now for unlimited access
Try first month for just £1 / $1 / €1