REACTION TO CAVENDISH'S GIRO STAGE WIN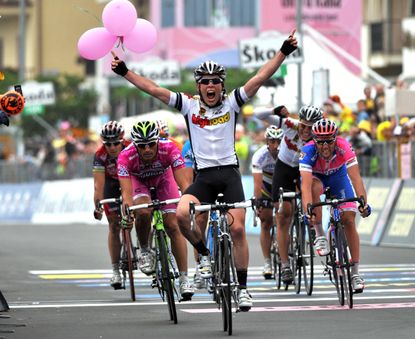 (Image credit: GRAHAM WATSON)
Get The Leadout Newsletter
The latest race content, interviews, features, reviews and expert buying guides, direct to your inbox!
Thank you for signing up to The Pick. You will receive a verification email shortly.
There was a problem. Please refresh the page and try again.
Swipe to scroll horizontally
British Cycling?s Academy coach
I was watching at home but the rest of the Academy lads were at their house, all sat about 30 centimetres from the telly.
It?s fantastic isn?t it. It shows to those lads what we?re aiming at.
I knew after Monday?s stage when he crashed and chased really hard to get back on that he?d be up for it. There was just that final climb to get over and his team worked really hard to keep him in touch.
It was a great moment to see him win but to be honest, that was the stage we?d been targeting since the route came out, so I knew he?d be in with a shout.
He?s trained really hard for this Giro. He was out in Italy with the Academy lads the week before the Tour of Romandie and then again after it. He was doing seven-hour rides, with the last two behind the motorbike. We knew he was on form because he was hitting his PBs [personal bests] for his peak power output.
The Madison at the Olympics is a big goal this year but on the road it was all about the Giro and winning a really big stage. Now we?ll see if he can get through. Before the route came out we talked about how important it is to finish a big stage race.
We?ll see how it goes. The final week is really, really hard. The mountain stages go right up to the last Saturday. It?s not like the Tour where you have the last mountain stage on the Wednesday or Thursday and then there?s a flat stage, a time trial and the run-in to Paris. This is full-on to the end so if it?s too much, it?s too much. We?re not going to ask him to do too much. He shouldn?t be afraid to pull out if it?s the right decision.
Then hopefully he?ll get a start in the Tour and try to win a stage there. One on one I have no doubt he?s the fastest in the world now. He?s a winner.
It?s fair to say there was a period when British Cycling was picking people on their power outputs and not their all round cycling ability but Cavendish is proof that we look for talent. End of story. Look at Ben Swift, he?s not so good on a rig but he?s a great bike rider.
For me, it?s fantastic to see Cav win but it?s also great for the future. The younger lads can see him win that and be inspired and motivated.
Cav still loves coming to the Academy base and hanging out with the lads. He?s not too big or too good to go out training with those lads.
When he first came to the Academy he struggled to train. There were some sessions he wasn?t strong enough to finish on his own, so we worked really hard at teaching him how to train by himself. He?s come on so far.
But even now I think back to last year just before the Tour of Catalonia. He came down to see us and we went out training and there was a ride that went over this big climb. He was getting dropped. Then Burkey [Steven Burke] was beating him in the sprints. A week later he won two ProTour stages in Catalonia. That?s just what he?s like, when it?s race day, he?s a different man.
Barring accidents, we?ve got a hell of a winner on his hands. People are talking about him as ?just? a sprinter but I think he can do more. He won the prologue at Romandie and I think as he gets that endurance later in the year he?ll be challenging overall in some of the smaller stage races.
In future years, Milan-San Remo, Ghent-Wevelgem, the world road race championships, the Olympics? Why not all of it? I know he was incredibly annoyed not to get in the team for Paris-Roubaix, not because he thought he could win it now but because he wants to get a look at it as soon as possible. Why couldn?t he challenge in that too?
Swipe to scroll horizontally
British Cycling performance director
I?m in Beijing checking out the Olympic village for the first time so last night I was following the Giro stage on the internet. When I read Cav had won I was jumping around the room at some unearthly hour
It?s fantastic news, confirmation of what everyone thought. He?s the world?s best sprinter at the moment.
A few years back there was a bit of debate among the coaches at British Cycling about Mark?s talent. Some people questioned it but I was among those who were totally behind him.
Shane Sutton said to me about four or five years ago ?I?ll bet my house that Cavendish wins grand tour stages and his first one will be in the Giro d?Italia.?
I had to text Shane last night to tell him his house is safe.
It shows that British Cycling is not just about track and not just about numbers. It?s about looking at the complete bike rider.
It?s a very exciting time. After the track worlds I set aside a month to work on the plans for the Pro-Nat professional team concept and it?s getting very exciting.
Swipe to scroll horizontally
British Cycling coach
I?ve always believed he?s capable of this. He?s one of those guys I thought was destined for great things the moment I saw him.
He?s a great bike rider but he?s getting more robust. He?s a diminutive guy and he tends to get bumped around a bit when it gets twisty and technical but yesterday on the straight, flat road, that was made for Mark.
Point him in a straight line and he?s the fastest man in the world. And he?ll tell you that himself!
It takes time to gain the strength but as he does he?ll get over the tougher terrain in better shape and he?ll mix it on the more technical finishes. And as he gets the wins his team will have more belief in him.
I noticed Bradley Wiggins in there until the finish yesterday. He?s a superb athlete and as he gets more confident being up there he can be a big help to Mark.
I also noticed that Robbie McEwen was sniffing around Cav yesterday. Robbie?s been the best in the world and Cav was the one he wanted to mark. He knew Cav was going to be the man to beat.
I?d definitely pitch him in the Tour de France too. It?s not ideal preparation as far as the Olympics goes, perhaps, but if I was Bob [Stapleton, High Road manager] I?d throw him in. He learned a hell of a lot last year. I think he was easily rattled then because it was his first Tour and the spotlight was on him because it was London, but he?s mentally stronger now.
I?ve said to Allan Peiper before, ?Mark is a winner. He?s not a natural trainer because you can?t win in training. You have to race him. The more you race the guy the better he is?.
Now the pressure is off I wouldn?t be surprised if he wins another stage. But actually, the Giro isn?t about winning another stage now, it?s about getting to the finish and getting that strength from finishing a grand tour.
There?s no limit for him in the future. It may sound bold to say it but now we?re thinking about how Mark can be world champion in Melbourne [in 2010] and Olympic champion in London. We really believe he?s capable of that.
These lads who?ve learned their trade from Rod Ellingworth are coming though now. Look at Ian Stannard ? can you imagine him leading out Cav in London in 2012?
Rod has been teaching them how to ride, through and off, training behind the car. To the man in the street it sounds simple, but Rod gavce them such a foundation in the basics. He started on page one and taught them how to ride.
We?re starting to see that coaching work from the whole team of coaches pay off now.
Swipe to scroll horizontally
Managed Cavendish in Great Britain under-23 team
I was watching on television and I let out a massive cheer when he won. He made it look pretty easy, it was a doddle wasn?t it.
It doesn?t surprise me one bit. The boy?s got it. There?ll be no stopping him now. I won?t be surprised if he goes on and wins another one.
He?s a bit emotional sometimes but that?s part and parcel of being a sprinter.
I remember when he came to be interviewed for a place on the Olympic Academy squad. In tests he hadn?t performed. His power-to-weight ratio was not up to scratch, he?d been ill and he hadn?t looked outstanding in the tests.
But when we interviewed him someone asked how many victories have you had. When he told us, Rod Ellingworth just looked at me and I could tell he was thinking ?Well, we?ve got to take him on?.
Rod made that decision and worked really hard with Mark. He learned his trade with the Academy and I suppose he?s the first road rider to come out of the system and get a really big win.
There?s no stopping him now. Usually with young riders you try to downplay the expectation but the sky?s the limit for him.
There are signs he?s growing up fast too. I liked that he thanked Bettini for letting him in the line. I liked that he said he?s not yet the strongest sprinter. He?s earned respect from people.
I remember taking him to an under-23 stage race in Germany a few years ago and thought then he was phenomenal. He?s a great bike handler and he is very good at getting through small gaps, but he?s also a clean sprinter.
Swipe to scroll horizontally
Landbouwkrediet pro and friend
I sat down with one of the swannies [soigneurs] and watched it from about 90 kilometres out. High Road were up there doing the work and he was in a great position.
I just wanted him to do it. I was right on the edge of the sofa in the last 10k.
Initially I thought Cav was behind the crash but then I saw his face ? you can?t miss his face, can you ? and that was when I thought he was going to do it.
He really looked as if he was trying at times but it was a flat finish and when it?s like that you can?t doubt him.
Once Cav starts winning you can?t stop him. I reckon he?ll get another one, maybe two.
Swipe to scroll horizontally
Former sprinter, won eight Tour de France stages between 1967 and 1975
I haven?t seen it, but I heard the news on Five Live. I wasn?t too surprised ? the guy?s got a sprint hasn?t he. You can?t take it away from him.
He?s done amazingly well in his first two years as a pro and he?s certainly got a ferocious sprint, but he crashes too much.
He had a couple of crashes in the Tour last year and I gather he crashed earlier this week. Those crashes take their toll, it doesn?t do you any good. You have to get your positioning right.
After Ghent-Wevelgem he complained that the sprint was ?crazy, crazy, crazy? but they?re only trying to do what he wants to do. You?ve got to grow up quick in the pros.
But you can?t take anything away from him. He was in the right position to avoid the crash yesterday. The problem is the guys today can?t ride a bike. They don?t have control and it?s down to these mickey mouse handlebars.
Some of the older guys have the flat drops but these ones with the kink in means you can?t reach the brake levers. I?ve seen riders in the sprint with their hands on the brake hoods. They?re not in control of the bike there and they have no leverage on the brakes and no stopping power. Fact.
We used to sprint shoulder to shoulder on the drops, with our fingers covering the brakes so you were in total control.
In 18 years as a pro I never crashed in a sprint. Then they had the metal barriers with the feet sticking out. I called it Kamikaze Alley down the sides there and never went near it. Now they want to stay out of the wind and they hug the barriers tight but that makes it worse.
Swipe to scroll horizontally
2005 World Madison champion with Cavendish
I didn't see it. We don't have that many channels! I heard about it just before I went out on the chaingang. A neighbour who has Eurosport came and told me.
It's fantastic. I'm very happy for him. What's that now, 16 wins in a season and a bit? There won't be many people holding back for him now.
Swipe to scroll horizontally
High Road team-mate and Cavendish?s world champion Madison partner
Cav?s a star. All the team worked for him and he came up with the goods. He really deserves it.
Swipe to scroll horizontally
Barloworld rider and Cavendish?s close friend
He?s something special. I only saw the sprint very briefly on television as we had a very long transfer but it?s amazing what he?s done.
Swipe to scroll horizontally
Winner of stage three, beaten by Cavendish on stage four
We all knew Cavendish was fast, but he was really fast yesterday. Obviously we?re different types of sprinters but he gets through some really small gaps.
GIRO D'ITALIA 2008: STAGE REPORTS
Stage four: Cavendish wins
Stage three: Bennati romps home
Stage two: Ricco wins Giro d'Italia second stage
Stage one TTT: Slipstream wins Giro team time trial
GIRO D'ITALIA 2008: NEWS
Reaction to Cavendish's Giro stage win
Cav hits back at Pozzato's snipe
Cavendish: This is my biggest win [stage four]
Millar celebrates Slipstream Giro d'Italia success
Bettini looking for final Giro glory
Astana's troubled build-up to the Giro
Petacchi banned for Salbutamol positive
Yates and Astana make last minute rush to Giro
GIRO D'ITALIA 2008: PHOTOS
Giro d'Italia 2008: Photo gallery. New photos added daily
GIRO D'ITALIA 2008: FEATURES
Giro Britannia: how the Brits are doing in Italy
Giro d'Italia 2008 preview
Giro d'Italia 2008: who will win?
Giro d'Italia 2008: The British are coming
Giro d'Italia on Eurosport: TV schedule
Thank you for reading 20 articles this month* Join now for unlimited access
Enjoy your first month for just £1 / $1 / €1
*Read 5 free articles per month without a subscription
Join now for unlimited access
Try first month for just £1 / $1 / €1
Get The Leadout Newsletter
The latest race content, interviews, features, reviews and expert buying guides, direct to your inbox!
Sports journalist Lionel Birnie has written professionally for Sunday Times, Procycling and of course Cycling Weekly. He is also an author, publisher, and co-founder of The Cycling Podcast. His first experience covering the Tour de France came in 1999, and he has presented The Cycling Podcast with Richard Moore and Daniel Friebe since 2013. He founded Peloton Publishing in 2010 and has ghostwritten and published the autobiography of Sean Kelly, as well as a number of other sports icons.