Richard Branson: 'I thought I was going to die in cycling accident'
Richard Branson shows off his injuries from a cycling accident in the British Virgin Islands, admitting that he thought he was going to die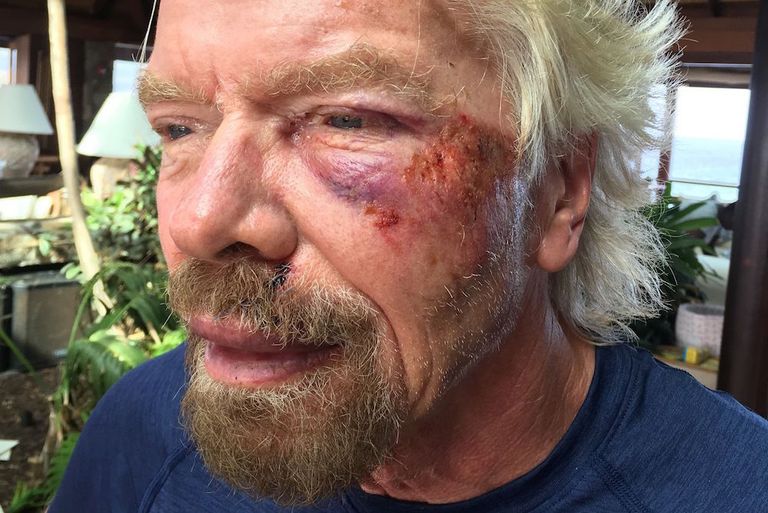 Entrepreneur Richard Branson has revealed that he thought he was going to die after coming off his bike and hitting his face hard on the road.
In a blog post on virgin.com. Branson revealed that he was cycling at night with his children Holly and Sam in the British Virgin Islands when he hit a traffic hump and flew over his handlebars.
"I really thought I was going to die," he wrote. "I went flying head-first towards the concrete road, but fortunately my shoulder and cheek took the brunt of the impact, and I was wearing a helmet that saved my life (however, perhaps they should build bike helmets that protect the side of the face too - does anyone know of one?)."
>>> The full extent of Bono's cycling injuries is pretty shocking
Branson's bike was thrown over the edge of a cliff in the accident, later to be recovered but completely destroyed. He was discovered by his assistant Helen before travelling to Miami for x-rays, which revealed a cracked cheek and torn ligaments.
>>> Cycling injuries mean Bono still can't play guitar, five months after crash
"My attitude has always been, if you fall flat on your face, at least you're moving forward. All you have to do is get back up and try again. At least I'm practicing what I preach – though a little too literally!" he added.
Branson was in training for the Virgin Strive Challenge, which involves cycling, swimming and running over 2000km from the base of the Matterhorn in Austria to the summit of Mt Etna in Sicily.