Ride with... Hull Thursday Road Club
With a history that spans 111 years, this Yorkshire club has plenty to offer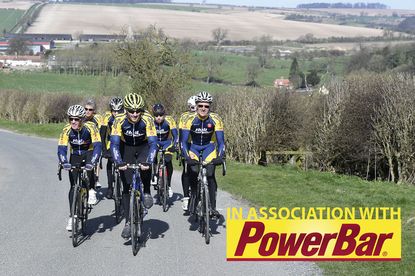 Get The Leadout Newsletter
The latest race content, interviews, features, reviews and expert buying guides, direct to your inbox!
Thank you for signing up to The Pick. You will receive a verification email shortly.
There was a problem. Please refresh the page and try again.
Photos by Andy Jones
Based: Hull and East Riding of Yorkshire
Members: 149
Formed: 1908
Meets: Club runs: Sunday, 9.30am, Skidby Windmill; Wednesday, 10am, various locations. Training rides: Saturday 9.30am, Skidby
"We've got some great countryside to ride in here", says Graham Robson as we spin through the Yorkshire Wolds.
A member based in the Netherlands, Graham regularly returns to Hull to catch up with his dad, 89-year old Ray.
There are no surviving members from the Hull Thursday formation of 1908, but Ray comes the closest, having joined in 1946. He recalls taking part in time trials using his fixed wheel bike:
"We used to ride to Bawtry on a Saturday morning with our race wheels attached to the fork, do the time trial on Sunday morning, have a few beers and ride back to Hull for another time trial on Sunday evening."
Nowadays he rides at a leisurely pace, but shows few signs of stopping.
The Geriatrics
On a sunny Sunday morning a group of around 20 riders set off from Skidby Windmill. A splinter group, known as 'the Geriatrics', led by John Ullyatt, leaves at a slower pace.
This merry bunch of guys, all at least 70 years of age, can easily knock out around 80 miles at 15-16mph during their midweek rides, rounding off their outing with friendly banter at a local pub.
>>> Cycling training plans: get fitter, ride faster and go further
They are hardy too. Apparently one of the riders, cycling home from the pub, collided with a deer and broke his hip, but still got back on his bike and continued pedalling home.
As this ride contains young racer types no pub stop is planned, and thankfully there are no incidents with deer either.
Watch now: What to pack for every sportive
"We have racing achievements at both ends of the age spectrum," says club president Paul Kilvington. "We have our youngest at 14, Fin Pickering, and Rob Stone, who is in his 70s."
Talking to press officer Mike McAllister as we breeze through Market Weighton, he explains that the club is currently going through a transitional phase, between a racing and a social cycling club. But essentially, given its proud history, the club firmly has its feet set in the racing scene.
The majority of Hull Thursday's membership are male, but the few women that sit among the ranks receive a lot of support in their goals, as Amanda Dean found when she joined.
As we spin up Londesborough Hill she talks about the club's time trial series: "If you've got a bit of cycling experience the time trial is a great way to get involved in the club. All the routes are on quieter roads; we never use the main roads."
Play-fighting
The early part of the club run is set on flat roads, but it soon turns to narrow lanes that roll up and down through the Wolds.
This area has been the scene of many battles between elite riders in the Tour de Yorkshire or the East Yorkshire classic races and there a few light-hearted tussles taking place today.
This year Hull has been named as the UK City of Culture, although there are no specific plans by the club to run events.
>>> Yorkshire named as host of 2019 UCI Road World Championships
However, they did manage to bag former BBC arts correspondent Rosie Millard as guest speaker at their annual dinner.
They also look forward to the opening of a new track in Hull, where the club can attract more youngsters to the sport.
No giving up
As I catch up with Graham Robson once more he tells me about the sportives he is riding this year, which include the Three Peaks Cyclo-Cross — the 31st time he will tackle it.
An outstanding achievement, he clearly has no signs of hanging up his bike any time soon.
"I can't stop riding until Dad stops," he says. "I ride in Hull Thursday colours when I'm in Holland. It's a club that I am very proud to be part of."
History
Formed in 1908, the club was originally known as the Speed Section of the Hull Tradesmen's Athletic Association. Thursday was traditionally a half day so workers would get together on a Thursday afternoon to go for a bike ride.
In 1914 the athletic association folded, but the cycling section continued as a standalone association, known as Hull Thursday Road Club.
Hull Thursday Club no longer meets officially on a Thursday. In fact their main ride is on a Sunday, and their midweek ride with 'the Geriatrics' is on a Wednesday.
There are no plans to change the name to Hull Wednesday Club though!
The club has a history of organising many races with the first event, an open track meeting held in 1909 in Hull.
>>> Find a cycling club near you
In the '70s and '80s the club organised a two-day event, the Zerny and the Skelton, which saw top riders compete over a route out to the East Yorkshire Coast.
More recently Hull Thursday Club has organised the National Road Race Championships, the National Criterium Championships, and the East Yorkshire Classic.
It organises a round of the Elite Critierium Series on the cobbles of Beverley town centre, and the Big G sportive which will have its 10th and final edition this year.
>>> Ride with… Wigan Wheelers Cycling Club
Local races the club has organised include the Keith Carter Memorial and the Vic Sutton Road Race.
Sutton joined Hull Thursday as a veteran after having competed in the Tour de France in the late 50s, where he famously dropped Charly Gaul and Federico Bahamontes on the Col du Tourmalet.
Achievements
Billy Holmes broke the national time trial record for 25 miles in 1955 and won silver in the team road race at the Melbourne Olympics in 1956.
Barry Trotter gained a number of team time trial titles with Norman Hall, Dick Moate and Bruce Goodens around the UK.
Richard Guymer, the club coach, beat Malcolm Elliott in 1978 at the Hull Thursday Club Road Race. Guymer finished in second place, while Elliott came third.
Findlay Pickering, aged 14, finished second in the National Cyclo-Cross Championships.
Rob Stones is the reigning World Masters Cycling Federation World Cup road race champion in 70-74 age group. He contested the race at St Johann, Austria.
Ride highlights
1 Londesborough Hill to Nunburnholme Hill
Regularly included in high-profile races, we rode Nunburnholme Hill from Market Weighton, the push up Londesborough leaving a technical drop down Nunburnholme Hill.
2 Warter
This beautiful village inspired artist David Hockney to create the huge 15ft by 40ft painting, Bigger Trees Near Warter. It also adds a stunning aesthetic to the Tour
de Yorkshire.
3 Beverley Westwood Pasture
The common pasture outside Beverley marks the end of the club run, and the cafe stop. There are stunning views of Beverley racecourse and the Minster.
Favourite cafe
Cafe Velo, Beverley, is a popular stop-off for riders and has been visited by the Downing brothers and Bradley Wiggins, all friends of owner and ex-racer Gary Payne, who rode for the Paragon Racing Team in the 1980s.
Cafe Velo, 21 North Bar Within, Beverley, HU17 8DB
Thank you for reading 20 articles this month* Join now for unlimited access
Enjoy your first month for just £1 / $1 / €1
*Read 5 free articles per month without a subscription
Join now for unlimited access
Try first month for just £1 / $1 / €1
Get The Leadout Newsletter
The latest race content, interviews, features, reviews and expert buying guides, direct to your inbox!