Ride with... Wigan Wheelers Cycling Club
We join the swathe of blue and white for a spin with popular North West club Wigan Wheelers, in association with PowerBar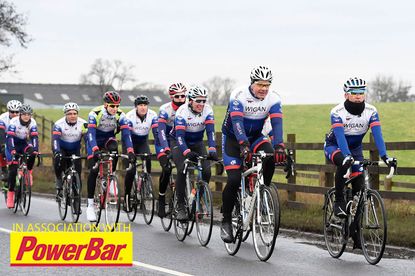 Get The Leadout Newsletter
The latest race content, interviews, features, reviews and expert buying guides, direct to your inbox!
Thank you for signing up to The Pick. You will receive a verification email shortly.
There was a problem. Please refresh the page and try again.
Based: Wigan, Greater Manchester
Members: 70
Formed: 1919
Meets: Saturdays various times and locations, Sunday 9am at Aston-in-Makerfield library; Tuesdays 9:30am Bryn — opposite Our Lady's Church; Thursday 9:30am Aston-in-Makerfield Pimbletts Farm Gate. Group turbo sessions led by Holme Cycling, 7pm Monday and Thursday at The John Eddleston Centre.
Contact: Website: http://www.wiganwheelers.org/ | Twitter: @wiganwheelerscc
"The best thing about living in Wigan," says club member and kit organiser Ron Lyson.
"Is that you get the best of all worlds. Go north and you're into the Forest of Bowland, west for the coast and anywhere south-west for a more or less flat day out."
This last remark causes some gradient-related joshing among the assembled Wigan Wheelers as today we are heading west into the Cheshire Plains.
"Pah!" laughs Nigel Clementson. "It's positively downhill all day!"
>>> Best cycling sportives in Yorkshire
Top banter
"Yeah right! Let's hear you say that at the end!" retorts Mark Openshaw, giving the impression there may be a few surprises in the 'flat' ride billed for today.
Openshaw continues to fill me in, explaining that many of the roads are false flats, except the one over the Manchester Ship Canal.
>>> Hill intervals: improve your climbing
As I approach I'm suddenly hauling myself up and over a bridge high enough to allow cargo ships underneath — nothing false about it.
Route master
I chat with club member Phil Bradshaw, a member of the Wheelers for 10 years.
"I've not done this exact route," he confides. "That's the thing about riding with Barry Jefferson, today's run leader, he leads five rides a week, so he knows every lane in a 100-mile radius."
"It's a memory bank that's been building up over 10 years of riding,"
>>> Now there's a route planner for lazy cyclists
Jefferson tells me when I eventually catch up with him. He's been chipping along at a 16mph average; not too shabby for his 72 years.
"I'm not the oldest out today. Harold Woodcock, our previous club president before Derek Black took over, and Jim Harrison, are both in their eighties," explains Jefferson.
"The youngest member out is Harold's grandson, Ross Prescott. At 17, he's our next hitter and part of Liverpool John Moores University development squad.
"Our current superstar is Claire Clementson. She's only been back on the bike two years after a 10-year break and has already ridden a 22.38 for a 10 and gone under the hour for a 25."
Watch now: How to use Hand signals

After a few more twists and turns, we reach today's cafe, where yet more members meet up with us.
"We'll end up doing about 30 miles today," says Janet Hopkinson, who rides tandem with husband Cecil.
"I have limited movement these days," she continues, "but I love riding. I think some people were surprised when I married another cyclist" [she was previously married to former pro, Dave Broadbent]
"But it's a great way of life, and keeps us fit."
Brews and beans
After tea and beans on toast, we set off, once more in impeccable formation.
>>> Five ultimate foods for cyclists (video)
I quiz my current riding companion, Glen Dower, on his cycling background.
"I started off on my own but was lonely, so I tried a midweek ride and kept going," he says.
"I like the club's social side but also testing myself; this year I'm heading to Majorca."
>>> 17 of the best international sportives to ride in 2017
Pulling alongside Lyson once more, he explains how he is part of the team helping to organise the club runs:
"Barry, Graham Welch, Ste Saggerson and myself have taken over from Harold Woodcock, who used to organise the weekly club run.
"We've worked hard to make the runs core to the club and now we have five a week. What some of our members have achieved is outstanding," he says with pride.
"Ste has completed LEJOG and raised £1,000 for the British Heart Foundation — he's riding it the other way round this year."
It's a remark that highlights Wigan Wheelers' respect for all aspects of cycling.
History
The formation of Wigan Wheelers Cycling Club was proposed by Mr Baxter at a meeting with a group of friends, Mr Brogan, Mr Kay and Mr Atherton, in 1919. Membership was to cost 2/6.
It was at this meeting that the first 25-mile time trial was agreed for October 1919, open to cyclists who lived within seven miles of Wigan.
>>> Find a cycling club near you
The club still holds club 10s every Wednesday between April and September, as well as four North District Open events throughout the year.
The club's longest standing members remember the post-war era, where membership peaked at around the 200 mark.
The late 1940s club runs were all-day affairs — a ride to Formby on the coast for a dip in the sea and back was 45 miles, which may not seem far, but these were usually on a 69-inch fixed gear, (42t chainring/16t sprocket) over cobbled roads and tramlines — getting back way past 10pm was not unusual.
Achievements
■ Alan Danson represented Great Britain on the track in the men's 1,000 metres time trial at the 1956 Melbourne Olympics, where he finished in fifth place.
■ Wigan-born Dave Cockram and Dave Broadbent both joined Wigan Wheelers in the 1960s, collecting impressive sets of race results between them, before eventually turning professional, Cockram for Partingtons-Lusso and Broadbent for Carlton-Weinmann. Sadly Broadbent was involved in a tragic accident at the Newport crit race, and died on the June 18 1979.
■ Previous members include Richard Handley, 2008 national junior 25-mile champion, and Chris Lawless, 2013 national junior 10-mile time trial champion, professional rider for American-based Axeon-Hagens Berman, Tao Geoghegan Hart's team before joining Team Sky.
Wigan Wheelers CC Club Run
Ride highlights: 47 miles

1 Warburton Toll Bridge
The 110-year-old wrought iron cantilever bridge over the Manchester Ship Canal is an impressive industrial structure, even if your legs suffer a little getting up and over it.
2 Dunham Town
Intrinsically linked and just a stone's throw away from Dunham Massey, this picturesque town is steeped in history, with houses dating back to the 17th century. Well worth a visit.
3 Tatton Park
A 1,000-acre ancient deer park that was the finishing location to stage three of last year's Tour of Britain. Entry to the park is free to cyclists and pedestrians.
Favourite cafe
The Lavender Barn Tea Room, situated in the beautiful Dunham Town, has lots of space both in and outdoors and serves home-made hot and cold food with a huge drinks menu.
Lavender Barn Tea Room, Dog Farm School Lane, Dunham Massey, Altrincham, WA14 4TR
Thank you for reading 20 articles this month* Join now for unlimited access
Enjoy your first month for just £1 / $1 / €1
*Read 5 free articles per month without a subscription
Join now for unlimited access
Try first month for just £1 / $1 / €1