Chris Lawless and Eileen Roe crowned British circuit race champions (videos)
Chris Lawless continues stellar season at the British Cycling National Circuit Race Championships in Birmingham; Eileen Roe reprises her title from 2014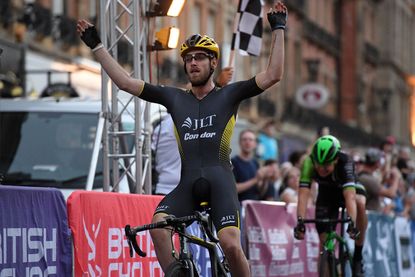 (Image credit: Andy Jones)
Chris Lawless (JLT Condor) and Eileen Roe (Lares-Waowdeals) took the 2016 British Cycling National Circuit Race Championship titles in Birmingham on Thursday evening.
Lawless has been enjoying a successful season so far, having claimed two individual victories in the Tour Series, the London Nocturne and three wins in the Elite Circuit Series.
The 20-year-old from Wigan headed up a clean sweep of the men's podium for his JLT Condor team, with Russell Downing claiming silver and Jon Mould bronze.
Defending women's champion Nicola Juniper (Ford Ecoboost) placed third behind Roe and Alice Barnes (Drops Cycling). Roe sprinted ahead of her rivals to take the victory.
https://www.youtube.com/watch?v=UGXh7um3nmo
British Cycling National Circuit Race Championships 2016
Men
1. Chris Lawless (JLT Condor) in 57-53
2. Russell Downing (JLT Condor)
3. Jon Mould (JLT Condor)
4. Tobyn Horton (Madison Genesis)
5. Harry Tanfield (Pedal Heaven)
6. Jonathan McEvoy (NFTO)
7. Will Fox (Pedal Heaven)
8. Jacob Tipper (Pedal Heaven)
9. Matthew Holmes (Madison Genesis)
10. Thomas Stewart (Madison Genesis) all same time
Women
1. Eileen Rose (Lares-Waowdeals) in 58-16
2. Alice Barnes (Drops Cycling)
3. Nicola Juniper (Ford Ecoboost)
4. Grace Garner (Podium Ambition)
5. Rebecca Durrell (Drops Cycling)
6. Annasley Park (Team Breeze)
7. Elizabeth Holden (Ford Ecoboost)
8. Gabriella Shaw (All Terrain Cycles)
9. Rebecca Womersley (Drops Cycling)
10. Hayley Jones (Team Breeze) all same time
Thank you for reading 5 articles this month* Join now for unlimited access
Enjoy your first month for just £1 / $1 / €1
*Read 5 free articles per month without a subscription
Join now for unlimited access
Try first month for just £1 / $1 / €1