The rise of Tao Geoghegan Hart: British prodigy's long road to Team Sky
CW sits down with the young British rider ahead of the 2017 season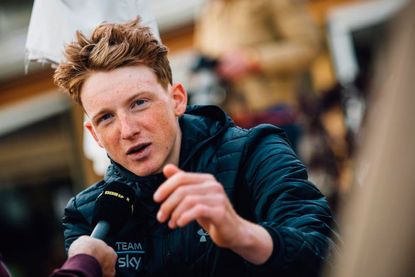 Few young British riders would have the courage to turn down Team Sky when they expressed an interest in signing them, and ask if they'd come back in a year instead.
But that's exactly what now 21-year-old Londoner Tao Geoghegan Hart did in 2015 after riding as a stagiaire with the WorldTour outfit.
For someone who has ambitions of racing Grand Tours, Sky's offer was the dream ticket.
Geoghegan Hart even recalls standing on the Mall in London in 2010 when Sky officially launched and being inspired by the sight of the new British team.
Yet rather than put pen to paper, he chose to stay with the American Continental team Axeon-Hagens Berman, believing it best to continue his development on the U23 scene for another 12 months.
>>> Axel Merckx offers young British cyclists an alternative way to become a pro
"It's really hard when you have the opportunity that is your dream, and you don't know if it'll come again, to say that you'd like to wait a year please," Geoghegan Hart tells Cycling Weekly, now sat wearing Sky team kit having joined the squad as a neo-pro for the start of 2017.
Watch: Team Sky Tao Geoghegan Hart, Facebook live at Challenge Mallorca
"It was really incredibly hard, especially because no one can really give you advice on that — it has to be your decision."
He admits he had "a lot of doubt" after making the call in 2015 but patience is a lesson he credits Axel Merckx — team manager at Axeon and son of five-time Tour winner Eddy — with teaching him.
It's a lesson he thinks has been vital in preparing him for what he hopes will be a long career.
"It's a really long road if you want to be a pro for the next 15 years — so sustainability across that time is so important," he says.
Early promise
Since he started racing in 2010 as a teenager, Geoghegan Hart quickly garnered a reputation as one of British cycling's brightest young talents.
He began racing abroad on trips led by John Barclay in 2011, before joining British Cycling's Olympic Development Programme, attracting attention for victories abroad and podium places at races including Junior Paris-Roubaix and Junior Liège-Bastogne-Liège.
He signed for Axeon in 2014, supported by the Dave Rayner Fund, mixing racing in U23 races with the Great Britain national squad with pro races such as the Tour of California, USA Pro Challenge and Tour of Britain, scoring impressive overall results against far more seasoned riders.
"I just wanted to do everything, do every race. The last three years I just did every race I could because I knew that was how I was going to develop," he says.
"I'm relatively sure there's no other amateur going pro in the world that can say they've been lucky enough to have the programme I've had.
"Half my professional races [have been ranked] .HC, not like .1s in the middle of nowhere. Big races, with a lot of attention, live TV — those things don't make a lot of difference but they're just little things you get used to."
Geoghegan Hart is hugely ambitious, aiming to compete in Grand Tours in the future as well as "big one day races — Liège, the Worlds, Lombardy".
>>> Who are the Cycling Weekly experts backing to win the big races in 2017?
"I just always like scrapping for more," he says of where his motivation comes from. "I've always enjoyed proving people wrong. More just proving to myself that I can do something."
The pressure that came from having success as a teenager, however, was hard, he says, particularly under the media spotlight, and he credits his family and school life with keeping him grounded.
"I actually feel really sad when I see cyclists now who leave school," he says.
"I had all those friends at school and I was just a person to them. They didn't know anything about cycling — I could win a massive race and come into the class Monday morning and the teacher would still shout at me for drawing all over my book or not listening."
Geoghegan Hart is one of five British riders stepping up to the WorldTour this season, something he doesn't take for granted, and it's clear how much respect he has for the history of the sport and generations of British cyclists that have gone before him.
"Sometimes young riders now don't appreciate how good they have it," he says.
>>> How they used to train: Eddy Merckx's pre-1969 Tour de France week
"Imagine what it was like for Charly Wegelius when he turned pro on his own in Italy on a team where no one spoke much English — how different it is now."
Thank you for reading 20 articles this month* Join now for unlimited access
Enjoy your first month for just £1 / $1 / €1
*Read 5 free articles per month without a subscription
Join now for unlimited access
Try first month for just £1 / $1 / €1