Dave Rayner Fund announces list of 36 riders supported for 2017
British-based Dave Rayner Fund will support 36 male and female riders as they live and race abroad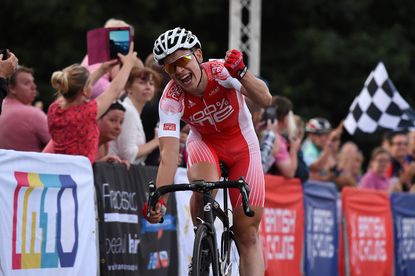 (Image credit: Andy Jones)
The Dave Rayner Fund has announced the list of 36 male and female riders who will receive financial support in order to live and race abroad during 2017.
The fund was set up in 1995 in the memory of cyclist Dave Rayner, who died at the age of 27, to encourage British riders to nurture their talents by racing on the continent.
Previous recipients of funding have included David Millar, Adam Yates, Simon Yates, Dan McLay, Owain Doull, Hannah Barnes, James Shaw and Tao Geoghegan Hart.
The Fund reports that it received a 'huge number' of applicants for 2017, with 36 receiving awards for 2017 compared to 27 in 2016.
>>> Tao Geoghegan Hart signs for Team Sky on a one-year contract
The number of female riders supported by the fund has increased for 2017. In addition, the Fund has announced that it will organise a trip to race in Belgium and the Netherlands during the summer for female riders who live in Britain but want to gain experience racing abroad.
"This trip would be an ideal fact finding mission for riders who are interested in perhaps spending more time abroad in the future and could therefore qualify later for our normal season-long support," the Fund said in a statement issued on Monday.
Riders will join teams based in France, Belgium, Italy, Netherlands, Spain and the USA for 2017.
Watch: 2017 WorldTour changes
Dave Rayner Fund riders 2017
Name of rider - team they will ride for/country
Jack Billyard - Zappi Racing Team (Italy)
Tom Bracegirdle - Goma Dakwerken Team (Belgium)
Alex Braybrooke - AVC Aix (France)
Lewis Bulley - MIBA Bauget (Belgium)
Megan Chard - Lsorex Ladies (Belgium)
Calvert Churchill - Profel United (Belgium)
Alice Cobb - LaresWaowDeals (Belgium)
Henrietta Colbourne - Swabo Ladies (Netherlands)
Gabriel Cullaigh - SEG Racing Team (Netherlands)
James Davey - Zappi Racing Team (Italy)
Jack English - Asfra (Belgium)
Ben Foames Darran - Goma Dakwerken (Belgium)
Dan Gardner - AnPost Chain Reaction (Belgium)
Leon Gledhill - Mikes Bikes (USA)
Owen James - Cote d'Amor (France)
George Jary - Escribano Aero (Spain)
Taylor Johnstone - MIBA Baguet (Belgium)
Harrison Jones - Foundation Contador U23 (Spain)
Ross Lamb - Profel United (Belgium)
Chris Lawless - Axeon (USA)
Andy Leigh - Tarteletto-Isorex (Belgium)
Adam Lewis - Profel United (Belgium)
Charlie Meredith - VC Toucy (France)
Louis Modell - Hennebont Cyclisme (France)
Olly Moors - MIBA Baguet (Belgium)
Abby Mae Parkinson - Drops Cycling Team (Europe)
Elliot Redfern - Eiser Hirumet (Spain)
Jake Scott - AnPost-Chain Reaction (Belgium)
Lucy Shaw - Drops Cycling Team (Europe)
Max Spedding - UVCA Troyes (France)
Joe Sutton - Goma Dakwerken (Belgium)
Matthew Teggart - AnPost-Chain Reaction (Belgium)
James Wilkinson - Vertrapo (Belgium)
Stephen Williams - SEG Racing (Netherlands)
Max Williamson - Eiser Hirumet (Spain)
Jesse Yates - Hennebont Cyclisme (France)
Thank you for reading 5 articles this month* Join now for unlimited access
Enjoy your first month for just £1 / $1 / €1
*Read 5 free articles per month without a subscription
Join now for unlimited access
Try first month for just £1 / $1 / €1