Ride With… Port Sunlight Wheelers
We head to Wirral to bask in the warmth of mirthful Merseysiders - Words: Russell Jones | Photos: Andy Jones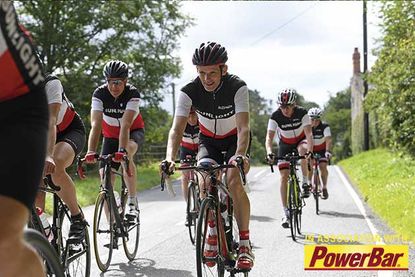 (Image credit: Andy Jones)
Members: 140
Formed: 1948
Meets: Tuesday night is chaingang night, Wednesdays and Fridays are longer rides — between 50 to 80 miles. Saturday: 10am roll out from the Eureka Cafe. Sunday is big-ride day with one ride out for about 60 miles non-stop and another faster ride seeking out a cafe stop halfway around an 80-100 mile loop.
Website: portsunlightwheelers.co.uk | Twitter: @PSWheelers
"Beans on toast and a spare please, Anne."
We've just returned to the 'spiritual' home of the Port Sunlight Wheelers, the infamous Eureka cafe, 'the Mills' as it's known locally. Anne had wished us all off for a good ride and now she is welcoming us back, topping up energy levels lost through the winding North Wales route that Club Captain Craig Tabiner had devised for the day.
"That was a good leg loosener today for the main ride tomorrow, but from today's route there are many different combinations we can take, even head off for an epic to Betws y Coed or Bala."
One thing you quickly pick up on riding with the Sunlight is the continual chatter throughout the group. Even while slightly breathless on the first climb of the ride out of Hawarden it doesn't stop. "Hey Terry, are those matching socks you've got on today for a change?" "You'd think so but they are actually two left feet".
Typical Scouse humour is thrown around for the entire ride with no one left out and no one offended. "The Sunlight to me," says Craig, laughing at me laughing at the jokes, "is going out on your bike and having a good time, but also coming back and knowing you've done a decent ride." And a decent ride it is, heading up the Kinnerton Steps through to the Ffrith Valley and onto the Sunspot climb.
>>> Find a cycling club near you
I catch up with Terry Hughes, a member since 2001 and he of the matching left socks.
"The humour is a big part of it, but there's a wealth of experience in the Sunlight too, and if you look around at this group we've got a real mix, from younger ones straight through. Take Tony D'Arcy, for instance, Lord Darcy we call him. He's 72 and only joined a few years ago. His ambition was to ride from Greasby to the Mills, probably 10 miles, but within two years he'd done the End to End. That probably tells you a bit about the Sunlight."
Although initially coy, Terry eventually tells me his own journey from beginner to national champion. "I joined when I was 45 years old after a lifetime of rugby and squash. I thought I was fit but that was a big mistake. For my 50th birthday I did the End to End, then a few years later Wilko (Andy Wilkinson) persuaded me to join his team for the 12-Hour Champs. He really encouraged me and in the end I became a national champion at the age of 53!"
Apart from a slight change in the 80s, the jerseys have mostly been the distinctive and simple black, white and red. "I've still got an original one," says John Johnson, known as JJ to the rest of the club. "It's the same colours but with the letters all embroidered on." John joined the Sunlight in 1959 as a 13- year-old. "The club was good then but it's even better now. It's the social side and the camaraderie — it's always the people that make a club."
Skirting the back of the Clwydian hills we head on through to Loggerheads, cutting through a series of winding and undulating fast lanes before eventually passing through Queensferry and onto the 'Never-ending Lane', guiding us home to the Eureka cafe.
>>> Beans and a Spare… A film about the Eureka cyclists cafe
It's not just the rides and racing that the Sunlight is famous for, I'd also heard about their weekends away, so I quiz Tabiner.
"They're the last weekend in March before the race season kicks off. We had over 30 this year riding to Buxton. Some of my best memories, best holidays and best laughs have been with the Sunlight, and although the Sunlight has had that tradition of a hard racing club, I think we've also evolved from that.
"From the outside we look like a tight clique, and we are a tight-knit group, but what I've found is that once you've joined you'll be welcomed in and it's like you've been in the Sunlight forever."
History
The Lever Brothers built Port Sunlight village to house the workers for their soap factory and it was from within this factory that the Port Sunlight Wheelers began. Formed in 1948, the workers cycling club quickly expanded to allow non-employees to join and soon the distinctive red, white and black kit became known up and down the country.
It was Gerry Balshaw's joining of the club in the early 70s that prompted an increase in membership, the Sunlight quickly getting a reputation as a strongman's road racing club with over 20 first-cat riders over the next 10 years.
The Sunlight's racing reputation started back in the 60s with their TTT squad taking the 25-mile National Championships in 1963. This team pedigree has continued through to this century with the club twice taking the 12-Hour Team Championship, first in 2009 with Terry Hughes, Roy Sumner and Andy Wilkinson, then again in 2011, with Jill Wilkinson and Kevin Larmer joining Sumner.
Achievements
Jill Wilkinson was the national 12-hour champion in both 2012 and 2013.
Andy Wilkinson's achievements are numerous. He was the 1990 BBAR Champion, former Milk Race rider and Land's End to John o' Groats record holder. He was also the 1996 100-mile national champion, the 2009 12-hour champion and three-time winner of the 24-hour title (1992, 1995, 2011).
Chris Sanders won both the junior national 10 and 25-mile championships.
Dave Allen, a member of the 1960s TTT team, was successful on the track as well as the road after learning his trade on the hard roads of Belgium.
Linda Flavell was the National Series winner in 1994.
Gordon Smith won the Peter Fryer Series in 1990.
Roy Sumner won the Percy Stallard series in 2012 and took fifth in the ICF masters World Championship in 2007.
Mark Bell was synonymous with the Sunlight Wheelers. The Olympian, Commonwealth Games rider and former road race national champion also won the 1981 amateur road race in 1981, was a three time Milk Race stage winner and was the first non-Belgian to win the eight-day Étoile de Sud in 1983.
And finally, proving the Port Sunlight Wheelers are not just successful cyclists, long-time member and journalist Tony Bell contributed to this very publication for many years with his 'What's he on?' column.
Port Sunlight Wheelers club run
Ride highlights
1 Tinkersdale shortcut
A typical Sunlight off-the-beaten-path back lane, knowledge passed down through the generations. Short, steep and bumpy, I doubt any cars have been up this way to the Warren.
2 Banter
No ride with the Sunlight would be complete without the good-humoured banter that is bandied around for the whole ride. Yes, with the Sunlight it is possible to laugh out loud while climbing!
3 Neverending Lane
This slightly uphill, nearly 2km cut-through is often the last stretch home after long days in the North Wales hills, many a rider requiring a push along here backto the Eureka cafe.
Favourite cafe
"It's our home, a place where we can come and meet whether we are on our bikes or not." Craig Tabiner is, of course, talking about the Eureka Cafe, which has been a hub for local cyclists since 1929. Eureka Cyclists and Cafe Shop, Two Mills, Parkgate Road, Woodbank, Chester, CH1 6EZ
Thank you for reading 10 articles this month* Join now for unlimited access
Enjoy your first month for just £1 / $1 / €1
*Read 5 free articles per month without a subscription
Join now for unlimited access
Try first month for just £1 / $1 / €1
Founded in 1891, Cycling Weekly and its team of expert journalists brings cyclists in-depth reviews, extensive coverage of both professional and domestic racing, as well as fitness advice and 'brew a cuppa and put your feet up' features. Cycling Weekly serves its audience across a range of platforms, from good old-fashioned print to online journalism, and video.