Ride with… Stourbug
We ride out with a Midlands club for whom miles mean mirth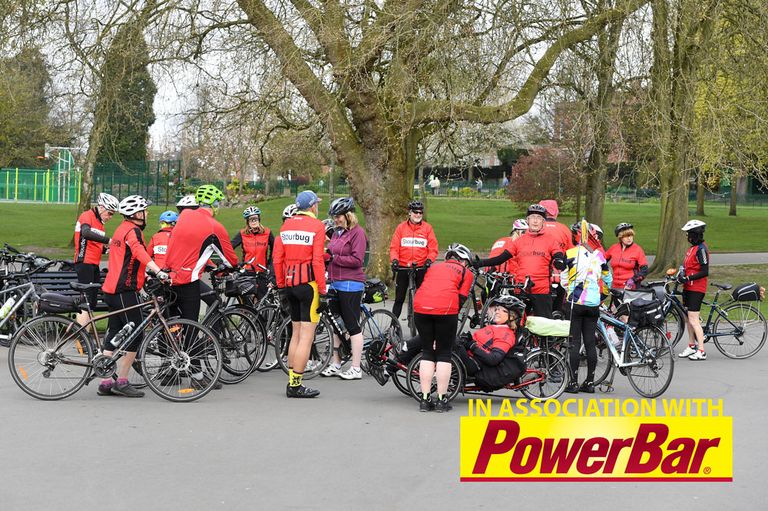 Strava KOMs might be an alien concept to Stourbug members, but the club has successfully tapped into a rich seam of cycling enthusiasts, some of whom probably didn't even know they had it in them.
History
There are regular social gatherings, fancy dress rides and organised trips to other parts of the UK, Majorca and further afield.
Achievements
"We don't race or time trial. What we're really good at is organising rides that are friendly and fun," declares the Stourbug website, but that's not to say that its members shy away from gruelling challenges.
The award-winning Whitlenge Gardens and Tea Rooms has plenty of indoor space and outdoor courtyard seating. The cafe serves up a range of cakes and hot and cold meals, using locally sourced, organic produce. Whitlenge Gardens, Whitlenge Lane, Hartlebury, DY10 4HD
Come one, come all
Lucas, who briefly raced competitively in his youth, though "never bothered the leaderboard," is a sprightly 71-year-old who rides every day — one senses that at any time he could increase his pace with ease.
When I ask him why faster groups have not evolved, his answer is simple: "I just enjoy riding round the lovely country lanes with friends and love the banter, the abuse, and the support."
Stourbridge Bicycle Users Group, better known a Stourbug, was founded in 2007 when Russell Eden, a keen cyclist, suggested to his sister, Rachel Hubble, that she take up cycling to help with her fitness.
For those who like a challenge, the Malvern Hills rear up 20 miles to the south-west of our route, but the lanes south of Stourbridge offer up some shorter and less demanding climbs.
Based: Stourbridge, West Midlands
Members: 265
Formed: 2007
Meets: No regular timetable of rides, but ride leaders post details of proposed routes and speeds on the club forum (www.stourbug.org.uk).
When balance became an issue for her, she moved to a motor-assisted recumbent bike, which clicks along at a lively 15mph, allowing Adams to join the faster riders. Initial concerns over the move have proved unfounded.
Watch now: How to corner
As an incentive he set her a challenge to cycle 40 miles to Stratford-Upon-Avon and suggested appealing to the wider female community to join her.
As I grapple to change the tube, I notice that many of the assembled throng have oversized saddle bags secured to their bikes.
"We usually finish the year with 300 members, but we don't advertise anywhere. People mostly come to us from word of mouth," explains Sally Grainger, who took early retirement in her forties and as membership secretary is credited with being the 'engine room' of the club.
1 Belbroughton
Words by Dave Nash, Photos by Andy Jones
Within seconds of leaving the spring canopy of Mary Stevens Park with members of Stourbridge Bicycle Users Group, we suffer a mishap. Mary McAdam, one of the club's original members, has inadvertently hit a pothole and suffered a pinch flat.
>>> Cycling training plans: get fitter, ride faster and go further
"Don't get too close," warns Andy, our photographer, who knows his birds. "They can be aggressive."
"The British public were fantastic," she recalls. "Lorries honked their horns and people cheered out of car windows."
The gently undulating and tranquil roads that radiate out into the Worcestershire countryside are perfect for a pleasant pedal.
"Motorists are actually more considerate when we ride with Mandy," says Pete Lucas, Stourbug club chairman. "They give us more room when they pass."
The thing is, Stourbug are such a friendly bunch, the likelihood is that these two feathered giants might just end up joining the club.
Much of the countryside south of Stourbridge is given over to agriculture, though Chaddesley Woods Nature Reserve is a reminder of the ancient woodland that once predominated.
For safety's sake the groups are limited in number, so it's first come, first served. Popular starting points are the bandstand in Mary Stevens Park and Bromwich Lane on the way to Hagley, though some members who live on the periphery of the town choose to pick a ride up en route.
Russell placed an advert in the local press and within a matter of days over 70 women had responded. Many had little or no cycling experience, but in May 2007, 33 Stourbug members, ranging in age from 31 to 63, successfully rode to Stratford. A handful remain at the club today.
Favourite cafe
The club continued to grow under Russell's chairmanship and the ethos that fuelled that initial challenge remains today. Stourbug encourages anyone to join them for a ride, whether they have cycled all their lives or rarely ridden a bike.
"It's about providing them with the necessary skills to ride in a group and slowly gain confidence and fitness."
A large number of Stourbug members are retired or work part-time, so rides are available throughout the week and with an abundance of ride leaders, there is plenty of choice.
"You never know when a retail opportunity might present itself," explains Kaye Radford, to laughter, "and we are heading to a garden centre for refreshments, after all."
Stourbug has also sucked in some of the older members of other more performance-orientated clubs, who hanker for a slightly slower pace.
"Stourbug is simply about encouraging people to get into cycling, irrespective of age, ability or experience," explains Patrick Grainger, who enjoys helping members to progress.
In 2013 eight Stourbug members cycled from Land's End to John o' Groats, taking 18 days to complete the 1,030-mile route. Sally Grainger, who was diagnosed with a brain tumour in 2007, raised £5,599
for Brain Tumour UK.
Club secretary, Graham Austin, will be riding LEJOG in 2017.
With few major towns nearby, safe and quiet country roads abound in rural Worcestershire, including those near this pretty village that hosts a Scarecrow Weekend every September.
"By the end of my second ride, however, I was smitten by the [Stour]bug!"
Stourbug club run ride highlights
>>> Find a cycling club near you
>>> Cycling training plan for spring fitness
3 Chaddesley Corbett
McAdam is the classic convert. "I joined the club just after I relocated to Stourbridge. I was terrified, as riding in a group was a totally new experience," she recalls.
Age and disability are no hindrance. Following our cafe stop, I join the fast group, which includes another original member, Mandy Adams, who was diagnosed with Parkinson's disease in 2010.
Radford is joking, of course, but Stourbug is very much a club with a unique identity, which occupies a niche in the cycling firmament that is the polar opposite of Team Sky. Ever since its conception in 2007, the raison d'être of Stourbug has been simply to encourage people to enjoy the fitness and social benefits of cycling in a group.
Riding with the slow-medium group, led by Radford, it's clear from talking to members that this is a club who are just as bonkers about their cycling as the young racers and obsessed MAMILs who spend evenings analysing their power data and calorie intake.
It's hard to disagree with that sentiment and he's right. We can miss out on unexpected sights when flying down rural lanes and right on cue, the group comes to a halt to stop and admire a pair of rheas, an ostrich-like bird that heralds from South America.
2 Barrow Hill/Broom Hill