Riders collide on cycle superhighway, and more cycling videos of the week
The rider wearing the camera admitted responsibility for the incident, and both riders were able to ride away from the crash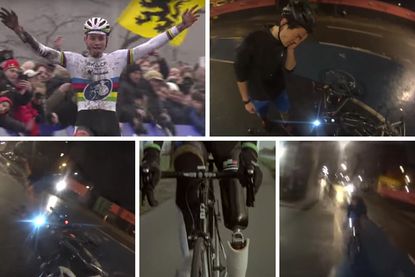 Bike- and helmet-mounted cameras are gaining in popularity among cyclists, particularly those in urban areas wanting evidence when they are the victim of a collision.
However, it's not often we see someone uploading a video that shows they themselves to be at fault. In this footage, YouTube user Cameron Primrose (opens in new tab) shows an incident on his commute that he took responsibility for.
Primrose was entering the Cycle Superhighway 3 at the eastern end of Cable Street in East London. A rider already on the blue strip heading in the opposite direction attempts to follow the route round to his right, at which point the two riders come into contact.
The camera carrying rider states that he should have given way and that this was the cause of the clash. Thankfully, both riders and bikes look to have escaped fairly unscathed and both are able to ride on.
In the comments, Primrose states that "I didn't upload it right away. It happened weeks ago but I kept being pestered by friends that wanted to see it.
"Wouldn't we all be hypocrites if we call out other people's mistakes but never acknowledge our own," so credit to him for being open about the crash.
>>> London motorists caught driving in segregated cycle lane
Several of the comments below the video point out the questionable design of the cycling infrastructure.
It does appear that this could have been a contributing factor as the two parts of the lane do filter straight into each other, meaning such an incident has effectively been designed-in to the commuting route.
Para-cycling World Cup
https://www.youtube.com/watch?v=H1TXrUvjJBA
The Para-Cycling World Cup takes place on the weekend of May 20-22 in Ostend, Belgium after an earlier round in South Africa. This video gives a teaser of the Belgian event and its host city.
Check videos of the week at the end of May for more footage from the event.
Sean Kelly's toughest ever day
We spoke to Grand Tour and multiple Classics champion Sean Kelly in this exclusive Cycling Weekly video.
King Kelly tells us about his toughest day on the bike, where a teammate motivated him and they made it to the end of the Tour de France stage.
Van Der Poel dominates
https://www.youtube.com/watch?v=1zchdh9ISFs
Mathieu Van Der Poel, present cyclocross World Champion, was unbeatable in the final World Cup event.
>>> Cyclocross bikes: a buyer's guide (video)
Although he didn't win the World Cup overall, that accolade went to Wout Van Aert, Van Der Poel's dominance just one week before his defence of the rainbow stripes stands him in very good stead indeed.
Thinking of going wireless? Here's how
We got an exclusive look at the new SRAM Red eTap, and the manufacturer visited to show us how to set-up this revolutionary new shifting system.
This is one for the tech geeks and home mechanics, and is well worth a watch.
Thank you for reading 5 articles this month* Join now for unlimited access
Enjoy your first month for just £1 / $1 / €1
*Read 5 free articles per month without a subscription
Join now for unlimited access
Try first month for just £1 / $1 / €1
Jack Elton-Walters hails from the Isle of Wight, and would be quick to tell anyone that it's his favourite place to ride. He has covered a varied range of topics for Cycling Weekly, producing articles focusing on tech, professional racing as well as cycling culture. He moved on to work for Cyclist Magazine in 2017 where he stayed for four years until going freelance. He now returns to Cycling Weekly from time-to-time to cover racing and write longer features for print and online. He is not responsible for misspelled titles on box outs