Riders get into punch-up at Tour de Guadeloupe (video)
Two riders go at it after a crash on the sixth day of the 11 stage tour in the Caribbean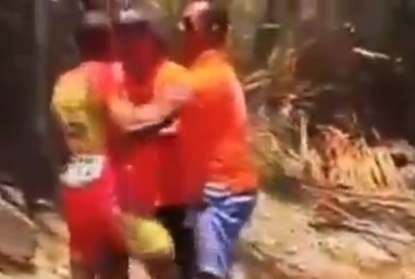 They're definitely not the first, but its always a sight to see two gangly professional cyclists break into fisticuffs in the middle of a race, and that's exactly what happened on stage six of the Tour de Guadeloupe on Thursday.
After a crash, home rider Joann Ruffine (AS Baie-Mahault) took exception to former Ag2r-La Mondiale rider Ludovic Turpin (Vélo Club Grand Case) and went after the Frenchman in his seemingly furious state. While Turpin seemed less inclined to lock horns with Ruffine, the latter seemed dead set on it and it took a number of race staff to keep him under control.
>>> Punches thrown on Vuelta stage 16 with two riders disqualified
The race organisation disqualified Ruffine and fined him 100 Swiss francs (£65) for the incident and he later apologised on his Facebook page, however implied that Turpin had provoked the action through something he said.
"I would like to apologize for my behavior with my fans, friends, supporters and also that the population of Guadeloupe," Ruffine said. "I know what he said, I repeat I know what he said. Thank you for your support."
Turpin did not receive any punishment from race directors but nonetheless abandoned the Tour which he had previously won in 2012, complaining that he had already been insulted repeatedly by the home crowd of the French territory.
Thank you for reading 20 articles this month* Join now for unlimited access
Enjoy your first month for just £1 / $1 / €1
*Read 5 free articles per month without a subscription
Join now for unlimited access
Try first month for just £1 / $1 / €1