Riders take to Twitter after starting first training camps for 2016 season
The pros have been posting images of their pre-season training camps taking place in sunnier climes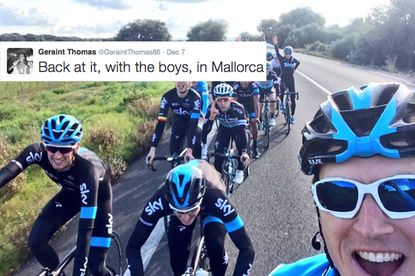 To you and me it might still feel like the off-season, but for the pros, it's back to the hard work and miles on the bike that it takes to be in top condition for the new season.
With the weather turning for those of us in northern Europe, the riders get the opportunity get some proper riding in during escapes to training camps in sunnier climes like southern Spain.
With that, it's a chance for the riders to catch-up with team-mates old and new, as well as posting the odd picture and video on social media for us to enjoy as we prepare to head-out in the cold and wet.
1. Geraint Thomas shows off the Sky train out in Mallorca, with their new signings, including Michal Kwiatkowski, in tow looking like odd ones out.
2. Alberto Contador turned 33 at the Tinkoff training camp, and rues the day he stopped being eligible for the white jersey
3. Her face says yes, but here legs said no.
4. There's hard work to be done out on the training camps, with Astana putting their riders through some tests on the climbs near Calpe in southern Spain.
Watch: Five easy ways to get faster
5. Joaquim Rodriguez records the start of Katusha's sprint competition out in Spain...
And the finish...
6. Sky shave been showing off their new bikes in Mallorca, while there's also a lot of time to kill for the riders.
7. #Thingswedidattrainingcamp - Held paper.
8. It's not just about training, but team building counts as well. Apparently, that's achieved by jumping off tall things.
9. Peter Sagan aero-tucks, even on a training camp
10. More from Geraint Thomas now, who we couldn't agree more with in this instance.
Thank you for reading 5 articles this month* Join now for unlimited access
Enjoy your first month for just £1 / $1 / €1
*Read 5 free articles per month without a subscription
Join now for unlimited access
Try first month for just £1 / $1 / €1