Road rage driver charged after rant towards cyclist caught on video
The driver of Ross, California, is scheduled to appear on April 4 in Marin Superior Court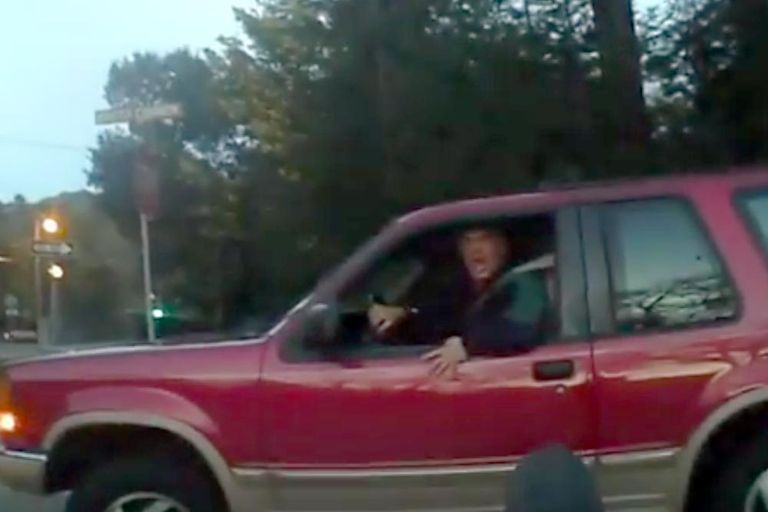 A driver who was caught on camera threatening and ranting at a cyclist in Ross, California has been charged with reckless driving.
Matthew Marshall Engle, 55, will appear on April 4 in Marin Superior Court after he was caught on camera in February backing his car up near cyclist Jan Weissenberger, blaring his horn and shouting "I'll get a shotgun and shoot your head off!"
Engle declined to comment on the incident, which took place on February 16 of this year, and could face a prison sentence of five to 90 days and a fine of up to $1,000.
The Marin Independent Journal reported cyclist Weissenberger saying of the incident: "He was really angry and he tried to run me over and it was really scary.
"Yelling at us, no problem, but trying to run bicyclists off the road, that's going a bit far."
41-year-old Weissenberger doesn't appear to provoke the driver in any way in the video recorded on his rear view camera.
He quickly reported the incident to the police, who tracked down Engle and referred the case to the Marin County District Attorney's Office without making an arrest.
Engle was later charged with a reckless driving charge, despite a Ross police Chief Erik Masterson saying "the video does not clearly indicate" whether he was aiming his car at the cyclist as was claimed.
Weissenberger added that he reported the incident to the police for the sake of other cyclists in the area.
"If he's that angry at me for doing nothing, what's going to happen to the next bicyclist?" he said.