ROWSELL SETS UP BRITISH DOUBLE IN HERENTALS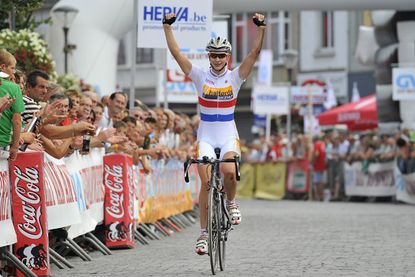 (Image credit: LUC CLAESSEN)
Mark Cavendish wasn?t the only British winner in Belgium last night as national criterium champion Joanna Rowsell, won the women?s support race earlier in the evening.
It was Rowsell?s third win in eight races in the past two weeks, as not even a crash midway through the race could stop her from taking victory ahead of the field. ?We attacked and got away in a group of five, then me and Lizzie [Armitstead] attacked and the two of us got away,? Rowsell said.
Armitstead?s race then came to an abrupt end on lap 14, as the pair crashed having taken a corner too fast, ?Lizzie couldn?t carry on because her bike was too badly damaged.? Rowsell, who was able to continue, explained. The damage to her and her bike was clear to see.
Rowsell also won in Banbrugge last Friday and in Kapellen this Tuesday. Armitstead, who had an operation on her back following the world track championships in March, has won two races herself while junior rider Katie Colclough won a race in Chaan in the Netherlands.
?I think they?re getting a bit sick of seeing the black and orange of Halfords!? said Rowsell. ?We?ve done two weeks of racing and come home this weekend.?
Rowsell?s next goal is the under-23 European track championships in September.
Rowsell rides to victory despite crash damage
RELATED LINKS
Cavendish wins Herentals crit
Thank you for reading 20 articles this month* Join now for unlimited access
Enjoy your first month for just £1 / $1 / €1
*Read 5 free articles per month without a subscription
Join now for unlimited access
Try first month for just £1 / $1 / €1