'Save the Velodrome' campaign aims to save London's Herne Hill from closure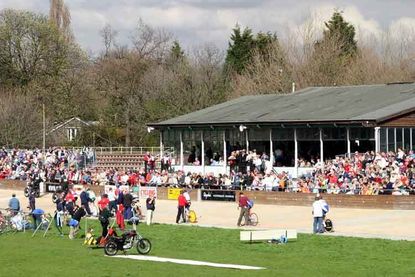 The 'Save the Velodrome' Campaign to save Britain's oldest cycling track, Herne Hill, from closure will be launched at a public meeting at Dulwich College on Wednesday, October 6.
The campaign is the brainchild of local resident Hillary Peachey and is backed by an alliance of residents, who include lawyers, doctors, PR chiefs, as well as cyclists.
The irony is that while attention focuses on the London 2012 Velodrome nearing completion in Hackney, the last remaining venue of the London 1948 Olympics a few miles to the south has been allowed to rot, despite its popular use.
The summer school and evening sessions for beginners, plus the Herne Hill Monday Comp racing league continue amidst this decay.
There is no other facility like it in London for the hundreds of children who now use the track. Over the years it has played host to the most famous names in the sport.
Riders such as Reg Harris, Fausto Coppi, Jacques Anquetil, Tommy Simpson, Eileen Sheridan, Beryl Burton, Graeme Obree, Tony Doyle. In more recent times, triple Olympic champion Bradley Wiggins began his track racing career at Herne Hill.
£120,000 is needed to resurface the track

But with the Victorian grandstand declared unsafe and boarded up, the dressing rooms and showers out of bounds as a consequence, there is nowhere to shelter if it rains.
And now, after 107 years, the 2011 annual Good Friday International Meet is deserting Herne Hill for Manchester Velodrome next April!
Ms Peachey says the first priority is to raise the £120,000 to resurface the track.
Peter Cattermole of VC Londres, who manages the track on behalf of British Cycling, says.
"The top surface is knackered, parts of it have crumbled away," says Cattermole. "In a fall you expect skin burns. But I'm concerned at the injuries - lacerations - that our first aid people are treating now.
"It's great that local people are supporting us - means all our hard work is paying off, " says Cattermole.
Over the past five years, the VC Londres training schools at the track have often been oversubscribed, demand is that high.
The second priority for "SavetheVelodrome" is to break the deadlock with the Dulwich Estate, owners of the land. For five years Dulwich Estate have been holding British Cycling at arms length, only renewing the lease annually, and often after prolonged negotiation.
All this time Dulwich Estate have held out for their preferred option, to lease to a leisure complex, who would also manage the cycling facility.
Although there was no doubt in British Cycling's ability to raise the money to rebuild and restore the stadium, Dulwich Estate remain concerned at committing to a long-term lease.
"SavetheVelodrome aims to convince them cycling can afford to pay a 25-year lease, funded by a charitable trust," says Peachey.
She said this is not about bashing the Dulwich Estate who in the past have been criticised for not allowed BC a long lease to develop the site.
"DE owns the land. It has to secure the best arrangements in the interests of their trust," she says.
"Our aim to create a new charity to attract funding not just from cyclists, but local people and businesses.
And so create a viable, sustainable and environmentally sensitive solution so the Dulwich Estate will have the confidence to back our proposal and give us a 25-year lease."
The local community need this track
She said cycling and the local community need this track. A few weeks ago, 1948 Olympic medallist Tommy Godwin came down to the track to lend his support.
Godwin won two Olympic bronze medals there, in the 1km time trial and in the team pursuit.
Peachey's children have taken part in every cycling event available to them at Herne Hill - the summer school, the Saturday morning club at the Friday even general session and the mtb events. She added that she is also trying to get a Safe Routes to School through the area.
She added that the track has huge potential for local youngsters and schools. It is a wonderful asset to the community. Already the summer schools are filled to overflowing.
"It is sad that the Good Friday meet felt the need to move to Manchester for next year.
"But we are confident we can get them back. Our Campaign has already attracted lots of support on Facebook."
VC Londres summer school success at Herne Hill
British Cycling Regional Manager Peter Cattermole is a central figure in Herne Hill cycling.
He says VCL who manage the track on behalf of BC, paying £9,000 rent, have demonstrated it can be run without a subsidy. And we've invested in it, 140 new track bikes, 30-40 new mountain bikes, rollers, equipment, all without subsidy.
"If you came here on a Saturday and saw hundreds of kids bombing around the track, you'd think it would be criminal to lose it. Anyone who cares about kids, cycling or the environment should
come to the public meeting."
"Lawyers, doctors, professional people heading this campaign will seek to raise money for a charity fund, and so go to DE and say, look we can finance this, give us a 25 year lease.'
The agenda for the public meeting is to:
raise awareness of the plight of the facilities;
hear suggestions for the future proposed regeneration;
review potential plans.
To register your support - www.savethevelodrome.com
Thank you for reading 10 articles this month* Join now for unlimited access
Enjoy your first month for just £1 / $1 / €1
*Read 5 free articles per month without a subscription
Join now for unlimited access
Try first month for just £1 / $1 / €1
Keith Bingham joined the Cycling Weekly team in the summer of 1971, and retired in 2011. During his time, he covered numerous Tours de France, Milk Races and everything in-between. He was well known for his long-running 'Bikewatch' column, and played a pivotal role in fighting for the future of once at-threat cycling venues such as Hog Hill and Herne Hill Velodrome.