Sergio Henao's season over after Tour de Suisse crash
Team Sky's Sergio Henao breaks kneecap as a result of training crash before Tour de Suisse time trial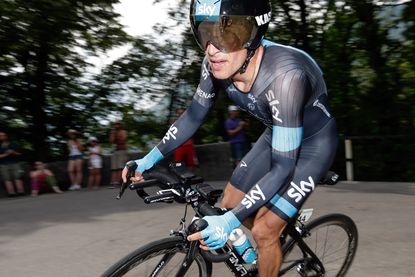 (Image credit: Graham Watson)
Sky's Sergio Henao called an end to his season that began with biological passport issues and finished when he broke his kneecap in a training crash on Friday at the Tour de Suisse.
"It's over," Henao said. "It'd be worthless to hasten my recovery and to try to race again. My priority is to recover physically, 100 per cent, but this year, I can't race again."
The 26-year-old Colombian, who helped Chris Froome win the Tour of Oman in February, was building towards the Tour de France in the Tour de Suisse when he crashed. Thinking the road was closed to traffic already, he sped at 30kph directly into a car while he reconnoitred the time trial stage.
"It was quite frightening, thank God nothing more happened because it could've been much worse," Henao added. "The mechanic and sports director who were in the following car thought I was finished after the impact."
Team Sky Doctor, Steve Baynes confirmed that he fractured his left patella, or the small round bone of the kneecap. Henao explained he was simply "lucky" enough to be able to watch the finish of the time trial stage – won by World Champion Tony Martin – on television.
Henao is now limping around on crutches at his base in Pamplona, Spain. He said that he will likely undergo surgery this week and recover there before returning home to Colombia to close out the year.
"I cannot say or do anything more. I can only be patient and allow time to heal everything," added Henao. "This is a year to forget, and a lost year, but you can learn a lot from this for later in life."
Henao only raced 15 days this season. He had just restarted racing in the Tour de Suisse after team Sky stopped him in March while it tried to explain out-of-competition test anomalies.
The team had him undergo 10 weeks of testing at altitude and near sea-level to understand his inconsistent blood values and satisfied with the results, gave him the green light to return to racing in Switzerland and the possibility to race the Tour de France.
He renewed his original two-year contract (2012 and 2013) with Sky last year must now look ahead to 2015. He said, "I'm annoyed and saddened, but I have to move forward."
Colombian Sergio Henao was withdrawn from racing schedule in March after out-of-competition test anomalies
International news round-up (March 27): Nibali skips Critérium International and Flanders; UCI team plans; Arch opens Zoncolan climb; Africa's MTN-Qhubeka
Team Sky confirms that Colombian Sergio Henao will not race for eight weeks whilst altitude testing takes place to explain
Thank you for reading 5 articles this month* Join now for unlimited access
Enjoy your first month for just £1 / $1 / €1
*Read 5 free articles per month without a subscription
Join now for unlimited access
Try first month for just £1 / $1 / €1