Soldier diagnosed with Alzheimers at age 39 to undertake 16,000km cycling challenge
Chris Graham served in the British Army for 23 years before being diagnosed with early-onset dementia and now he hopes to raise £10,000 for charity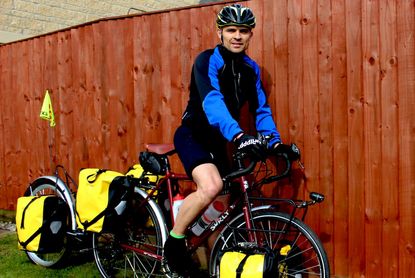 Prime Minister David Cameron has given his support to a former soldier who is set to embark on a 16,000km cycle ride after being diagnosed with Alzheimers at the age of just 39.
Chris Graham, who served in the Royal Logistics Corps, will ride counter-clockwise around Canada and the USA to raise money for two charities – ABF The Soldiers Charity and Alzheimers Research UK.
Having been diagnosed with early-onset dementia, Chris hopes to raise over £10,000 during the year-long adventure, and Mr Cameron gave the "mammoth challenge" his backing.
"Chris has my absolute backing as he undertakes this mammoth challenge in aid of Alzheimer's Research and ABF The Soldiers' Charity," he said. "These are important causes, and I urge everyone to get involved and support Chris as he sets off on this daunting, once-in-a-lifetime journey."
>>> Cycling stars sign up to help cystic fibrosis charity auction
Chris' adventure will see him cycle through major sights and cities such as Niagara Falls, Hollywood, New Orleans and Miami before finishing in Nova Scotia, Canada.
And having lost his father, grandfather, aunt and cousin to early-onset dementia he is going to take on this journey of a lifetime while he is still able to and raise a considerable amount for charity in the process.
He says: "Early onset dementia has already taken my dad and Aunt at a young age, but I'm not going to let it stop me from taking on this trip.
"Both The Soldiers' Charity and Alzheimer's Research do vital work in helping those who really need help. If me cycling a mere 16,000 miles on a bike can make a little bit of a difference to these charities then it will be worth it.
"I've never undertaken such a challenge but my training in the Army will hopefully prepare me for many of the situations that will arise – I will be cycling across frozen wastelands of Canada and the deserts of the Southern U.S. states, I'm sure to be tested quite a lot."
If you would like to support Chris, you can donate online at www.justgiving.com/Christopher-Graham8
Follow Chris' progress on his challenge website.
Thank you for reading 20 articles this month* Join now for unlimited access
Enjoy your first month for just £1 / $1 / €1
*Read 5 free articles per month without a subscription
Join now for unlimited access
Try first month for just £1 / $1 / €1