South Yorkshire road race cancelled as police suspend all racing in area
South Yorkshire Police suspend authorisation of all road races in the area. Negotiations on-going with British Cycling Yorkshire to reinstate racing as soon as possible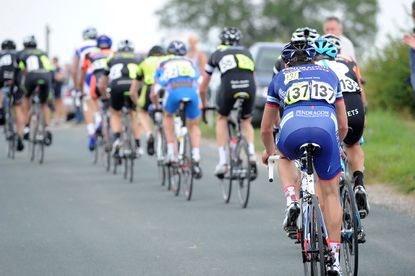 Tumby's road race in South Yorkshire, which was due to take place this Sunday, August 9, has been cancelled after South Yorkshire Police (SYP) suspended all road races in the region. British Cycling has said that it is 'extremely disappointed' with the decision.
"Police have at the eleventh hour cancelled Tumby's road race which was due to take place this Sunday," read a statement on race organiser Rutland Cycling Club's website on Thursday evening. "No specific reason has been given but it seems they are saying the course is unsuitable and overused which possibly points to complaints from local residents."
SYP said on Friday afternoon that the decision to suspend road racing temporarily was made between them, British Cycling and Highways. However, British Cycling later issued its own statement saying that it had nothing to do with deciding that the race would be cancelled.
The SYP statement read: "To clarify, we have not banned road racing in South Yorkshire. Concerns and complaints have been made to us about safety issues surrounding these races. A decision was made by us, British Cycling and Highways to suspend road races. Until we meet next week to review the safety of the races.
"We want everybody to enjoy these races, however, our main concern is the safety of cyclists and public in South Yorkshire."
British Cycling said: "British Cycling is extremely disappointed with South Yorkshire police's decision to cancel the Tumby's Road Race, an event which has been run successfully for over 10 years with no issues. We have spoken to the police to question the decision and to try and get it reversed, especially given the race had already been authorised, but we have been unsuccessful.
"We want to work with the police to understand the reasons behind their decision and to try and avoid this happening again in the future. To be clear, contrary to the tweets issued by South Yorkshire Police, British Cycling were not involved in the decision making process to cancel the race."
The cancellation of the race had caused outcry from local riders and those further afield who have heard about the situation, but British Cycling Yorkshire has appealed for patience as they try and tackle the underlying issues leading to the suspension.
>>> Tour de Yorkshire to become four-day race in 2016
"Following further complaints recently about cycle events in the Stainton/Braithwell area of South Yorkshire, Sgt Bellamy of South Yorkshire Police has suspended authorisation of cycle races in South Yorkshire Police area," said a statement issued by BC Yorkshire on Friday.
BC regional events officer Peter Sutton had been in negotations with SYP to try and come to an agreement for Tumby's Road Race to continue but "could not get past the issues being raised".
"There has been a recent incident involving riders and a combine harvester which have not helped," said the statement. "Although, we are not sure if this was race related as there hasn't been a race held on Stainton since April."
A meeting between BC Yorkshire and SYP is due to take place next week to try and get authorisation of road races reinstated in time for the next event in the region, scheduled to be Sunday August 30.
Commenting on the suspension, Yorkshire pro rider Russell Downing said via Twitter: "Not good for the sport. Future champions still need to be found on home roads #wherenow".
A 'slow' ride had been mooted by some riders on Sunday around the race course to show support for the cancelled event, but this was later deemed as 'not helpful' by BC Yorkshire as part of the on-going negotiations.
The full statement from British Cycling Yorkshire can be read on its website.
Thank you for reading 20 articles this month* Join now for unlimited access
Enjoy your first month for just £1 / $1 / €1
*Read 5 free articles per month without a subscription
Join now for unlimited access
Try first month for just £1 / $1 / €1