STEVE CUMMINGS SET FOR FIRST PARIS-ROUBAIX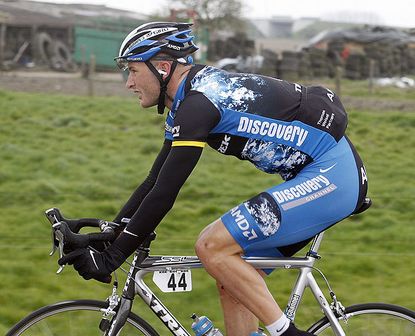 After the disappointment of pulling out of the Tour of Flanders last Sunday, Steve Cummings is looking forward to making amends at Paris Roubaix this weekend. Cummings was forced to pull out of Flanders by his team as a knee injury he picked up at the Three Days of De Panne steadily got worse, ?I banged the muscle, but it?s the tendon that got inflamed,? he told cyclingweekly.co.uk.
?In De Panne it was OK. It hurt a bit in the time trial, but then I rode a few easy days and it was alright. But then at Flanders it was just getting worse and worse so they told me to stop. It was getting to the point where I was just pedalling with one leg.?
Cummings had been working for team mates Vladimir Gusev and Tomas Vaitkus in Flanders and, apart from the knee, was feeling good, ?In the races leading up to it I felt I was getting better,? he said. ?There was a big group that went in to Geraadsbergen and I felt like maybe I could have been there in that group, and with a bit of good positioning you?d have been in the front.
?I was really disappointed, gutted to have to stop that early. I was really down. I wanted to race on Wednesday [at Ghent-Wevelgem] but it wasn?t such a big deal as [last] Sunday.?
After intensive ultrasound treatment, and having missed Ghent-Wevelgem, Cuumings was pain-free on Thursday, and ready to head out with the rest of the team for a reconnaissance of the final sections of Roubaix pave this morning. Although it?s not the bone rattling stones that?s worrying the Wirralsider, ?It?s not a problem going over cobbles, I?m big and probably the right build for it, it?s the bit before that?s the problem, the fight for it. But I?m up for a fight, I want to finish, of course, but it depends what my job is.?
Thank you for reading 5 articles this month* Join now for unlimited access
Enjoy your first month for just £1 / $1 / €1
*Read 5 free articles per month without a subscription
Join now for unlimited access
Try first month for just £1 / $1 / €1