Stybar wins Cross Worlds in front of home crowd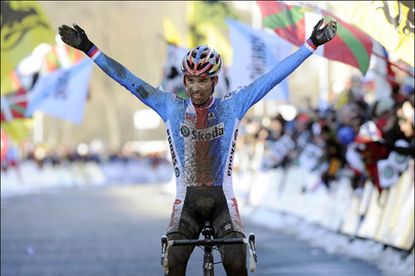 Cyclo-Cross World Champs 2010: Men photo gallery by Graham Watson>>

Zdenek Stybar capped an incredible cyclo-cross season by winning the men's title at the 2010 Cyclo-Cross World Championships in Tabor, Czech Republic on Sunday.
World Cup series winner Stybar delighted his home crowd by clinching the coveted rainbow jersey against a spirited effort by the Belgian pair of Klaas Vantornout and Sven Nys, who placed second and third.
Stybar went from the gun but ended the opening lap in 12th spot after a mechanical forced an early bike change. Vantornout took over before Ramomir Simunek - whose father was the last Czech elite World Champion in 1991 - hit the front.
But it was not long before the much-fancied Stybar was back at the head of affairs. Frenchman Francis Mourey hung in well with the leaders despite the hostile conditions with no less than four Czech riders packing the top ten.
Defending champion Niels Albert was nowhere to be seen and eventually retired with two laps remaining while Stybar pressed on alone from a group of five; Nys, Vantornout, Mourey, Czech Martin Bina and Swiss champion Christain Heule.
The leaders rode at the edge of their abilities, seemingly taking it in turns to slip up on the treacherous surface. Nys went from bunny-hopping the planks one minute to sprawling face down in the mud the next.
Stybar, however, adapted to the snow and ice on his home course better than most, urged on by the partisan crowd. Vantornout, Bina and the gloveless Nys chased in vain.
Vanternout prised himself away from the other two in the closing stages while Bina and Nys fought tooth and nail for the bronze medal, the Belgian winning the sprint for the line.
But for the winner, there were high-fives with the pit crew and showboating in the finishing straight as the emotional Stybar took the plaudits of the huge crowd and brought the elite men's title back to the Czech republic for the first time in 19 years.
Ian Field was Britain's top finisher in 35th spot.
Cyclo-Cross World Championships 2010: Men

1. Zdenek Stybar (Czech Republic) in 1-08-58

2. Klaas Vantornout (Belgium) at 21sec
3. Sven Nys (Belgium) at 38sec
4. Martin Bina (Czech Republic) at 40sec
5. Francis Mourey (France) at 56sec
6. Martin Zlamalik (Czech Republic) at 1-02
7. Christian Heule (Switzerland) at 1-07
8. Radomir Simunek (Czech Republic) at 1-18
9. Gerben de Knegt (Netherlands) at 1-49
10. Bart Wellens (Belgium) at 2-13

Other

35. Ian Field (Great Britain) at 4-43
42. Paul Oldham (Great Britain) at 5-33
44. Jody Crawforth (Great Britain) at 6-12
Great Britain's Ian Field placed 35th
Zdenek Stybar tops the podium, between the Belgian duo of Klaas Vantornout and Sven Nys
Related links
Cyclo-Cross World Champs 2010: Men photo gallery by Graham Watson
Vos defends women's cyclo-cross title
Home win for Czechs in cyclo-cross worlds: Junior & U23 men
Cyclo-Cross World Championships 2010, Junior & Under-23 men, photo gallery by Graham Watson
UCI Cyclo-Cross World Championships 2010 preview
Thank you for reading 20 articles this month* Join now for unlimited access
Enjoy your first month for just £1 / $1 / €1
*Read 5 free articles per month without a subscription
Join now for unlimited access
Try first month for just £1 / $1 / €1