Sussex councils in cycle parking fiasco
Despite receiving £30,000 to fund adequate cycle parking, Horsham District Council and West Sussex County Council have failed to provide working facilities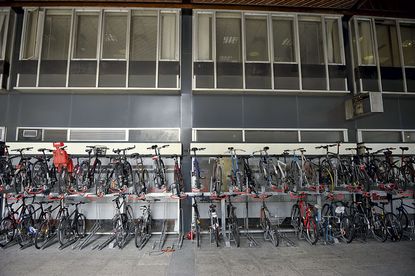 (Image credit: Rupert Fowler)
Two councils are facing scrutiny after failing to provide the suitable cycle park shelters that it had promised.
Horsham District Council and West Sussex County Council were awarded £30,000 in funding earlier this year, with the money to be spent on cycle parking facilities only.
Plans were outlined for four projects in Horsham and while three of them have already been opened, problems with the designs on all of them have surfaced.
The tier of Medwin Walk's cycle park has been roped off by the local council, owing to a technical issue with the upper rack.
>>> West Sussex roads 'unsafe' for cyclists'
The other two completed facilities, in Lower Tanbridge Way and Park Place, remain operational but many cyclists are refusing to use the facilities and are instead locking their bikes up to nearby railings.
West Sussex Gazette reports that the users have criticised the shelters for being impractical and too difficult to use.
A spokesman for Horsham's council said that the Medwin Park facility's issue involved the "mechanism of the upper rack" and said that they "are working with West Sussex County Council Highways department to rectify this problem as soon as possible".
Thank you for reading 20 articles this month* Join now for unlimited access
Enjoy your first month for just £1 / $1 / €1
*Read 5 free articles per month without a subscription
Join now for unlimited access
Try first month for just £1 / $1 / €1