The 12 phases of every ride
Every ride ebbs and flows, peaks and troughs, but every ride has a number of the same characteristics, from the climb you always forget about to the hunger pangs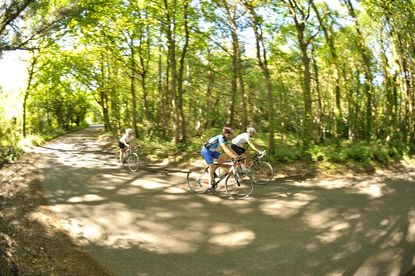 Whether you ride alone, with friends or as part of a club, there are several common traits of every bicycle ride.
Niggling worries, mentally questioning your ability and mentally questioning everyone else's ability are all part and parcel of a trip out on your bike.
Here are the 12 phases we go through on every ride, taking the good with the bad; rough with the smooth and terrible coffee with the excellent cake.
1. Getting ready
Many of our best laid plans of going out early and getting a brisk 120km under your belt before breakfast are soon unraveled when you realise that you can only find one arm warmer.
When that pesky piece of kit is discovered in your sock draw you look out the window to discover that the weather has changed since you got up and you decide to take a long-sleeve jersey instead.
>>> The best cycling clothing deals: Great discounds on the best riding kit
But before you get out the door you have a change of heart and ditch the jersey but fetch your lightweight jacket that you never actually find the optimal weather conditions for instead.
By this time, it's already 10am and you realise the lunch plans you made the day before will restrict you to only a couple of laps of the block, for which a jacket isn't even needed.
2. The tough start
"Christ! How did I get so unfit?" you curse as you hit the small ring to simply get up your driveway.
You stop to look at your brakes because you're convinced the only way you could struggle so badly is because they're rubbing against the wheel.
>>> Do you need to warm up before cycling?
But no, your bike appears to be fine and you shrug it off as a bit of an anomaly, convincing yourself that you felt much better last time you rode.
3. Did I start Strava?
Yes, you did, but you've just ruined your time on that segment by stopping to check your phone.
4. Feeling too cold
About half a mile up the road you feel the chill that comes with not having had time to acclimatise and you question whether it would be worth turning round and getting more clothes.
In the end you power on through the cold, and get into your stride.
5. Questioning your nutrition strategy
"Did I have enough breakfast?"
"Should I have had another piece of toast?"
"Would I feel hungry if I'd eaten the crusts?"
>>> Calories burned cycling: everything you need to know
All questions we ask ourselves when we feel a bit of a hunger pang in the first few miles of the ride. The good news is, though, that it means you can tuck into one of the tasty nutrition bars you brought with you.
Or, alternatively, you tell yourself this is a good excuse to find a nearby cafe to stock up on cake.
6. The halfway mark
You're at your furthest point away from the start and it should be easy from here. Unfortunately you backloaded your route with a few climbs, having told yourself that you'll need 20 miles to warm your legs up for any ascent.
Now is the time when you wrack your brains to think if there's any way of getting around those climbs, but when you realise it would add 15 miles to your route you begrudgingly pedal on.
7. Feeling too hot
Now you've been cycling for a good few miles you realise that the long sleeve jersey was a massive mistake, as you're now perspiring uncontrollably.
>>> Hot weather cycling: five tips to help you keep cool
The Roubaix lining of your bib shorts means your back is now shedding more water than the Niagara Falls and it all starts to feel exceptionally uncomfortable.
8. Cursing the conditions
"If there wasn't this relentless headwind I'd be going a lot faster," you tell anyone who will listen, despite the fact that it's a perfectly still day.
>>> Cycling in the rain: how to survive it (video)
Riding a bike turns us all into amateur meteorologists, able to spot the slightest signs of rain at least 20 minutes before the heavens open and a cursory look up to the sky fills you with dread that you're going to get drenched within the hour.
9. Feeling strong
Suddenly, everything just clicks into place. Every pedal stroke makes it feel like you're flying. That lovely sound of your quite expensive tyres humming on the below average road surface.
>>> How to get faster and increase your average cycling speed
You glance at your cycle computer and think to yourself that you've probably never ridden this fast for so long; even a professional rider would struggle to keep up with you.
But then...
10. That unexpected climb
Jesus, where did that come from? All of a sudden your speed plummets into single figures and that Merckx-like gear you were turning almost makes your thighs explode.
As you flick down through the gears a feeling of shame comes over you and all that good work you were doing just minutes ago is long forgotten as the bloke with the panniers you overtook eases back past you.
But it's fine, you can see the 'summit' and you know it's all downhill from there.
11. That other unexpected climb
Maybe not so much downhill. Unexpected hills always come in pairs and right when you don't need the effort.
What little energy you have left in your body is soon sapped as, once again, you find yourself in completely the wrong gear at the start of the climb.
>>> How to master a long climb (video)
You get that familiar feeling of pedalling squares and pulling up on the tops of your bars so hard that you do a little wheelie. Somehow you get through it and remind yourself to check on Strava quite how steep it was.
12. The finish
"Rubbish, I was faster than that!" you say to your phone when your stats show that, again, you failed to beat any of your best times.
What's worse, those hills you struggled on turn out to be an average of five per cent that your mates have all blasted up in the past.
Nevertheless, you get home and tell your friends and family that you "felt really good" all the way round, and "could have done 20 miles more" if you had more time.
Thank you for reading 10 articles this month* Join now for unlimited access
Enjoy your first month for just £1 / $1 / €1
*Read 5 free articles per month without a subscription
Join now for unlimited access
Try first month for just £1 / $1 / €1
Stuart Clarke is a News Associates trained journalist who has worked for the likes of the British Olympic Associate, British Rowing and the England and Wales Cricket Board, and of course Cycling Weekly. His work at Cycling Weekly has focused upon professional racing, following the World Tour races and its characters.