The Big Interview: Gary Imlach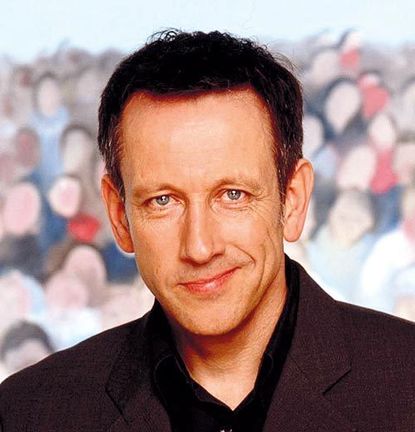 At the height of the Tour's popularity with Britain's television audience, on Channel 4 in the 1990s, Gary Imlach was the man who welcomed us back after the ad break with a vignette giving an insight into the cultural side of the race.
While some people were no doubt yelling 'Just show us the action', Imlach's pieces gave British fans a close-up feel of what the Tour was really all about. And, as he showed in 1998 when the Festina affair broke, he used a tough journalistic approach to the story that explained the tumbling scandal succinctly.
Now he fronts ITV's coverage of the Tour. All together now: 'It's back to the action with Phil and Paul'.
CW: How did you get into cycling?
Imlach: I was doing features in America for Channel 4's coverage of the NFL and Mike Miller, who was head of sport, said to Brian Venner, who was in charge of the Tour de France coverage: 'We need someone to do the same kind of features as Gary Imlach is doing on the American football.' Brian took him literally and Mike said: 'I didn't necessarily mean him, now he's got two plum sports jobs at the channel!' I'd watched the final stage of the 1989 Tour and heard Phil Liggett go ballistic so I had registered it was a great event but I like to come at sport as something of an inquisitive outsider. I didn't have any great inside knowledge.
What was your first Tour?
The first one was 1990 but I bailed out after three years saying I couldn't think of any more stories. I got sucked back in for 1994, not just on the basis that the Tour came to Britain
but because I felt quite proprietorial about it.
Did you ever struggle to come up with ideas?
Every year I thought: 'What on earth am I going to do?' but the Tour would always provide. You have to strike a balance between capturing the flavour and context of the extra-curricular stuff going on around the race. I always had this fear that the cycling purists would issue me with some kind of fatwa because they'd come back from the ad break and want to go back to the race but they'd have me there for a couple of minutes first.
So did you take the approach that there are 21 stages, so you needed 21 ideas?
I used to go in with 41 ideas because half of them would fall down because there was just no way you could do them. The logistics just wouldn't work. You used to have time - not necessarily by keeping to the speed limit - to do something at the start, then a piece along the route and still get to the finish in time. As the Tour has got bigger and more corporate that has become impossible. Now at the end of the day we drive to the finish of the next day's stage so we feel slightly divorced from it.
What was your reaction when Channel 4 dropped the Tour in 2001?
I cursed the bloody cricket, which seemed to be the chief reason for the Tour to be dropped. When Channel 4 took the cricket they didn't have a second channel to flow over to, so we got bounced all over the place, 6pm one night, 11pm the next. People were phoning in to complain, not surprisingly. I don't think Channel 4 was sick of the Tour but the cricket was such a huge contract for them.
So you went to ITV?
Imlach: The first year [2001] ITV took a weekly highlights show and I made two or three trips that year.
Who do you travel with?
There'll be me, the producer/director - without whom none of it would get on the air - Chris Boardman and a driver, who this year is Chris's brother-in-law. Chris is the front seat passenger so if he trusts him, I'm happy.
What essential item do you take to the Tour?
A travel espresso machine. I can't function without it. It's the first thing we unpack in the truck in the morning.
What do you enjoy most about the Tour?
I enjoy travelling through the country with possibly the finest cuisine in the world, and looking forward to a stop at a service station at 8.30 at night for an Orangina and a bag of crisps.
And what do you dislike?
From a TV production perspective, the noise. We have endless opportunities to do great scenic pieces to camera and then the helicopters will arrive, or the publicity caravan will turn up, or dear old Daniel Mangeas will pipe up, or there's a blast of the atrocious stuff that passes as popular music in France. Or they're dismantling the finishing. If you look at our rushes and looked at the number of aborted stand-ups. It's impossible to get any kind of clean sound.
Have you ever stayed in a real shocker of a hotel?
We've stayed in some laughable fleapits, but we've cracked it now and we've moved up half a star. It's bad enough sharing rooms but on occasion we've had to share beds. There's a legendary occasion that I missed where the crew were booked into a brothel - the rooms still had the red lights over the door.
What's your most memorable moment?
The 2003 Tour was full of them. We braced ourselves every day and said: 'It can't get more exciting than this, more melodramatic than this, can it?' That stage into Gap, with Beloki crashing and Armstrong going cross-country. But then something like a great old trooper like Sean Yates taking the yellow jersey in 1994, that sticks in the mind.
Even in the middle of the drugs Tour in 1998 there were moments. We were chasing the hard news every day but we thought, well, it can't all be doom and gloom, so we went to Meyrignac l'Eglise, the smallest town ever to host a Tour stage.
It was a ghost town but suddenly the mayor pitched up and asked us to help rescue the big polystyrene letters that spelled out 'Bienvenue a Corrèze' or something. They'd not been anchored well enough and so me and the producer got into a pedalo and pedalled out onto the lake to rescue them. We could barely keep a straight face when we were filming the piece.
Does the journalist in you secretly enjoy the doping scandals?
It's impossible to present the race with any credibility saying: 'Well, there are problems, but - and back to the racing. Even if it's to the detriment of the event you have to tackle it head on. Up to a certain point it is a good story and the Tour is a big enough ship to take a few direct hits but there comes a critical mass where it undermines the whole spectacle. The Tour has always been worth covering and I hope it always will be, but cycling has to address the drugs.
How do you wind down at the Tour?
[Laughs] I always say the rest days are a curse. There's often a long drive. You look forward to them but they're murder. You lose momentum. Look at the show the day after the rest day - it's always a shambles. The only way to survive the Tour is to just keep going.
You wrote a book, My Father And Other Working-Class Football Heroes, last year, what was that about?
It's the story of my father, who was a professional footballer, by someone who didn't pay enough attention when he was alive. It was a reconstruction of his life as a footballer in the days of the maximum wage and the retain-and-transfer system. Although it was also very personal - I've had a lot of letters from people who wished they'd listened a bit more when their fathers were alive.
Would you ever write a book about cycling?
I've been asked but I feel that the overwhelming story is the drugs, and if you did anything else you'd still have to address it, and I don't really want to take that on. I haven't got the answers.
Thank you for reading 10 articles this month* Join now for unlimited access
Enjoy your first month for just £1 / $1 / €1
*Read 5 free articles per month without a subscription
Join now for unlimited access
Try first month for just £1 / $1 / €1
Sports journalist Lionel Birnie has written professionally for Sunday Times, Procycling and of course Cycling Weekly. He is also an author, publisher, and co-founder of The Cycling Podcast. His first experience covering the Tour de France came in 1999, and he has presented The Cycling Podcast with Richard Moore and Daniel Friebe since 2013. He founded Peloton Publishing in 2010 and has ghostwritten and published the autobiography of Sean Kelly, as well as a number of other sports icons.