The UK's most cycling-friendly companies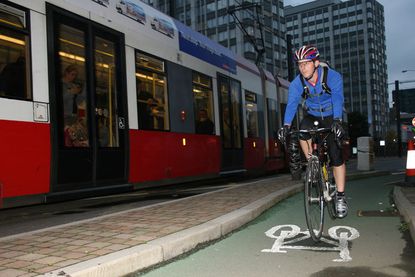 Which is the best company to work for if you're a cyclist? Which company is the most accommodating? Which has the best facilities?
Companies are at ever greater pains to reduce their carbon footprints and to promote healthier lifestyles for their employees, and cycling is moving increasingly higher up the agenda as a way of meeting both criteria.
Cycling Weekly has undertaken extensive research to find the top ten most cycle commuting-friendly companies in the UK.
We have investigated organisations, their facilities, schemes and attitudes to cycling to compile our comprehensive and in-depth list, and we've ranked them accordingly.
How does your workplace fare in our rankings? See this Thursday's Cycling Weekly for the UK's top ten cycling commuting companies.
Related links
Is this the UK's most ridiculous cycle lane?
Thank you for reading 20 articles this month* Join now for unlimited access
Enjoy your first month for just £1 / $1 / €1
*Read 5 free articles per month without a subscription
Join now for unlimited access
Try first month for just £1 / $1 / €1