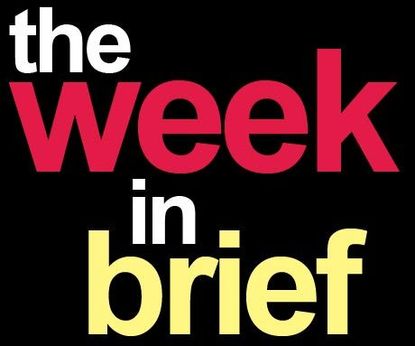 SATURDAY DECEMBER 1 TO FRIDAY DECEMBER 7, 2007
Swipe to scroll horizontally
VINOKOUROV BANNED, THEN RETIRES
Alexandre Vinokourov, the Astana rider who tested positive for blood doping at this year's Tour de France, received a one year ban from the Kazakhstan cycling federation this week. The lenient decision caused uproar in some quarters, including the Union Cycliste Internationale (UCI). The Kazakh federation also lit the blue touchpaper by saying that the way was clear for Vino to take part in the 2008 Beijing Olympics. Vino promptly saved a major international incident by announcing that he would retire from the sport. Which is probably the best thing he's done all year.
Full story>>
Swipe to scroll horizontally
SAVOLDELLI QUIT ASTANA DUE TO BRUYNEEL
Paolo Savoldelli has said that he left the Astana team because his old Discovery Channel boss Johan Bruyneel joined the Kazakh squad as directeur sportif. According to Savoldelli, Bruyneel still owes him a share of the 2005 Tour de France prize money, which the Disco team won. "Also, he was just never honest with me," said the Italian daredevil descender, twisting the knife.
Full story>>
Swipe to scroll horizontally
DFL and Nick Collins have ended their involvement in cycling after three years of sponsorship. If approved for a licence by the UCI on Monday, the mixed British-Belgian team will be sponsored by Pedaltech in 2008 and will include six British riders including Dan Lloyd and Dan Fleeman. 2004 Tour of Flanders winner Steffen Wesemann and several other former ProTour team riders have also agreed terms. The team will ride Museeuw bikes and ride a mixed UK and Belgian race programme. Former team boss Nick Collins told us that he had failed to find backing for the team but said he had no regrets after three years of sponsorship.
Full story>>
Swipe to scroll horizontally
BRITS ON TRACK IN WORLD CUP
Two track World Cups in two weeks: all eyes were on the great Britain team as they hit the boards in Sydney last weekend, and in Beijing this weekend. After a slow start on the first night in Sydney, the medals started flowing in with golds in the Keirin (men and women) and team pursuit. Things have started well on the Olympic track in Beijing, with several medals on the cards today. We'll be covering this weekend's action in full in the News section.
Full story>>
Swipe to scroll horizontally
COOKE TESTS OUT BEIJING ROAD RACE COURSE
Along with the GB track team, Britain's Nicole Cooke was over in China checking out the 2008 Olympic road race course in Beijing earlier in the week. The Welsh winner of the 2007 women's Tour de France was concentrating on the course's 10 kilometre climb which is likely to be the deciding point of the race. Emma Pooley is flying out to China this weekend for a similar recce mission.
Full story>>
Swipe to scroll horizontally
SUSTRANS IN WITH CHANCE FOR £50 MILLION
Let's hope that this is one phone vote that isn't rigged by TV execs: phone voting begins today (Friday) for the 'People's £50 Million'. Basically, the lottery funded sum will be allocated to one of four worthy projects, which include Sustrans' Connect2 scheme which aims to create new cycling and walking paths across the UK. A recap of all four projects will be shown on ITV1 at 11.05pm tonight.
Full story>>
Swipe to scroll horizontally
GRAND TOUR ROUTES ANNOUNCED
Organisers of both the Giro d'Italia and Vuelta a Espana chose this week to announce details of their respective Grand Tour routes. On Saturday, the 2008 Giro route was unveiled, including a mix of technical time trials and tough mountain stages. Not to be outdone, the 2008 Vuelta route, announced on Wednesday, is also one for the climbers. For the first time since David Millar was hit by a car in the rain, the steep Angliru climb returns with other stages in the Pyrenees and the northern Santander region. The Vuelta begins in Granada on 30 August and ends in Madrid on September 21.
Swipe to scroll horizontally
Cycle Sport's review of the year issue went on sale on Thursday. Packed with all of the good stuff of 2007 - as well as some of the bad - CS helps you remember the highs and the lows of a very eventful season. Don't miss it!
Full story>>
Swipe to scroll horizontally
STILL STRUGGLING TO GET ALL YOUR CHRISTMAS SHOPPING DONE?
Us too. You can find a whole host of helpful product reviews and news in our Tech section, including our Triple Whammy three-way mini tests. We also present this week's round-up of bike bargains in the Bargains of the Week section. If nothing there catches your eye, then try our very own online shop where you can buy the latest cycling DVDs and books - and even the ever popular Cycling Weekly branded socks. You could also give the ultimate gift for any cyclist: a subscription to Cycling Weekly. Still stuck? Try emailing santa@thenorthpole.com as a last resort.
Thank you for reading 20 articles this month* Join now for unlimited access
Enjoy your first month for just £1 / $1 / €1
*Read 5 free articles per month without a subscription
Join now for unlimited access
Try first month for just £1 / $1 / €1