'Tour de France effect' makes West Yorkshire more dangerous for cyclists
A new study reveals West Yorkshire is one of the most dangerous places to cycle, with the chance of being involved in an incident twice the national average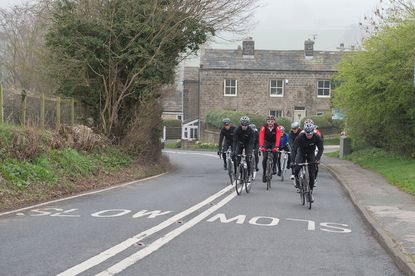 (Image credit: Joolze Dymond 07766144950)
A shocking new study shows the home of the Grand Départ of the 2014 Tour de France is unusually dangerous for cyclists.
West Yorkshire has become especially risky for cyclists younger than 26. The chance of being involved in an incident is twice the national average.
And the rate of injuries for middle aged riders has quadrupled in just eight years.
The study's authors suspect the Tour itself is one reason for the increase in "MAMIL" injuries, with more "middle aged men in Lycra" returning to the sport.
"We speculate that part of this growth can be attributed to the excitement surrounding the Tour de France," say Robin Lovelace, Hannah Roberts and Ian Kellar of Leeds University.
>>> Town's potholes will not be repaired for Tour de Yorkshire visit
Leeds, Bradford, Wakefield and Huddersfield are covered by the study but the bleakest figures come from Calderdale, including Halifax. Here, the serious injury rate among cyclists is more than three times the national average.
It's not all gloom. The report says data from Leeds backs the theory of "safety in numbers" – roads get safer the more people who cycle.
And, contrary to expectations, crash figures show that the rate of incidents at night is not any higher than in the daylight.
>>> Tour de Yorkshire launches its official sportive
Lead author Dr Robin Lovelace is a geographer and keen cyclist, who is a member of Leeds bicycle repair cooperative, Pedallers' Arms.
"One important thing that the statistics don't show is the massive benefit to public health that the increase in cycling is delivering," says Lovelace. "It means there will be reductions in heart disease and obesity and improvements to people's quality of life."
The data supports what most cyclists instinctively know - the largest roads are the most dangerous, as are junctions and roundabouts. The and the researchers say this is an argument in support of better facilities. "Safe cycling infrastructure could have a substantial role in reducing risk along heavily used roads," they say.
Coincidentally, just three days the report was published, the DfT announced it would give the region £22.1m for its CityConnect2 cycling schemes over the next three years. West Yorkshire's Combined Authority will chip in another £8 million.
"I'm pretty sure our report didn't have any influence on the funding announcement," says Lovelace, who also contributed to the national Cycling and Walking Infrastructure Strategy which was considered by the Government recently.
>>> Tour de France generates £12.5m for Yorkshire borough of Calderdale
Co-author Ian Kellar is a member of Otley CC, where he coaches youngsters. "People aren't very good at judging risks so I hope this paper will start to help change their perceptions," he says. "If they knew that cycling in Leeds, for example, is much safer than they imagined then more people would take up cycling."
He also believes the paper's findings will help people to campaign for better cycling facilities and safer infrastructure.
Source: the demographic and geographic distribution of bicycle crashes in West Yorkshire by Robin Lovelace, Hannah Roberts and Ian Kellar in Transportation Research Part F: Traffic Psychology and Behaviour (in Press). Downloaded from http://eprints.whiterose.ac.uk/83930/
Thank you for reading 20 articles this month* Join now for unlimited access
Enjoy your first month for just £1 / $1 / €1
*Read 5 free articles per month without a subscription
Join now for unlimited access
Try first month for just £1 / $1 / €1