Track cycling world championships: Wednesday's live coverage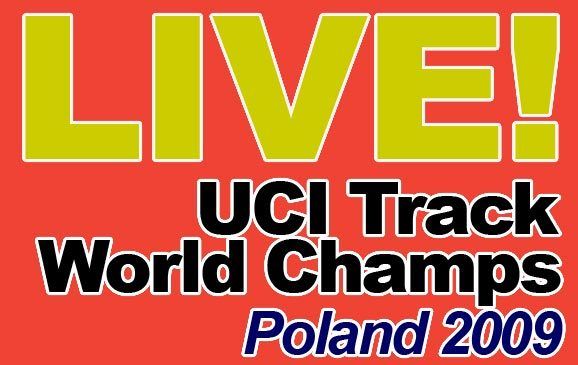 Press refresh to access the latest updates
All times are UK times
The Hub - Home for all CW's track worlds coverage
TODAY'S HIGHLIGHTS
* Simona Krupeckaite breaks world record in 500m. Victoria Pendleton wins bronze
* Chris Newton gets a points race bronze, just as he did in Beijing last summer
* Wendy Houvenaghel wins silver in the individual pursuit behind Alison Shanks
* British team sprint trio push France close
LIVE UPDATES
20.50 That's all folks. We're off for a piwo (that's a beer in Polish). Tune in tomorrow for more cycling coverage and perhaps a bit more Polish vocabulary. In the meantime, check out Cycling Weekly's Twitter feed for the exciting photo feature 'Polish Pudding of the Week'.
Men's team sprint
1. France 43.510
2. Great Britain 43.869
3. Germany 43.912
20.37 France take gold ahead of Great Britain!
20.34 Germany take the silver medal in the team sprint in a time of 43.912 seconds. Britain are on the track for the gold final next.
20.20 The Great Britain team have won a medal in every event contested so far.
20.16 Just one final still to go this evening, and that's the team sprint. Unless the British trio can really turn it on, it looks like an evening of silvers and bronzes.
Women's individual pursuit
20.09 The Kiwi rider has got the gold medal, meaning Houvenaghel has a world championship silver medal to go with the one she got at the Olympics in Beijing.
20.08 Houvenaghel is behind after 2,000 metres and the gap is starting to open.
20.06 Wendy Houvenaghel and Alison Shanks are on the track now. Can Houvenaghel win her first world title?
20.03 The Lithuanian's experience is too much for young Joanna Rowsell, and so Sereikaite takes third place.
20.02 Joanna Rowsell is up against Vilija Sereikaite in the bronze medal race.
Men's points race final result
1 Cameron Meyer (Australia) 24pts
2 Daniel Kreutzfeld (Denmark) 22pts
3 Chris Newton (Great Britain) 21pts
19.53 Two riders go for it with a few laps to go. Kiriyenka of Belarus and the French rider Kneisky. Then Newton goes for it but it's too late and he gets only two points. But it guarantees bronze for Newton
So Cameron Meyer of Australia gets the gold medal, Daniel Kreutzfeldt of Denmark silver.
19.50 The penultimate sprint and the bunch is all together. Cameron Meyer of Australia gets it to go into the lead by himself on 24. Newton was fifth over the line and so is now in third place overall.
19.48 With 20 laps to go, this is a very close race. There are now three riders tied in the lead on 19 points. Cameron Meyer, Chris Newton and Daniel Kreutzfeldt of Denmark are ranked in that order, because of the placings they have gained in the race so far.
So it's going to come down to the position over the line in those final two sprints, unless someone can get away.
19.47 The bunch has split in half, with Newton making the right half. It's a select group at the front now, with all the challengers in there.
19.45 It's extremely tight at the top now. Newton still leads, with 18 points, with Teruel on 17 and Cameron Meyer on 16. 27 laps to go.
19.43 It didn't look like the Aussie-US alliance was going to gain a lap, but Kluge of Germany has joined them and Kiriyenka is trying to get across too, which really puts the pressure on Newton.
19.41 Colby and Meyer are still on the attack, but Newton is now the outright leader having taken third place in the 12th sprint.
19.40 Chris Newton is doing very nicely with 45 laps to go. He's in the lead, on 16 points, with Eloy Teruel also on 16 points. But Newton has the edge because he's had better placings in the sprints so far. There's a break on now, with the USA's Colby Pearce and Australia's Cameron Meyer trying to get away.
19.38 Meanwhile, Victoria Pendleton has declared herself delighted with her first World Championship medal in the 500 metres time trial.
19.37 Teruel of Spain still leads, on 15 points, but Newton is up to second on 14, after taking second place in the last sprint. It's anybody's race at this stage, to quote a well-worn cliche.
19.35 Vasili Kiriyenka of Belarus is on the attack and has just taken maximum points at the latest sprint with 60 laps to go. Chris Newton is in the thick of things now, chasing hard to prevent the Belarussian from taking a lap.
19.27 Now the Spaniard Eloy Teruel is in the lead, on 12 points, with Kluge second and Newton third. There are 85 laps and eight sprints still to go.
19.21 After the fifth of 16 sprints, Newton has just lost the lead to Germany's Roger Kluge.
Kluge has ten points, Newton's on nine.
19.13 Newton wins the second sprint ahead of home favourite Rafal Ratajczyk, which puts the British rider in the lead overall.
19.10 Chris Newton took three points in the first sprint, behind Roger Kluge of Germany. Kluge, you may remember knocked Newton down to the bronze medal in one of the most exciting points races ever in Beijing last summer. The German launched an audacious late attack in the race won by now retired Joan Llaneras of Spain.
19.05 The BBC's coverage has started on BBC, so you've probably all gone to watch that now. Hello? Hello??
The men's points race is about to start, with World Cup champion Chris Newton aiming for a second world title. He won the rainbow jersey at Copenhagen in 2002.
After that there's the women's individual pursuit medal races and the men's team sprint finals.
For a British team that is missing many of its biggest names, there is a lot of experience on show tonight. Pendleton's already bagged a bronze and there are guaranteed medals in the individual pursuit and team sprint, so not a bad evening's work.
Men's team sprint qualifying round
Top four times
1 France 43.614
2 Great Britain 43.738
3 Germany 43.911
4 Australia 44.115
18.55 Last heat sees the favourites, France, and Japan on the track. The French are quicker than the Brits after two laps... and are fastest after three. It'll be a Great Britain v France final, with Germany up against Australia for bronze.
18.53 Here come the boys - but no (Sir) Chris Hoy, who's out injured. Staff, Kenny and Crampton have set a very good first lap. They're leading after two laps... and do a 43.738 to top the leaderboard and guarantee a medal ride. Netherlands in sixth.
18.50 The heavyweights are on the track now. Australia and Germany. They set the best two times so far. The Germans ride a fine 43.911, with the Aussie trio of Daniel Ellis, Shane Perkins and Scott Sunderland (no, a different one) in 44.115.
18.46 Big cheers for the Polish trio in the team sprint, with the commentator shouting "Polska, Polska" in a rather unbiased way. It must have worked, because they're now on top of the leaderboard with three heats to go.
18.42 We're underway and so far the Malaysian trio have the best time after three of the eight heats. Great Britain go in heat seven.
Women's 500m time trial
Podium
1 Simona Krupeckaite (Lithuania) 33.296
2 Anna Meares (Australia) 33.796
3 Victoria Pendleton (Great Britain) 34.102
18.27 Simona Krupeckaite's new world record gets her the rainbow jersey. Pendleton settles for bronze
18.24 New World Record Simona Krupeckaite has stormed round the track, breaking the world record in the process.
18.22 Sandie Clair of France pushes Pendleton's time very close, but the silver medal remains in British hands at the moment, with Simona Krupeckaite and Lisandra Guerra Rodriguez the last two riders to go.
18.11 Eighth best time at this stage for Anna Blyth, 35.443, with six riders still to go.
18.09 Britain's second competitor, Anna Blyth, is next up.
18.02 Pendleton's bid for all four sprint titles won't happen this year. She's outside the time set by Meares. Pendleton still has the sprint, Keirin and team sprint to come, so she can still do the treble.
17.59 Victoria Pendleton is on the start line now. She's the Olympic sprint champion. She won two world titles in Manchester last year, and three in Palma the year before that. But she's never won the 500m world title. In fact, she hasn't ridden it since Bordeaux in 2006.
17.39 New best time Australia's former world champion Anna Meares breaks the 34-second barrier and sets a time that will be very tough to beat.
17.31 The first rider, Olga Panarina, has completed her ride. Two laps of the track, quick as you can. Victoria Pendleton is the 13th rider to go, with her GB team-mate Anna Blyth 17th of the 23 riders in this final.
16.49 The opening ceremony continues, with various important people from Poland and the UCI telling each other in Polish and then English, how great they all are.
In the meantime, the start lists for Thursday's races are out. As Cycling Weekly revealed yesterday, there will not be a British competitor in the men's individual pursuit, despite the fact GB qualified for two places. Ed Clancy broke a bone in his foot when he stubbed his toe a few weeks ago. Then a bout of food poisoning hit the men's endurance riders. Only last week were they all back at full fitness, meaning it was simply too much to ask any of the pursuiters to double up.
Check out The Hub for all the latest news.
16.37 We simply couldn't let the opening ceremony pass without comment. It's been Euro-Rock and dancing girls so far. We've had a bit of Cotton Eyed Joe, lending an American line-dance flavour, followed by some Bollywood-inspired moves. Now there's some atmospheric, if generic, This-Is-A-Big-Sporting-Event music. All strings and drums.
Now some cyclists are riding round the velodrome carrying the flags of the competing nations.
Opening ceremonies - fine for the Olympics and the World Cup. Possibly acceptable for the Commonwealth Games too. But this is a step too far. If this trend continues the Surrey League will be having an opening ceremony soon.
14.28 Your CW correspondent is off in search of lunch. And to check that deputy editor Simon Richardson, who is on crutches after being knocked off his bike, isn't stuck in a corner somewhere, unable to reach his sticks. He's been gone a while.
In the meantime, Mark Cavendish is training on the track ahead of tomorrow's scratch race.
We'll be back at about 5.30pm (UK time). We're going to try to avoid the 90-minute opening ceremony if we can. What on earth are they going to do in 90 minutes?
Women's individual pursuit qualifying
Top four times
1 Wendy Houvenaghel (Great Britain) 3-29.491
2 Alison Shanks (New Zealand) 3-31.063
3 Vilija Sereikaite (Lithuania) 3-33.935
4 Joanna Rowsell (Great Britain) 3-35.028
14.11 The Polish rider's time was well down the list, so tonight's line-up is:
Gold medal race
Wendy Houvenaghel (Great Britain) v Alison Shanks (New Zealand)
Bronze medal race
Vilija Sereikaite (Lithuania) v Joanna Rowsell (Great Britain)
14.07 Actually, we've spoken too soon there, because the Polish rider who crashed earlier, Edyta Jasinska, is riding again. She fell in the fourth heat, so it's unlikely she'll do enough to beat Rowsell now, even if the children in the stands are giving her enthusiastic support.
14.05 New best time Britain's Wendy Houvenaghel will race for gold this evening after she topped qualifying in 3-29.491.
The final will be a repeat of her qualifying ride, as the New Zealand rider Alison Shanks recorded the second fastest time. Joanna Rowsell will face the Lithuanian Vilija Sereikaite for bronze.
14.00 With just one heat remaining, Rowsell is guaranteed a medal ride. Now for Wendy Houvenaghel and Alison Shanks of New Zealand to complete the qualifying round.
13.54 New best time Vilija Sereikaite (Lithuania) has gone quicker than Rowsell. However, Rowsell is still looking good for a medal ride. However, it does mean there can't be an all-British gold medal final.
13.49 New best time Joanna Rowsell is now top of the leaderboard with three heats to go. The British rider, in her World Cup champion's skinsuit, Sky logo huge on the leg, rode 3-35.028. Tara Whitten home in 3-38.962.
13.44 Now World Cup champion, 19-year-old British rider Joanna Rowsell is about to start her heat. She's in the same heat as Canada's Tara Whitten.
13.43 New best time Australia's Josephine Tomic now has the quickest time (3-37.780), and Germany's Charlotte Becker is fourth best at the moment.
13.38 New best time The Ukrainian rider Svitlana Galyuk has just set the new best time (3-40.413). There are five heats still to go.
13.23 The fourth heat is underway. Best time so far is Spaniard Leire Olaberria Dorronsoro in 3-41.176.
In the fourth heat the Polish rider Edyta Jasinska was getting great support from the schoolchildren in the stands, when she crashed and went down heavily. The other rider in the heat, Gema Pascual Torrecilla of Spain is continuing on her own while medics attend to Jasinska.
13.01 Welcome to Poland. We're in Pruszkow, a suburb to the west of Warsaw. It took about 30 minutes to get here in a taxi from our base, the Westin Hotel.
The qualifying round of the women's individual pursuit is underway. There are 21 riders. First up is Thailand's Nontasin Chanpeng. Then the riders go in pairs on opposite sides of the track. Britain has Joanna Rowsell in heat eight and Wendy Houvenaghel in the last heat.