Trials superstar Danny MacAskill returns as a 70s rocker
It's a long way to the top if you want to Drop and Roll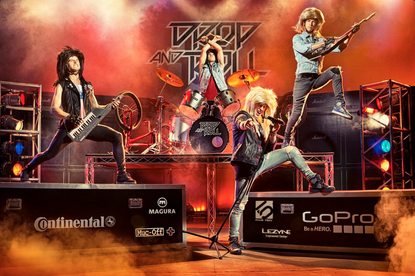 You may remember Danny MacAskill from the death defying The Ridge, shot on the Isle of Skye, or Imaginate, that saw him re-create his childhood imagination. Well now he's back and this time he's recruited a few friends to help him on the way.
This video was shot to publicise the Drop and Roll tour that features MacAskill alongside fellow street trials riders Fabio Wibmer, Ali Clarkson and Duncan Shaw. This stunt supergroup tours around the country putting on death-defying shows at events such as The Cycle Show, the Fort William mountain bike World Cup and Tweedlove. It will probably be your only chance to see MacAskill's insane bike control in the flesh so make sure you grab a ticket if it's in your area.
Learn some skills of your own with our wet weather tips
While it may not be as serious or epice as MacAskill's other videos, this one still features some incredible stunts such as Wibmer playing the keytar while standing on his handlebars, Ali Clarkson hitting some massive drops and MacAskill performing a superlative knee slide dismount.
Danny has recently also announced the release of the Inspired Skye, a brand new signature street trials frame that has been built to his specifications.
For more information click here.
Thank you for reading 10 articles this month* Join now for unlimited access
Enjoy your first month for just £1 / $1 / €1
*Read 5 free articles per month without a subscription
Join now for unlimited access
Try first month for just £1 / $1 / €1