Truck driver fined more than £1,000 for passing too close to cyclist
Thirteen people have been prosecuted as a result of passing too close to cyclists in the West Midlands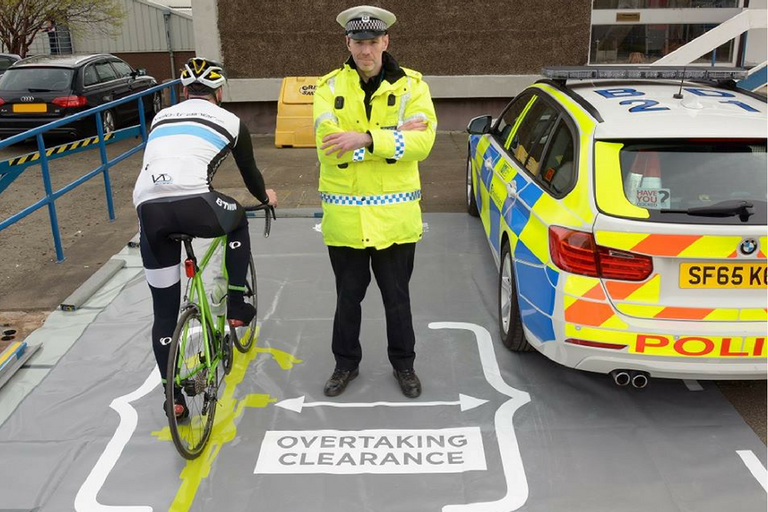 (Image credit: Police Scotland)
A truck driver has been fined more than £1,000 and given five points on his driving licence for passing too close to a cyclist.
The unnamed driver, aged 60, had to pay £1,038 to cover fines and costs after being found guilty of an unsafe manoeuvre in Tipton, the West Midlands, in November 2016.
The driver is one of the first to be prosecuted as part of West Midlands Police' operation close pass. In total, since the scheme was launched last September, 13 drivers have been prosecuted and two have had their licences revoked by the roadside after failing eyesight tests.
>>> West Midlands Police targetting of 'close pass' drivers a success in improving cyclists' safety
The truck driver pleaded his innocence to the charge but was found guilty at Birmingham Magisterates Court.
Speaking about the truck driver incident, PC Mark Hodson, from Central Motorway Police Group, said that the cyclist was fortunate not to have been badly injured.
He said: "This was a clear case of a close-pass. The cyclist was nearly forced into the kerb and the actions of the truck driver could easily have caused a very serious collision. He maintained his innocence, though, and has now been convicted in court."
The close pass scheme is attempting to educate drivers to pass no less than 1.5 metres from cyclists. The initiative has since been copied by several other police forces across the country.
>>> Police targetting of 'close pass' drivers introduced in Edinburgh with aim of Scotland-wide roll-out
Plain clothes officers cycle the region's roads looking out for motorists who pass too closely. Almost 200 people have been pulled over by West Midlands Police thus far, with the force also revealing that more than 300 drivers have been prosecuted thanks to helmet and dash-cam video footage from the public.