Police targetting of 'close pass' drivers introduced in Edinburgh with aim of Scotland-wide roll-out
Scottish Operation Close Pass follows on from success of scheme in West Midlands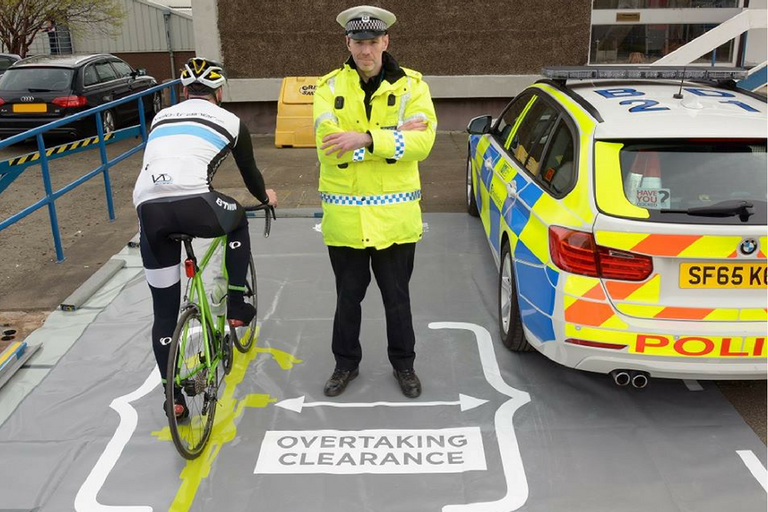 (Image credit: Police Scotland)
A police operation targetting drivers passing too close to cyclists has been started in Edinburgh with the target of rolling it out to the whole of Scotland.
Operation Close Pass, which was first developed by West Midlands Police, sees plain-clothed police officers deployed on bikes wearing cameras to capture drivers passing them too closely.
According to Police Scotland, drivers passing too close to cyclists can put people off getting out on their bikes, and, in line with the Highway Code, drivers should give cyclists at least as much space as if they were overtaking another vehicle.
>>> West Midlands Police targetting of 'close pass' drivers a success in improving cyclists' safety
"A lot of drivers see a person on a bicycle riding on the road on in a cycle lane and don't consider that passing them closely puts all road users in danger," PC Dominic Doyle from Police Scotland's Divisional Road Policing Unit told The Scotsman.
"It could constitute careless or even dangerous driving and you would fail your driving test for that."
The scheme was launched on Sunday on a major road in the north west of Edinburgh, with a number of drivers being pulled over by police.
Police say that their initial focus will be on educating drivers using a specially-designed mat to show drivers how much space they should give cyclists. However motorists could also face a £100 fine and three points on their licence.
>>> Passing judgement: How 'Operation Close Pass' is bringing bad drivers to book
Cycling campaign groups in Scotland have welcomed the initiative, with Martin McDonnell of Spokes, the Lothian Cycling Campaign, hoping that it will help to encourage more people onto their bikes.
"We have seen what's happened in the West Midlands and elsewhere round the country and it seems to be having a real impact on driver behaviour and making people feel safer being out on the road on their bikes," McDonnell said.
"There have been some studies done that if somebody does close passes they are more likely to be involved in a collision subsequently so it's better to catch it early on in the process rather than later."