Ultra-distance cyclist Mike Hall died almost instantly, inquest told
A court has heard Mike Hall was hit by a driver with a provisional licence on a dark road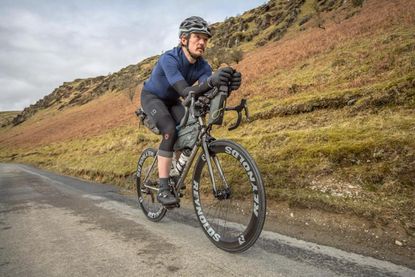 The British ultra-distance cyclist Mike Hall died almost instantly after being hit by a car in Australia, an inquest has heard.
Hall was taking part in the 5,500km Indian Pacific Wheel Race when he was killed in a crash near Canberra in March last year.
An inquest into Hall's death heard that his dark clothing and lights made him hard to see on the dark road, reports the Australian Broadcasting Company (ABC).
The 35-year-old was in second place in the unassisted event, when he was hit by a car at 6.20am on March 30.
A passing car hit Hall at near 100kph (62mph) and was travelling at the speed limit.
>>>British endurance cyclist Mike Hall killed in collision with vehicle in Australian race
Hall was left with severe head injuries and his death was "almost instantaneous," ABC reports.
The inquest heard it was dark at the time of the crash and that Hall was wearing dark clothes, very little reflective clothing and his red rear light would have been hard to see.
ABC reported that the driver, 19-year-old Shegu Bobb, was travelling to work.
He had approached an intersection and had lowered his light from high to low beam.
The driver told police he "got a glance" of something and then felt the impact, thinking he had hit a kangaroo.
Police have not prosecuted Bobb and said that Hall was not clearly visible to the driver, leaving him insufficient time to avoid the collision.
Hall founded the Transcontinental Race, an annual race across Europe , in 2013, and broke the round-the-world record with a time of 91 days and 18 hours in 2012.
The 2018 edition of the Indian Pacific Wheel Race was cancelled after Hall's death and the 2017 event was cancelled immediately after the crash.
In the hours after his death, a fundraising page was set up to raise £20,000 for Hall's family – it reached the target within five hours.
The inquest continues.
Thank you for reading 20 articles this month* Join now for unlimited access
Enjoy your first month for just £1 / $1 / €1
*Read 5 free articles per month without a subscription
Join now for unlimited access
Try first month for just £1 / $1 / €1