Tips from the pros: How to look like a pro rider
For some, it's about looking good; for others, staying dry or simply going fast: pros past and present tell CW about their favourite style upgrades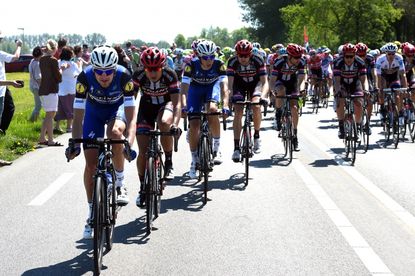 (Image credit: Watson)
Get The Leadout Newsletter
The latest race content, interviews, features, reviews and expert buying guides, direct to your inbox!
Thank you for signing up to The Pick. You will receive a verification email shortly.
There was a problem. Please refresh the page and try again.
Chris Boardman: good old mudguards
What might this pioneer of cutting-edge cycle tech, cycling-specific wind tunnel curator and key member of the Secret Squirrel Club enjoy as his favourite cycle upgrade?
The somewhat unlikely answer is... mudguards.
"It's absolutely nothing to do with anything I've produced but I'd say a set of mudguards.
"And I did have, until I just lost them moving house, a fantastic pair of waterproof boot-style cycling shoes, which were just revolutionary."
"It's a combination that is probably somewhere at the bottom end of the bling scale — if not falling off it altogether — but you can't fault the practicality."
>>> Specialist bike fit: which approach is best?
However, when it comes to advice for the current pro, the inquiring mind of a man who has spent hundreds of hours studying the physics of a bike in motion and how it could be more efficient, shines through:
"For pros now, the biggest, best upgrades they could make would be anything that could give them a better position.
"Because we're still doing the small, medium, large frame thing, just on assumption that that works for everybody.
"There's a lot of long and drop-head stems being used at the moment."
Malcolm Elliott: get the Dremel out
Like any sprinter in the pro peloton, Malcolm Elliott wasn't averse to risk taking — after all, clashing shoulders and handlebars at 40mph was par for the course.
Hollowing out your crash helmet and drilling holes in your handlebars is taking things to another level though, and while it's the sort of thing you could do back in the day, we certainly wouldn't recommend doing it yourself now.
The UCI of course, would also have a pink fit.
"I recall spending time over the bike helmets," Eliott tells CW.
"Big helmets never looked good, so you wanted to wear as small a helmet you can realistically get away with.
>>> Best bike helmets: a buyer's guide (video)
"So we'd use the Dremel tool to just shave bits out so the thing fits you well — doesn't look like a golf ball on your head.
"Obviously sometimes you got it wrong, and it'd be, 'Give me another helmet, I've taken too much off it!' Proceed with caution on that one!"
Talking of proceeding with caution, the Dremel wasn't the only power tool Elliott brandished:
"When I used to race, with Cinelli bars and stem, I always used to drill my handlebars.
"I liked the concealed cables, I didn't want them under my tape, I didn't like the feel of them, so I always used to drill through the bars at the lever, and just under the stem where it was double thickness, and just exit the bars there.
>>> The best handlebar tape, and how to wrap it (video)
"People used to say, 'What?! You're a sprinter! You can't do that!' But I did it for years and never had a problem."
Don't try it at home, kids.
Adam Blythe: self-designed bling
Bling is generally the name of the game for the sprinters of the pro peloton.
You might have thought that a sprinter's favourite add-on would be some faster wheels, or some more aerodynamic handlebars.
But for Adam Blythe that's not the case — his renowned Nike shoes are his very personal, favourite upgrade.
"It's just a shoe I've designed and sent off to Nike. I get about four sets a year. I send in a different design every time and they generally, within reason, send them to me.
"Every single pair of shoes I've got is a one-off," he says.
Watch now: How to dress like a cyclist
While Blythe doesn't have all the time in the world to get hands-on during the design phase, if you've ever seen his creations, they're certainly in the upper echelon of the 'bling scale'.
"I don't design them as such," he says. "I just find a print or a colour or a pattern and send them off and ask them to do something with it.
"Here's a bit of camouflage. Can you do it this colour, that colour, can you flip it?"
So the logical question to ask is what will his next creation look like?
"Currently I've got snakeskin with gold swooshes on, the next ones will have to be white to match the [Aqua Blue] kit."
>>> Pro cyclists and their shoes: a never-ending love affair
Apart from the bling-tastic shoes, Blythe doesn't care too much for fancy handlebars:
"I always ride classic handlebars. Most companies make them, but some are starting to stop. Just the classic rounded shape; none of that fancy ergonomic stuff."
Niki Terpstra: care for the spare
How often have we seen a top pro in a potentially race-winning situation suffer a mechanical, only to be issued with a bike that's the wrong size and with more issues than the one that's just been discarded?
More races have been lost this way than any team mechanic might want to think about, but you can be sure it won't happen to Classics star Niki Terpstra:
"I'm a really technical guy. I always pay a lot of attention to my bike. It starts from the tyres and the contact with the ground.
"The position is really important. My spare bike must be exactly right. The frame has to be good and the shifting has to perfect," he says.
"For the handlebar, I have to have the old-school classic round type. Everyone makes them. I need to have a good saddle, Specialized have a lot of choices."
André Greipel: it's a stitch-up
Even Gorillas like to be well tailored, sprint supremo André Griepel included, and while he doesn't cut his own cloth, he's more than happy that he no longer has to look like part of a kite convention at races:
"When I started, if you look back to the pictures, it's like oversized jerseys. Nobody cared about aerodynamics, and now it all comes down to the fabric, plus the way they are stitched together.
>>> How much faster does a skinsuit make you? (video)
"Also, with the helmets and the whole gear around what you are wearing. [Now] when you wear a normal jersey it's a bit like a skinsuit, but a bit more comfortable."
Fabian Cancellara: swatch this space
Having played a key part in developing Trek's ultra-technical Domane SLR road bike, it's only natural that Fab's favourite cycling upgrade is, er, some fancy paint:
"I'm always looking for a different colour and painting, and my mechanic put a few things like special stickers on," confides the one they call 'Spartacus'.
However, it's no surprise that there's more to Cancellara than fancy decals, and he adds:
"I was always pushing Trek — the team and the company — towards having better, faster equipment; comfortable, aero... all these things that are needed for performance.
"Equipment is so crucial today, not only on paper, but also mentally, to be ahead of everyone else.
"And that is why I was pushing all the people around me: 'push the limit, push the limit!' because as long as you can go to the limit that's fine. But don't go over the limit…"
A tough ask. But it seemed to do the trick.
Thank you for reading 20 articles this month* Join now for unlimited access
Enjoy your first month for just £1 / $1 / €1
*Read 5 free articles per month without a subscription
Join now for unlimited access
Try first month for just £1 / $1 / €1
Get The Leadout Newsletter
The latest race content, interviews, features, reviews and expert buying guides, direct to your inbox!
After cutting his teeth on local and national newspapers, James began at Cycling Weekly as a sub-editor in 2000 when the current office was literally all fields.
Eventually becoming chief sub-editor, in 2016 he switched to the job of full-time writer, and covers news, racing and features.
A lifelong cyclist and cycling fan, James's racing days (and most of his fitness) are now behind him. But he still rides regularly, both on the road and on the gravelly stuff.