US government requests Lance Armstrong's cancer treatment records
Indiana School of Medicine is requested to hand over Lance Armstrong's medical records in an attempt to determine whether doctors knew of his doping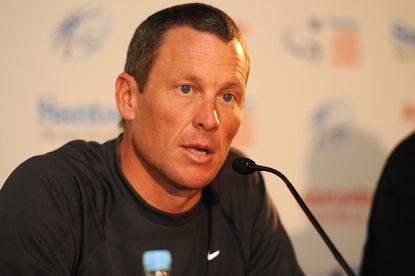 The US government has requested Lance Armstrong's medical records from the Indiana School of Medicine from the time of his cancer treatment in 1996 to discover whether doctors knew about the Texan's use of performance enhancing drugs, according to the Associated Press.
Betsy Andreu, wife of Armstrong's former teammate Frankie Andreu, testified in 2005 that she was in a hospital room with Armstrong in 1996 when he told doctors he had taken steroids and a blood booster.
Armstrong has strenuously denied the conversation took place and his lawyers claim this latest subpoena is for information irrelevant to the whistleblower case brought against the former rider by Floyd Landis and the US government.
>>> Lance Armstrong subpoenas those who testified against him
"Those documents are irrelevant to the subject matter of this litigation and the request is nothing more than an attempt to harass Armstrong, cause unnecessary delay, and needlessly increase the cost of this litigation," Armstrong's lawyers wrote.
The US government join Landis in his lawsuit against Armstrong in an attempt to recover millions of dollars paid by the US Postal Service to Armstrong and his teammates between 1998 and 2004.
>>> Lance Armstrong: I can't afford to lose $100 million in legal case
AP reports that Armstrong's lawyers have asked a Washington DC judge to block the subpoena as it violates their client's privacy. The lawyers also wrote that Armstrong admitted to doping before 1996 in a deposition given on July 23.
Thank you for reading 20 articles this month* Join now for unlimited access
Enjoy your first month for just £1 / $1 / €1
*Read 5 free articles per month without a subscription
Join now for unlimited access
Try first month for just £1 / $1 / €1