VINO DENIES DOPING IN TOUR DE FRANCE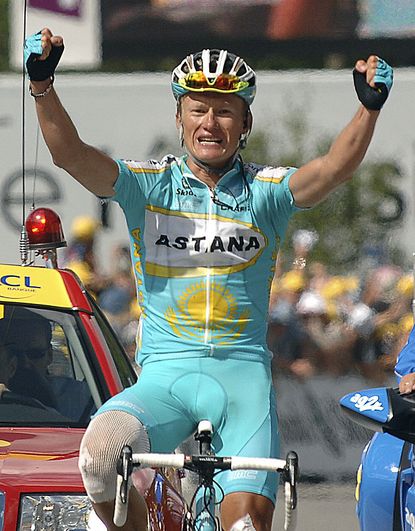 After causing one of the biggest ever doping scandals in the Tour De France, Alexandre Vinokourov has flatly denied blood doping.
In a short interview in Equipe on Wednesday, given via mobile phone while Vino was returning to his home in Monaco, he claimed the positive was all a big mistake. He said he fled the Tour de France during Tuesday?s rest day so that he prepare his defence.
?It's a mistake. I can?t believe I tested positive. I never doped, that's not the way I see my job,? he told Equipe.
"I think it's a mistake and perhaps happened in part to my crash. I have spoken to the team doctors who have a hypothesis that there was an enormous amount of blood in my thighs, which could have led to my positive test. I want to find out if my crash unbalanced my organism.?
Vinokourov also claimed to be the victim of a witch hunt in the peloton.
"It's been going on for months and today they've managing to demolish me," he said.
"The setting up of our team made a lot of people jealous and now we're paying the price. It's a shame to leave the Tour this way, but I don't want to waste time in proving my innocence."
Asked why he fled the Tour in secret instead of trying to defend himself, Vinokourov he claimed it was start working on his defence.
?I didn?t run away. I quickly wanted to speak to a haematologist who?s going to help my defence. It?s a pity I quit the Tour but I didn?t want to waste any time collecting the evidence to prove my innocence. I want to quickly explain to people that I?m not a cheat but I don?t know if they?ll believe me,? he said.
"On the way home in the car I heard on the radio that I did a transfusion with my father's blood," Vinokourov said. "That's absurd, I can tell you that with his blood, I would have tested positive for vodka."
According to Astana team manager Marc Biver, Vinokourov tested positive to a new kind of blood test introduced at the beginning of July. He said Vinokourov would be suspended and pulled the team from the Tour but another team of riders started the Tour of Saxony in Germany on Wednesday.
Thank you for reading 20 articles this month* Join now for unlimited access
Enjoy your first month for just £1 / $1 / €1
*Read 5 free articles per month without a subscription
Join now for unlimited access
Try first month for just £1 / $1 / €1