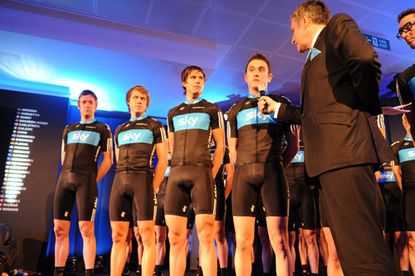 Get The Leadout Newsletter
The latest race content, interviews, features, reviews and expert buying guides, direct to your inbox!
Thank you for signing up to The Pick. You will receive a verification email shortly.
There was a problem. Please refresh the page and try again.
Some of the big questions surrounding Team Sky are: Who owns the team? Who holds the ProTour licence? And what part does British Cycling play? After all, British Cycling is a members organisation and the elite racing programmes are funded by public money, while Sky is a media corporation. It is a relationship that could throw up potential conflicts of interest. Cycling Weekly put these questions to Dave Brailsford and he explained how every eventuality has been planned for.
With British Cycling and Team Sky sharing office space as well as coaching, back-up and administrative staff, there are bound to be overlaps, competing pulls on time and resources and possible conflicts of interest.
John Steele and Peter Keen, the chief executive and performance director of UK Sport, acknowledged the possibility and told the Daily Telegraph recently they would be monitoring developments as the commercial pro team project develops to ensure it does not impinge on British Cycling's publicly-funded objectives.
British Cycling will receive £26.4m in this Olympic cycle, while Team Sky has a reported budget of around £7m. The man responsible for overseeing both projects and striking the equilibrium is Dave Brailsford.
In an interview, he told Cycling Weekly he was acutely aware of the perception of a conflict of interests between the two parties and that everything has been carefully constructed to ensure that Team Sky's commercial pro team benefits British Cycling.
Brailsford is Team Sky's team principal, but remains performance director of British Cycling. There's enough work there for two full-time jobs and some. However, he told CW he did not take any financial or equity stake in Team Sky.
Nevertheless, the pressures on his time are huge and privately there are concerns that the national programme may suffer as the pro team takes off.
British Cycling's elite programme is funded by UK Sport from National Lottery money, and the size of the cheque issued after London 2012 will depend in part on the number of Olympic and World Championship medals are delivered. The Tour de France does not figure on UK Sport's radar, but Brailsford said that the eventual goal of having all the men's endurance riders in Team Sky would only help the Olympic effort.
A BALANCING ACT
Brailsford said that although British Cycling's resources and expertise will be at the disposal of Team Sky's riders, their services would not come free.
To understand the delicate relationship, it's important to understand that Team Sky is owned by a company called Tour Racing Limited, which holds the team's UCI ProTour licence. TRL is a holding company owned by BSkyB and on the board of TRL are two senior Sky executives and Ian Drake and Brian Cookson, the chief executive and president of British Cycling. There is a service-level agreement between Tour Racing Limited and British Cycling that means Team Sky can purchase services from the national federation.
Brailsford describes British Cycling as the team's 'ethical partner' and says his role as team principal is a salaried and contracted position. "I have no interest in it, no options, no shares, nothing related to money at all. I have a contract and I get paid for it. If I do a good job I'll stay, and if I don't I'll get fired," Brailsford said.
Team Sky principal David Brailsford
"I have to be very careful how I am perceived, with British Cycling and with Team Sky. If I am financially rewarded, there could be a conflict of interest between a foreign rider on Team Sky and a British one. If it is financially driven then that is a clear conflict of interest and I don't want to be put in that situation.
"There may come a point where I decide to do one or the other, or I may have to choose, but at this moment in time there are people on the board [of Tour Racing Limited] who are watching this relationship [between British Cycling and Team Sky] very, very carefully. UK Sport is aware of it and they are watching very carefully to make sure everything is above board."
The complication comes because British Cycling's remit, as far as UK Sport is concerned, is not to produce a Tour de France yellow jersey but Olympic gold. With Sky sponsoring the pro team, as well as being British Cycling's principal partner, the quest to win the Tour de France within five years with a British rider may well make UK Sport wonder about the federation's priorities.
"It's a valid point," Brailsford said, "but if you look at it like this the two goals fit. You have the Tour de France and you have the Olympics. Now, instead of having Mark Cavendish, Brad Wiggins, Pete Kennaugh, Geraint Thomas, Ian Stannard, dotted all over in different teams, having them in one team at some point would increase the opportunities in, for example, the Olympic road race.
"One of the big challenges we set out with is qualification for the Olympic Games and that can be a real pain. But getting control over the race programmes and giving our British riders the optimum programme with Team Sky is a huge advantage. For example, last year we had the situation over whether or not Cavendish was going to be able to pull out of the Tour de France to prepare for Beijing [because he was riding for Team Columbia]. We'd be in charge of our own destiny there if the riders were on Team Sky.
"Imagine if UK Sport said to us 'right, money is no object, we want to win the Olympic Games road race for men, what's your plan, what do you want to do?' I'd say to them we want all the possible riders together in one pro team, riding together week-in, week-out. What can make that happen? Well, they could ride for Great Britain if Great Britain could pay them the hundreds of thousands of pounds they can earn riding for their professional teams, otherwise they're going to stay dotted about in their pro teams. UK Sport would probably say 'well, you're going to need a sponsor for that'. Well, that's where Sky comes in, to pay for this team.
BACK-UP
The case of Bradley Wiggins indicates how the relationship between Team Sky and British Cycling may work. Wiggins, who until he joined Team Sky on Thursday, was contracted to and paid by the American Garmin-Slipstream squad neverthless received coaching, nutrition and other support services from British Cycling as a funded athlete.
Matt Parker provided coaching advice and plans, Nigel Mitchell, British Cycling's nutrionist helped devise the diet to get Wiggins down to his fighting weight, and Shane Sutton and Brailsford and others acted as a sounding board.
Another example is Mark Cavendish, contracted to Team Columbia-HTC, but Britain's leader for the World Championships in Melbourne next year. He still has a very close relationship with Rod Ellingworth, the former British Cycling academy coach, now Team Sky's race coach.
Brailsford explained: "Whether Brad and Mark ride for Garmin, Columbia or Sky, whoever, British Cycling provides services to Lottery-funded riders, so Mark can get his coaching off Rod for nothing, he can visit the doc [Dr Roger Palfreeman, BC's doctor]. Brad [when he was at Garmin] can get his nutritional advice from Nige [Mitchell].
"But if you're a French guy, riding for Sky, and you get some time in the lab, or you speak to Nigel for nutritional advice, or you use one of the services or facilities here that is owned by British Cycling, there is a mechanism set up in the service level agreement that means Team Sky will pay for it.
"Not a penny of Lottery money will be spent on anything other than British riders.
"There's three categories - British riders who are Lottery-funded, British riders who are not Lottery-funded, and foreign guys. It's clear-cut. Say Boasson Hagen comes here, has some tests, sees Dr Rog, Team Sky pays BC for that. It's different depending on who or what we're talking about but it's all accounted for. Dr Rog, for example, will charge his time back to Team Sky, whereas Nige is now employed 50 per cent by Team Sky and 50 per cent by British Cycling, so his time and responsibilities will be clearly split. That's why there are two people from British Cycling, Ian and Brian, on the board [of TRL] to prevent any conflicts of interest."
Related links
Team Sky off to perfect start as Henderson wins in Australia
Team Sky: As it happens
Thank you for reading 20 articles this month* Join now for unlimited access
Enjoy your first month for just £1 / $1 / €1
*Read 5 free articles per month without a subscription
Join now for unlimited access
Try first month for just £1 / $1 / €1
Get The Leadout Newsletter
The latest race content, interviews, features, reviews and expert buying guides, direct to your inbox!
Sports journalist Lionel Birnie has written professionally for Sunday Times, Procycling and of course Cycling Weekly. He is also an author, publisher, and co-founder of The Cycling Podcast. His first experience covering the Tour de France came in 1999, and he has presented The Cycling Podcast with Richard Moore and Daniel Friebe since 2013. He founded Peloton Publishing in 2010 and has ghostwritten and published the autobiography of Sean Kelly, as well as a number of other sports icons.