WHY AMSTEL GOLD NEEDS A TOUGHER FINISH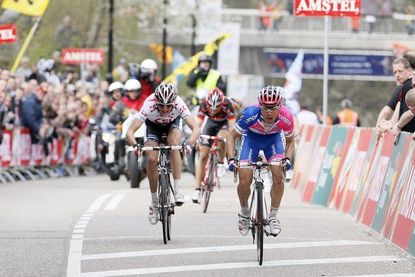 (Image credit: LUC CLAESSEN)
Damiano Cunego won the Amstel Gold Race at the first attempt on Sunday, and now he must have his sights set on Liège-Bastogne-Liège, a race which has always seemed beyond him.
The Italian?s race programme is different this year because his big goal is the Tour de France instead of the Giro d?Italia.
Until this year he has always ridden the Giro del Trentino stage race, which meant he could not take part in the Amstel Gold Race or Flèche Wallonne. Then he?d roll up at Liège-Bastogne-Liège lacking the top end required because he?d be saving himself for the final week of the Giro, five or six weeks down the line.
This year he can afford to hit the Ardennes in great form, then cool off and rebuild for the Tour de France in July.
In truth the Amstel Gold Race was not a vintage edition. The decision to move the finish to the top of the Cauberg climb in Valkenberg in 2003 was intended to thwart the out-and-out sprinters, which it did.
But after six years finishing on top of the hill, the race is in danger of settling into another pattern, and one that is no more exciting for the spectator.
Having 31 hills on the route is all very well but if the only one that counts is the very last one, what?s the point? The hills are too spaced out in the final 30 kilometres and the ones that come earlier do not do enough damage. Instead Amstel Gold becomes a waiting game in the same way Flèche Wallonne has, but it does not have the benefit of such a spectacular setpiece as the Mur de Huy.
The Cauberg is just a little tame to be considered the battleground for the final sort out.
Far be it for us to suggest to Leo Van Vliet how to improve his race, but the next step for the Amstel Gold could be to have a finishing circuit based on the Cauberg, sending the riders over it three or four times in quick succession at the business end of the race. Four ascents of what is not a particularly punishing climb in the space of the last 20 kilometres could really spark fireworks.
Of course there are complications with using a finishing circuit for a Classic because the gaps open up and there is the possibility of confusion with back markers getting caught up with the leaders. No doubt the UCI would also veto block.
But for the sake of the race, a dash of lateral thought is required. If the finishing loop was, say 10 minutes long, any riders reaching it later than that would be pulled out of the race and awarded the position they were in when they got there. After all, who says the Classics have to have 120 or so riders finishing?
After all the shadow-boxing, a move did go away and there was a decent sprint on the Cauberg, even if the motorbike carrying the main television camera was in a hopeless position. There was a split-second of confusion as marshals had to direct riders to their right to avoid the barriers as the finishing straight narrowed down, too. But few can have any doubts that the winner was a worthy one.
Swipe to scroll horizontally
It?s very easy to name four dozen riders and then bask in the glory of having predicted they'd do well. Here at CW we pick just 10. This week we picked all of the eventual top five ? plus Karsten Kroon, who was ninth. B+ for effort, we reckon.
Swipe to scroll horizontally
3rd at 2sec
We said: Tends to use Amstel as a final tune up, peaking instead for Flèche Wallonne and Liège-Bastogne-Liège. Patently not as good as he was in the spring of 2006. And, having missed the Tour of the Basque Country, has he done enough racing?
How he did: Always well placed in the final stages of the race and moved to the front just in time at the base of the Cauberg. With a team-mate, Joaquin Rodriguez, in the final selection, Caisse d?Epargne had cards to play, but Valverde only had the legs to follow. He may get better as the week goes on.
Swipe to scroll horizontally
20th at 1-00
We said: We?ve got a good feeling about him for Amstel Gold this year.
How he did: Perhaps he knew he didn?t quite have it, so he made an attack on Eyersbosweg. The fact that Johan Van Summeren was able to drop him before the top sounded the alarm bells. Still, not a bad result.
Swipe to scroll horizontally
4th at 2sec
We said: Tactically very astute. Never in trouble, never out of position.
How he did: Had the right idea when he tried to attack with nine kilometres to go. Rebellin is such a sharp rider, but his sprint finish is beginning to fade. Lacked the strength to go with Schleck?s second dig on the Cauberg. May come up short again on Wednesday and Sunday.
Swipe to scroll horizontally
5th at 6sec
We said: He?s the natural successor to Michael Boogerd here, and he?ll be marked very tightly.
How he did: Rabobank had plenty of riders to play with, but they burned too many matches chasing down Serguei Ivanov and Christian Pfannberger. Dekker talked a good game but fifth place here was not a great result.
Swipe to scroll horizontally
2nd in same time as Cunego
We said: Won?t be let off the leash by the other favourites so will have to work hard for it.
How he did: Did all the right things. Made Kroon attack in the finale, marked the right wheels and got into a glorious position. Jumped away with 500m to go but that simply had the effect of opening up the sprint very early and left him with a lot to do. Simply didn?t have the strength to outsprint Cunego at the top.
Swipe to scroll horizontally
21st at 1-19
We said: Could be Rabobank?s decoy.
How he did: Er. Can we gloss over this one? We were a touch over-enthusiastic bigging up Gesink. He?s one for the future, perhaps. Let?s see how he does on the Mur de Huy on Wednesday ? a climb that he?s likely to be more at home on. Plus Flèche Wallonne is a shorter race so that?ll help him.
Swipe to scroll horizontally
1st
We said: Roaring form after winning a stage in the Basque Country. But, doesn?t know the route ? and at Amstel, with its hills, twists and turns, speed humps and street furniture, it?s more important here than anywhere else this coming week.
How he did: We have a bit of egg on our face playing down Cunego?s chances here. In our defence he has no track record here and he?s always been a bit of a disappointment at Liège. We should have realised the significance of the fact he?s not about to launch himself into the Giro. It was a classy win by a rider who only needed to stick his nose into the wind at the very last moment.
Swipe to scroll horizontally
15th at 51sec
We said: Not pinging like he was last year. Seems to be off the boil and may play second fiddle to Rebellin.
How he did: Adequately. He was a useful team-mate for Rebellin but there was never any way he was going to have a meaningful impact on the race himself.
Swipe to scroll horizontally
Did not start
We said: Fancied by the bookies but it?s hard to see what they?re basing that on.
How he did: Sick, stayed at home in Italy. May be fit for Flèche Wallonne and/or Liège-Bastogne-Liège, but we?re not getting too excited about him.
Swipe to scroll horizontally
9th at 27sec
We said: Likely to work for Frank Schleck and will probably be sacrificed in a move at the beginning of the end of the race, 30k from home, perhaps. Always in the mix but so often comes up short.
How he did: Worked for Schleck well and launched the attack that set up the finish.
DARK HORSES
Maxime Montfort 63rd at 5-06
Mikel Astarloza 41st at 2-06
Joaquin Rodriguez 8th at 23sec
Oscar Freire 19th at 56sec
Erik Zabel 23rd at 1-23
Igor Astarloa 48th at 2-36
Fabian Wegmann 11th at 45sec
Rinaldo Nocentini 13th at 45sec
Sandy Casar 22nd at 1-27
RELATED LINKS
Amstel Gold Race 2008 photo gallery
Cunego wins Amstel Gold Race
Amstel Gold Race preview
Thank you for reading 10 articles this month* Join now for unlimited access
Enjoy your first month for just £1 / $1 / €1
*Read 5 free articles per month without a subscription
Join now for unlimited access
Try first month for just £1 / $1 / €1
Sports journalist Lionel Birnie has written professionally for Sunday Times, Procycling and of course Cycling Weekly. He is also an author, publisher, and co-founder of The Cycling Podcast. His first experience covering the Tour de France came in 1999, and he has presented The Cycling Podcast with Richard Moore and Daniel Friebe since 2013. He founded Peloton Publishing in 2010 and has ghostwritten and published the autobiography of Sean Kelly, as well as a number of other sports icons.