Wiggins accepts Worlds time trial defeat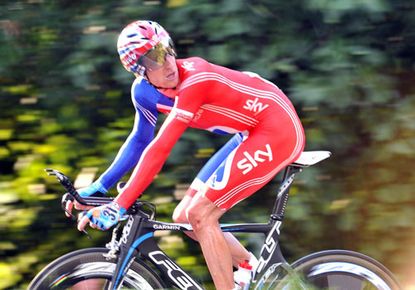 Bradley Wiggins was just four seconds from taking a bronze medal before a mechanical problem wrecked his ride in the World Championships time trial in Mendrisio. Yet after getting changed and recovering from his ride, he took it pretty well.
Wiggins sportingly admitted that he would have felt guilty taking a bronze medal because of the slipstream advantage he had when he was caught by Fabian Cancellara.
"I was going well, I was going perfect really, for my race. Fabian aside, I think I was on a good one," Wiggins said.
"He just caught me a crucial time really, because I was kind of stuck and couldn't really do anything but sit back and wait. Then numb nuts (Larsson) came past me and I just a bit... I don't know really. I don't know what to say. I won't say too much."
Wiggins was angry with Larsson and does not consider him a worthy silver medalist.
He did not know how long the Swede had benefitted from Cancellara catching him so early on but made it clear he would not have used the same trick to win a medal.
"I was kind of sat there for a lap behind Fabian, not really doing anything. I had moments where I said 'sod this, I'm going to sit up. This is no way to win the bronze.' I felt sorry for Tony Martin. I felt like I was cheating a bit even though I was 150 metres behind him," Wiggins said.
"I kind of wanted to win a bronze or silver off my own merit. I'd ridden my race up to then and could have risen my game on the last lap and come back on Tony and be there or there abouts. But I'd have felt funny standing here as the bronze medal winner having sat on him for just over a lap. It'd be a bit false really, I wouldn't have felt I'd got it on my own merit."
"I could have done with being eight minutes in front of him and got it on my own merit. It's the same with Larsson, I don't think he's a worthy silver medalist. For me Tony Martin is the silver medalist."


Chain touches rear brake
Wiggins revealed that his mechanical was caused by his chain.
The chain came off at the bottom of the climb and moved the brake caliper positioned behind the bottom bracket so that it touched the rim. He stopped for a bike change on the climb but did not know the team car was not behind him because it had been stopped by the race judges.
"The brake pulled over because I'd dropped my chain at the bottom of the climb. The brake is behind the chain ring and it just moved the brake caliper over," he said.
"I did the climb because I didn't want to change at the bottom with it rubbing and thought I'd change it at the top. I jumped off not knowing that the car wasn't there. And that was it really. It was race over."
Bradley Wiggins is forced to swap his bike after mechanical trouble
No regrets after super 2009 season
Despite a bad day in Mendrisio, Wiggins was able to see the bigger picture and remember what he has achieved this season.
However, he has no regrets or second thoughts about riding Sunday's road race.
"I think it's been a good season. I came here and did what I wanted to do. I feel I had good form and rode it pretty well until the mechanical," he said.
"It's just the way it is. I've done enough of these to know that s**t happens and to be honest I've had a lot of luck this year. I've come through two grand tours without crashing once. It's been pretty good really and a bit of bad luck at the end of the year is the way it goes. A lot of it really is my own fault. I've taken a few risks with equipment and things and unfortunately it happened today.
"I'm quite happy I'm going home. I'm done mentally. The time trial is just enough of a focus to put all of my energy into the last couple of weeks and it's been a good little goal since the Tour de France. The prospect of riding 19 laps is something else."
"I'm still going to Australia (to ride the Sun Tour) but that's to enjoy it."
Thank you for reading 20 articles this month* Join now for unlimited access
Enjoy your first month for just £1 / $1 / €1
*Read 5 free articles per month without a subscription
Join now for unlimited access
Try first month for just £1 / $1 / €1