WIGGINS: 'DISAPPOINTED AND ANGRY'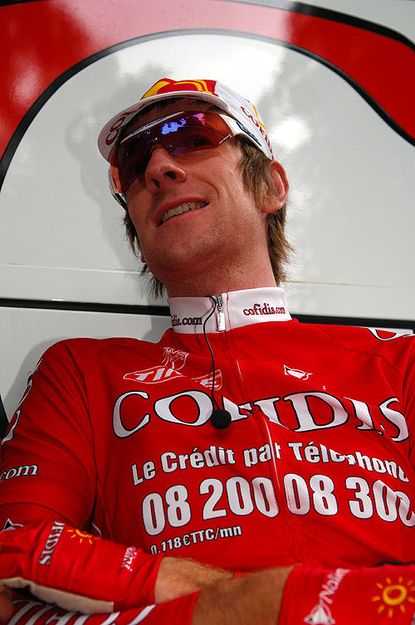 Get The Leadout Newsletter
The latest race content, interviews, features, reviews and expert buying guides, direct to your inbox!
Thank you for signing up to The Pick. You will receive a verification email shortly.
There was a problem. Please refresh the page and try again.
Bradley Wiggins Tour de France is over after his Cofidis team pulled out of the race following the announcement of Cristian Moreni's positive dope test.
For the second night in a row the French police descended on a team hotel - this time the Novotel in Lescar on the outskirts of Pau. Last night they searched Astana's hotel after Alexandre Vinokourov's positive test for blood doping.
Italian rider Moreni failed a random dope test after the 11th stage of the race, which finished in Montpellier.
The team were informed after the start of the 16th stage from Orthez to the Col d'Aubisque and Moreni was arrested when he crossed the finish line at the end of the stage.
Wiggins knew nothing of Moreni's test until he finished, more than 41 minutes down on winner Michael Rasmussen.
"The first I heard was when I crossed the line," said the 27-year-old British rider. "I went straight to our soigneur and he whispered in my ear that Moreni was positive and that I should get to the bus quickly."
Once at the Cofidis bus, several Gendarmes were on the scene.
"It was pretty scary. They took control of the bus. We went to a police station and then we were put in police cars and taken back to our hotel," he added.
Wiggins travelled with team-mate Sylvain Chavanel, who is also his room-mate.
"The police were very polite and courteous and they just explained that they had to follow the proper procedure.
"When we got back to the hotel they took us to our rooms and we had to sign a piece of paper authorising them to search while we were there. They went through everything in the room and took my Boots vitamin tablets and my asthma inhaler, which I have a therapeutic use exemption (TUE) form for.
"They said they had to take it and check with the UCI that I am authorised to have it.
"They were very polite but it was pretty scary. It's reassuring that they have this procedure and they follow it strictly but it really shakes you up."
Wiggins said he'd started the day in a bad mood following Vinokourov's positive test. He had finished fifth behind the Kazakh in Saturday's time trial.
He added that the half-hearted strike on the start line had not improved his mood. "I was feeling pretty pissed off because of the Vinokourov thing. Then there was the protest. It was badly communicated and no one knew what they were doing or what was supposed to be going on.
"Some guys said 'We won't put our race numbers on' but others didn't want to get fined for it. Then they said they'd sit down in the road, then a few people started to roll out.
"It wasn't co-ordinated or unified, it was just a mess. I am not here to protest about the dopers. I am not here to point my finger and this person or that person. I am here to ride the Tour de France. I've always made my belief clear and if anyone wants to ask me about doping I will say what I think but I want to race and finish the Tour de France.
"We all grouped up a few kilometres down the road and there were a few angry people. Someone attacked and they said they'd let him go and not chase him but it was still all confusion.
"I thought quite early in the stage 'Sod this, I'm going home. This isn't why I ride a bike. The only thing that kept me going was that my wife Cath has booked tickets to come to Paris for the final weekend."
Now, though, Wiggins won't be in Paris. More than likely he'll be out of Pau on a flight on Thursday morning, although at 9pm he still had not heard from any of Cofidis' management.
"We got back to the hotel and there's no one [team management] here. I've been told we're out and I wouldn't be surprised. That would be the right decision. If this was another team that had had a positive test I'd be saying that the whole team should go.
"I am disappointed and angry that I am in the middle of this. [Francis] Van Londersele and [Eric] Boyer [the team managers] haven't contacted us yet. We were straight into the bus, straight into the police cars and away.
"I'd like to see Boyer so he can explain. He's got a lot to answer for after speaking on the telly about the T-Mobile team and the Astana squad.
"We were hair tested at the Dauphine and we had our own internal tests before the Tour started but one [Moreni] has slipped through the net.
"It's his [Boyer's] responsibility to ensure everyone he employs is clean because my image and reputation is at stake.
"I don't know for sure if we'll start or not but I would imagine we won't. This contradicts everything the Tour should be about. I'd love to ride on and go to Paris but not in these circumstances. The only way we're going to beat this thing is if there's zero-tolerance. Unfortunately that means we [Cofidis] have to take the brunt and he [Boyer] has to take responsibility.
"I am part of that team and that's unfortunate but that's the way it has to be. If it happened to someone else they'd have to be pulled."
Thank you for reading 20 articles this month* Join now for unlimited access
Enjoy your first month for just £1 / $1 / €1
*Read 5 free articles per month without a subscription
Join now for unlimited access
Try first month for just £1 / $1 / €1