Wiggins wins on track return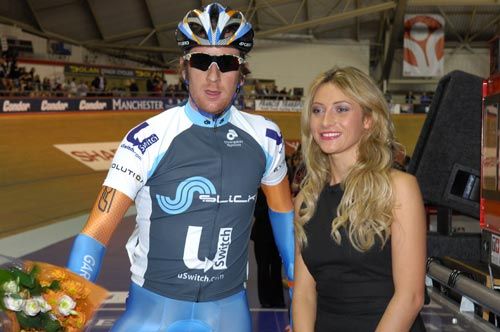 Revolution 26 photo gallery by Andy Jones>>
Olympic champion Bradley Wiggins made a triumphant return to the track on Saturday night, winning the opening endurance event of the Revolution meeting at Manchester velodrome.
Wiggins obliterated the field with a late acceleration to take the devil/scratch race, much to the sell-out crowd's delight. It marked Wiggins' first competitive track ride since the Beijing Olympic Games in 2008.
"He's got the class to just turn it on whenever he wants and he proved that in that last race," said rival Dean Downing after the devil/scratch race. "Brad split the bunch in half and he showed just how good he is really."
Since Beijing, Wiggins has been concentrating on road racing, where he placed fourth at the 2009 Tour de France and won the Jayco Herald Sun Tour in October, his last competitive outing.
The Garmin-Transitions rider's win was chalked up to his Slicks team, headed by captain Craig MacLean. Revolution has altered its format this season to include a season-long team-based championship.
Later, Wiggins and Slicks team-mate, six-day star Leif Lampeter, couldn't quite match Wiggins' earlier solo effort and placed third in the 1km Madison time trial behind winners Ed Clancy and Andy Tennant (Tempo) and second-placed Rob Hayles and Leon Van Bon (Forza).
At the end of the evening, MacLean's Slicks line-up had usurped Hayles' Forza team at the top of the championship standings after two rounds, with two to go. Eight teams are contesting the championship: Slicks, Forza, Flyers, Rollers, Dynamo, Pacers, Tempo and Vitesse.
Baxter makes track debut
Former Olympic skier Alain Baxter made his delayed track racing debut, after having to miss the British national championships due to illness. Baxter contested the 200 metre sprint, clocking a time of 11.6 seconds to give him eighth place behind winner Matt Crampton with 10.31.
"Well for me as you know it's the first time in competition with a real crowd and a proper set up but I'm only doing the flying 200 but as long as I can get a time posted and see where I'm standing against these guys, is all I need to know really," Baxter said after his ride.
Two events remain on the 2009/10 Revolution calendar at Manchester velodrome, on January 16 and February 27.
Full results and more information on the Revolution track series can be found at www.cyclingrevolution.com.
Alain Baxter made his competitive track debut at Revolution on Saturday
Revolution team championship standings, after two rounds

1. Slicks 18
2. Forza 18
3. Pacers 13
4. Dynamos 12
5. Vitesse 9
6. Rollers 9
7. Tempo 7
8. Flyers 4
Related links
Revolution26 photo gallery by Andy Jones
Revolution 25: Report
Revolution: The teams
Revolution creates new championship format
Bradley Wiggins: Rider Profile