Wiggle-Honda take team pursuit title at National Track Championships
Decorated quartet of Elinor Barker, Dani King, Joanna Rowsell and Laura Trott add another jersey to their collection.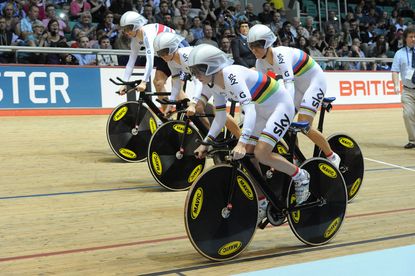 Wiggle-Honda's big-named riders warmed up for the forthcoming season by defending their British team pursuit title at the National Track Championships in Manchester tonight.
The quartet – comprising of reigning world champions Elinor Barker, Joanna Rowsell and Laura Trott, along with Dani King – rode a 4-24.903 in the final to beat Pearl Izumi Sports Tours International, whose line-up included another world champion in the discipline, Katie Archibald.
Barker is now undefeated in the event since it was first introduced in 2012.
And with Trott and Rowsell joining new trade teams for next year, it will likely be the last time they ride together away from GB duty.
In the men's event, the British Cycling Olympic Academy Programme quartet of Germain Burton, Chris Latham, Chris Lawless and Oliver Wood took the glory.
They caught NFTO in the final, but continued on to set a time of 4-09.130.
Teenager Sophie Thornhill continued her impressive year as she won the Para-cycling B/Vi time trial.
The 18-year-old, piloted by Rachel James, rode a factored time of 1-01.225 to add the title to her two world and two Commonwealth titles from earlier in the year.
Her male counterparts (and fellow world champions in the discipline), Neil Fachie and Pete Mitchell, took second having finishes seven-tenths of a second behind.
And Newport Youth Velo CC's Lauren Booth took victory in the Para-cycling C1-5 time trial, ahead of Jonathan Gildea (Seamons CC) and Jaco van Gass (Team Battle Back).
Women's Team Pursuit
1. Wiggle-Honda (Elinor Barker/Dani King/Joanna Rowsell/Laura Trott) 4-24.903
2. Pearl Izumi Sports Tours International (Katie Archibald/Ciara Horne/Sarah Storey/Anna Turvey) 4-33.657
3. VC St Raphael (Jessica Hill/Madeline Moore/Rachel Murray/Harriet Whewell) caught Southampton University RC (Becky Bellworthy/Florence Collyer-Powell/Megan Doolan/Alicia Love)
Men's Team Pursuit
1. 100% ME (Germain Burton/Chris Latham/Chris Lawless/Oliver Wood) in 4-09.130 and caught
2. NFTO (Adam Blythe/Russ Downing/Sam Harrison/Jon Mould)
3. Rigmar Racers (Ryan Fenwick/Alistair Rutherford/Philip Trodden/Finlay Young) in 4-38.457
Para-cycling Time Trial C1-5
1. Lauren Booth (Newport Youth Velo CC) 1-06.784*
2. Jonathan Gildea (Seamons CC) 1-09.835
3. Jaco van Gass (Team Battle Back) 1-12.085*
* Indicates factored times
Para-cycling Time Trial B/Vi
1. Sophie Thornhill (Performance Cycle Coaching) w/Rachel James (Abergavenny RC) in 1-01.225*
2. Neil Fachie (Performance Cycle Coaching) w/Pete Mitchell (Performance Cycle Coaching) in 1-01.953
3. Laura Cluxton (Road and Road Cycles) w/Louise Haston (City of Edinburgh RC) in 1-04.933*
* Indicates factored times
Thank you for reading 20 articles this month* Join now for unlimited access
Enjoy your first month for just £1 / $1 / €1
*Read 5 free articles per month without a subscription
Join now for unlimited access
Try first month for just £1 / $1 / €1